Food crisis and the global land grab
farmlandgrab.org weekly | 22 Feb 2012
---
We would like to announce a new feature at farmlandgrab.org - an "events" listing. This listing -
http://farmlandgrab.org/events
- allows you to publish and browse short notices about events related to land grabbing and what people are doing about it. These may be investor summits, film screenings, mobilisations, rallies, conferences, workshops, fact-finding missions or other. The entries can be short and just provide leads to event organisers or other websites with more information. And they can be in any language. We hope this new feature will be particularly useful to activists and social movements who are struggling to stop land grabbing all over the world.
---
Nous avons le plaisir de vous annoncer l'introduction d'une nouvelle fonctionnalité sur farmlangrab.org : une liste d'"événements" -
http://farmlandgrab.org/events
- qui vous permettra de publier et de consulter de brèves annonces d'événements liés à l'accaparement des terres et aux réactions qu'il suscite. Il peut s'agir de sommets d'investisseurs, de projections de films, de mobilisations, de rassemblements, de conférences, d'ateliers, de missions d'enquête ou autres. Les annonces peuvent être courtes et se contenter de fournir un lien vers les organisateurs de tel ou tel événement ou vers d'autres sites Internet disposant de plus de détails. N'importe quelle langue peut être utilisée. Nous espérons que cette nouvelle fonctionnalité sera particulièrement utile aux activistes et aux mouvements sociaux qui luttent contre l'accaparement des terres dans le monde entier.
---
Nos complace anunciar una nueva funcionalidad en farmlandgrab.org: una lista de "eventos". Esta lista ubicada en
http://farmlandgrab.org/events
le permite publicar y buscar anuncios breves sobre eventos relacionados con el acaparamiento de tierras y lo que la gente está haciendo al respecto. Estos eventos pueden ser las cumbres de los inversores, proyecciones de películas, movilizaciones, mítines, conferencias, talleres, misiones de investigación u otros. Las entradas deben ser cortas y proporcionar enlaces a los organizadores de los eventos uotros sitios web con más información. Y pueden estar en cualquier idioma. Esperamos que esta nueva funcionalidad sea especialmente útil para los activistas y movimientos sociales que están luchando para detener el acaparamiento de tierras en todo el mundo.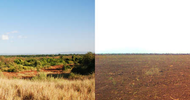 Survival International | 22 Feb 2012
Survival uncovers shocking new evidence of human rights abuses against tribes in Ethiopia's Omo Valley, as government efforts to develop lucrative sugar cane plantations in the region intensify.
---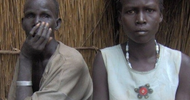 ASO | 22 Feb 2012
The growing insecurity and violence in Gambela, seen in the recent loss of human lives and attacks on government institutions, should be seen as a clear warning to investors about the dangers involved in large scale agricultural investments, says the Anywaa Survival Organisation.
---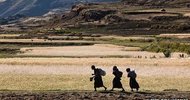 BBC | 21 Feb 2012
Promoting agricultural development in Africa and addressing the world's food security challenges requires investing in farmers - not in farmland, says Lorenzo Cotula.
---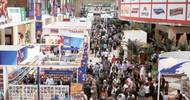 Gulf News | 20 Feb 2012
African officials have called for greater equity and fairness in trade with the GCC countries that use agricultural land in Africa to feed their populations while famines continue to ravage the continent.
---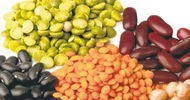 Gulf News | 20 Feb 2012
In an effort to improve food security, the government has been investing in agriculture projects abroad, especially in Vietnam, Cambodia, Egypt, Pakistan, Romania, Sudan and the Americas, to secure food supplies and safeguard against market fluctuations.
---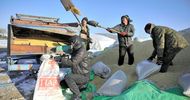 Asahi Shimbun | 20 Feb 2012
Since food prices jumped in the period from 2006 to 2008, efforts to borrow land in the Russian Far East for agriculture have spread rapidly.
---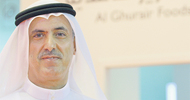 Gulf News | 20 Feb 2012
Al Ghurair Foods is acquiring 100,000 hectares of farmland in Sudan to grow grain, a move in line with the UAE's efforts to address food security concerns, according to company chairman Essa Abdullah Al Ghurair.
---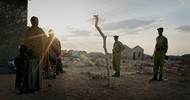 BBC | 20 Feb 2012
This Friday, February 24th, BBC Africa will broadcast a debate from Freetown Sierra Leone on international farmland deals in Africa - or Land grabbing as it's commonly known. Listeners can join the discussion on social media.
---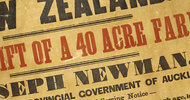 AAP | 20 Feb 2012
A new poll has shown more than three-quarters of New Zealanders want to make it tougher to sell land to foreigners.
---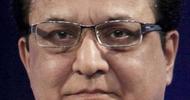 Hindu Business Line | 19 Feb 2012
According to Rana Kapoor, head of India's Yes Bank, Africa offers immense opportunity in terms of investment in large-scale commercial farming, quoting rates of return of 18-21% and above.
---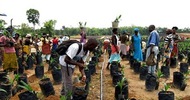 IRIN | 17 Feb 2012
Hundreds of villagers and town residents of Liberia's Grand Cape Mount Country have attracted nationwide attention in their bid to recover what they say is land seized from them and turned over to a Malaysian agro-industrial concern.
---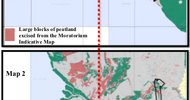 REDD Monitor | 17 Feb 2012
A new report by Greenomics Indonesia documents how the Merauke Integrated Food and Energy Estate threatens peatland and forest in Papua province, Indonesia.
---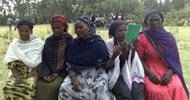 TrustLaw | 16 Feb 2012
Women, who are already compensating for rising food prices and energy costs with additional time and labor, are now further disadvantaged through land grabbing.
---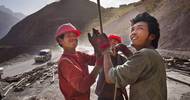 Jamestown Foundation | 13 Feb 2012
A controversial plan approved by Tajikistan's Ministry of Agriculture to lease 6,000 hectares of land to China for development has been met with suspicion by some members of the country's political opposition
---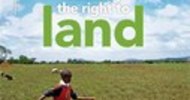 ILEIA | 20 Dec 2011
The latest issue of Farming Matters on a topic that is central to all small-scale farmers: land. Competition for land and power, and particularly the global increase of large scale land acquisitions, cause contestations about which land is rightfully owned and used by whom.
---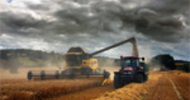 SFG | 28 Nov 2011
Pension funds should abstain from investments that do not go by these rules and prefer investments in their own geographical area as an excess supply of non-productive capital has a negative influence on commodity prices.
---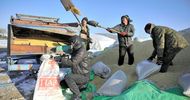 Les Echos | 22 fev 2012
Les paysans du nord-est de la Chine, de la péninsule coréenne et récemment du Japon sont de plus en plus attirés par les vastes terres de l'extrême-orient de la Russie, écrit l'« Asahi Shimbun ».
---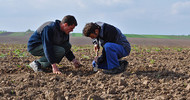 swissinfo | 22 fev 2012
De plus en plus d'agriculteurs suisses s'installent en Roumanie, à la frontière est de l'Europe. Attirés par des prix encore dérisoires, ils achètent des domaines de plusieurs centaines d'hectares et exportent en Suisse et en Allemagne.
---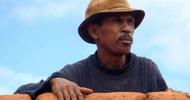 Slate Afrique | 22 fev 2012
Combien d'hectares appartiennent désormais à des étrangers et qui sont-ils? C'est ce que veut savoir le Collectif pour la défense des terres malgaches - TANY.
---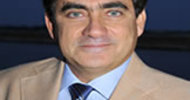 ACP | 21 fev 2012
Les ayants-droit coutumiers de Boma-Bungu (RDC) ont organisé une marche de protestation mercredi à Boma pour dénoncer l'accaparement de leurs terres par la société des Grands élevages de Boma.
---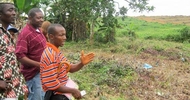 IRIN | 21 fev 2012
Des centaines de villageois et d'habitants des villes du comté de Grand Cape Mount ont attiré l'attention de toute la population libérienne afin de récupérer des terres qu'ils considèrent comme leur appartenant, mais qui ont été saisies et cédées à un groupe agro-industriel malaisien.
---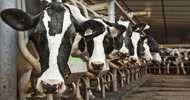 Commodesk | 17 fev 2012
La haute cour de Nouvelle-Zélande annule l'autorisation accordée fin janvier par le gouvernement de la vente de 16 fermes laitières à un investisseur chinois. Selon le juge, le gouvernement a surestimé les bénéfices économiques de la transaction.
---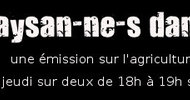 Radio Canut | 16 fev 2012
Entretien avec Fanny, paysanne en Ardèche, qui était présente avec 300 autres paysan-ne-s au Mali, fin novembre, pour le forum contre l'accaparement des terres, à l'appel de la Via Campesina et de la Coordination Nationale des Organisations Paysannes du Mali
---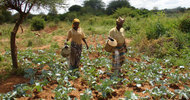 PPP | 15 fev 2012
La déclaration de Ouidah vise à faire connaître les revendications des petits producteurs ouest-africains, aussi bien auprès de leur gouvernement qu'auprès des États occidentaux d'où proviennent la plupart des investisseurs.
---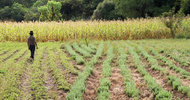 AFP | 15 fev 2012
Une ONG camerounaise a dénoncé dans un rapport publié mardi à Yaoundé une concession foncière accordée à une entreprise américaine pour la culture du palmier à huile au Cameroun, redoutant une catastrophe écologique.
---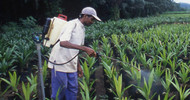 Cameroon-Info | 15 fev 2012
La société américaine, SG Sustainable Oils Cameroon PIC, exploitant d'une grande plantation industrielle de palmiers à huile, a signé un bail foncier au Cameroun de 99 ans. Le contrat donne à l'entreprise le droit d'arrêter et de détenir toute personne violant les limites de la concession, et s'applique, même s'il est contraire aux lois nationales.
---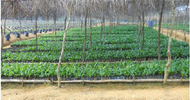 CED | 13 fev 2012
Le Centre pour l'Environnement et le Développement (CED) vient de publier un rapport intitulé : Le triezième travail de Héraklès ? Etude sur la concession foncière de la SGSOC dans la région du Sud-Ouest Cameroun. La société a obtenu des droits sur une superficie de 73.086 hectares au Cameroun par un bail foncier de 99 ans.
---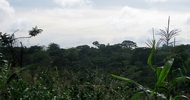 France Inter | 30 jan 2012
Pour les défenseurs de l'environnement, la catastrophe écologique est imminente : en septembre 2009, l'Etat du Cameroun a octroyé à une firme agroalimentaire américaine, Héraklès Farms, plus de 70 000 hectares pour exploiter une plantation de palmiers à huile à proximité du Korup National Park.
---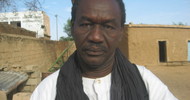 Quotidien de Nouakchott | 14 jui 2011
Entretien avec Djigo Moussa, président du comité de suivi des affaires foncières, une structure mise en place par les représentants de 60 villages de la Moughata'a de Boghé pour produire un document par lequel, les populations feront valoir leurs droits sur les terres du Brakna mises à disposition d'investisseurs saoudiens par les autorités mauritaniennes.
---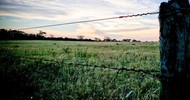 El País | 21 feb 2012
Consolidado el polémico impuesto a la concentración de la tierra (ICIR), que grava a los campos con más de 2.000 hectáreas, el gobierno y el Frente Amplio (FA) prevén incluir en la discusión en 2012 nuevas normas dirigidas al campo para frenar el proceso de extranjerización.
---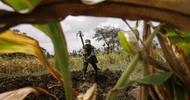 Radio Nacional de Venezuela | 16 feb 2012
"Los fondos que invierten en superficies agrícolas de países en desarrollo son muchas veces fondos de pensiones"
---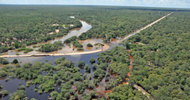 Chaco día por día | 14 feb 2012
Así lo consideró el geólogo Ramón Vargas en referencia al proyecto saudí para arrendar tierras en el Chaco con la intención de producir alimentos para su población. "El territorio y los bienes comunes no se deben ni alquilar ni entregar", afirmó Vargas.
---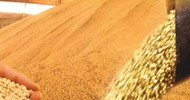 Cadena 3 | 11 ene 2012
"Estamos hablando de valor agregado con hincapié en la producción sojera, de producción de aceite y elaboración de derivados de la soja, lo cual implica no solamente producción primaria sino también su industrialización"
---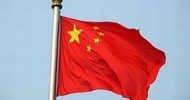 Suinocultura Industrial | 13 Feb 2012
A China está mudando seu modelo de investimentos na agricultura da América do Sul. Diante das restrições a estrangeiros para a aquisições de terras no Brasil e na Argentina, os chineses passaram a privilegiar aportes em infraestrutura em troca do direito exclusivo de comprar a colheita.
---
BBC Africa debate: Is land grabbing actually good for Africa?

Freetown, Sierra Leone

BBC

24 Feb 2012

The right to water and food security, Internationalisation of local water battles: Empowerment of local actors

Marseille, France

FAME 2012

15 Mar 2012

Regional strategy-building on large-scale foreign investments in agriculture in Asia

Penang, Malaysia

PAN AP

06 Jun 2012
farmlandgrab.org
weekly provides a list of the latest postings to farmlandgrab.org by email each week
farmlandgrab.org
is an open-publishing website, initiated by GRAIN, tracking today's global land grab for food production and people's movements against it
to unsubscribe from the list, click
this link
to visit or post materials to the website, click
this link