Food crisis and the global land grab
farmlandgrab.org weekly | 02 May 2012
---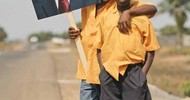 Agrimoney | 02 May 2012
Claims of Chinese "land grabs" in Africa, to grow food for importing, have been overstated – for now - although "this could be a longer term motivation", Standard Chartered said.
---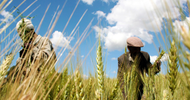 AlertNet | 02 May 2012
Sixty years on, controversial agricultural projects are back in fashion in Africa and other parts of the developing world as investors - from foreign governments to wealthy individuals - hunt for land to grow food.
---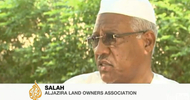 CorpWatch | 30 Apr 2012
Dalla Al Baraka, a Saudi conglomerate with $5 billion in annual revenue, has acquired two million acres of farmland in eastern Sudan to produce food for export to the Middle Eastern kingdom. While the investors are hoping to wean Saudi Arabia off imports from South America, such agreements cause concern among local Sudanese farmers.
---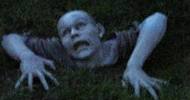 China Africa Real Story | 30 Apr 2012
Last week, the Land Matrix "land grab" database was released. On paper, they have a strong methodology and strict criteria about projects to be included. In practice, they seem to violate their own rules, at least when it comes to Chinese "projects" in Africa.
---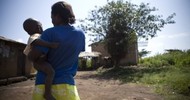 ULA | 30 Apr 2012
The price for Alliance's investigations into cases of land grabbing has been set so high that once paid it will become extremely risky for anyone to question the vices of land grabbing and forceful evictions of innocent citizens.
---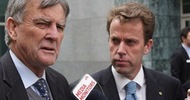 Stock & Land | 30 Apr 2012
Liberal MP backs calls from farming groups nationwide to tighten government regulations that scrutinise potential sales of Australian farmland and water assets to foreign investors and increase transparency.
---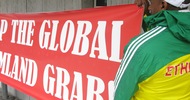 SMNE | 30 Apr 2012
Indigenous people fear collective retaliation by government security forces.
---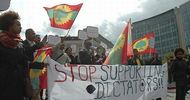 Gadaa.com | 30 Apr 2012
Discussions with EU officials covered various aspects of human rights violations in Ethiopia with a focus on the large-scale land-lease to local and international commercial farmers, the evictions of Oromo farmers from their homes and farmlands, and the situation of Oromo refugees in the Horn of Africa and Yemen.
---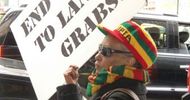 Reuters | 29 Apr 2012
Investment managers meeting at the Waldorf Astoria in New York said rising US farmland prices were making it harder to find quality land and high returns, and a lot of capital flow is moving to developing nations.
---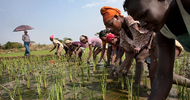 Associated Press | 29 Apr 2012
Gunmen attacked the camp of an agricultural company owned by a Saudi billionaire in southwest Ethiopia, Federal Affairs Minister Shiferaw Teklemariam said.
---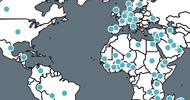 Bloomberg | 27 Apr 2012
The global rush to buy farmland continues, and international investors are focusing on the poorest countries with weak land-rights security for deals, according to a report by the Land Matrix research group.
---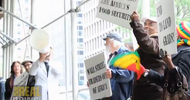 Real News | 27 Apr 2012
The World Bank and Wall Street firms targeted for African land deals displacing hundreds of thousands.
---
Rural Modernity | 27 Apr 2012
Exploring the fundamental data flaws in the Land Matrix dataset
---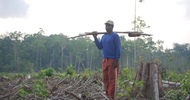 awasMIFEE | 27 Apr 2012
The Merauke Integrated Food and Energy Estate is a vast mega-project, a plan for over a million hectares of plantations and industrialised agriculture that threatens the people and environment across the southern part of West Papua. Indonesian and foreign companies have each claimed their share of the land, and offer the local Malind people next-to-nothing in exchange for the forest that has sustained them for countless generations.
---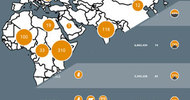 The Guardian | 27 Apr 2012
An international coalition of NGOs and research groups has published the world's largest database of land grab deals struck since 2000, offering unprecedented detail on who's investing, where and what for.
---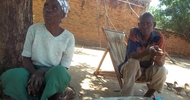 IRIN | 26 Apr 2012
In 2009 Dororthy Dyton and about 2,000 other subsistence farmers in southern Malawi's Chikhwawa District were informed by their local chief that the land had been sold and they could no longer cultivate there.
---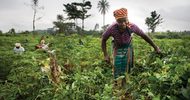 Pambazuka | 26 Apr 2012
Land rights are essentially political issues; but where women's land rights are concerned, the solutions take on a legal dimension.
---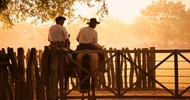 Latinamerica Press | 25 Apr 2012
The processes of concentration, foreign ownership and land degradation came to be a central concern of supranational bodies and NGOs that warn of the "negative effects of these phenomena on food security, agricultural employment and the development of family farming."
---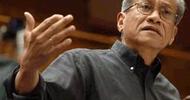 Inquirer | 20 Apr 2012
In the Philippines, Akbayan Party-list Representatives Arlene "Kaka" Bag-ao and Walden Bello are pushing for a bill that regulates large scale foreign investments on land.
---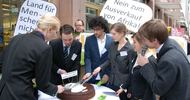 INKOTA | 17 Apr 2012
On April 17th, Berlin based INKOTA activists gathered in front of Deutsche Bank on Friedrichstraße dressed as bankers and ready to dig into an oversized cake representing the African continent.
---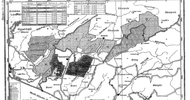 Government of Liberia | 29 Jul 2009
Full text of the agreement for a rubber and oil palm concession between Liberia and Malaysia's Sime Darby, covering 311,187 ha.
---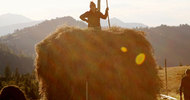 PressEurop | 30 avr 2012
Attirés par le bas prix des terrains agricoles, de nombreux Européens n'hésitent plus à monter une exploitation en Roumanie. Ils contribuent ainsi à réinventer la culture locale, en particulier par le bio.
---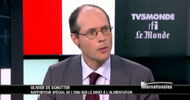 TV5 Monde | 29 avr 2012
"On se tromperait si on se disait que c'était une bonne idée parce que les rendements augmentent. Car ce n'est pas au bénéfice des populations locales. Pour l'instant c'est plus une menace qu'une opportunité."
---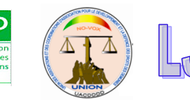 CNOP, AOPP, UACDDD, CAD et LJDH | 27 avr 2012
Nous lançons un appel à toutes les organisations, personnalités, personnes qui veulent soutenir nos actions, faire respecter le droit et promouvoir l'agriculture familiale paysanne, d'envoyer cette lettre signée aux autorités maliennes avant le grand sit-in devant le tribunal de Markala le 3 mai
---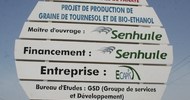 RFI | 27 avr 2012
Et si la vogue des nouveaux agrocarburants en Europe, et l'accaparement des terres contribuaient à affamer la planète ? Le débat est clairement posé par les ONG. Au Sénégal, un projet piloté par une société italienne soulève de vives protestations.
---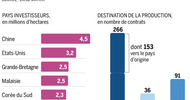 Le Monde | 27 avr 2012
Le projet Land Matrix s'est donné pour but d'insuffler un peu de rationalité et d'approche scientifique dans les débats sur les achats et locations de terres agricoles à grande échelle.
---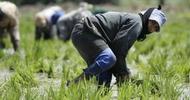 AFP | 27 avr 2012
Les achats massifs de terres par des investisseurs étrangers dans le Tiers-Monde, vantés comme un moyen de sortir leurs populations du sous-développement, n'ont eu jusqu'à présent que de rares retombées sur l'emploi local, selon un rapport publié vendredi.
---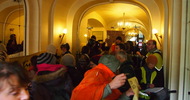 XXI | 25 avr 2012
Face à la caméra, Olivier Combastet, le gérant de Pergam Finance explique avec candeur que « spéculer, c'est espérer ». Son aplomb a fait de lui la cible des associations qui dénoncent un « accaparement des terres ».
---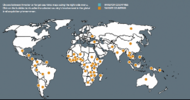 La Vanguardia | 28 abr 2012
La poca transparencia en las operaciones hace difícil precisar con exactitud el alcance del fenómeno.
---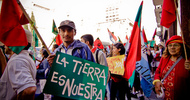 GRAIN | 27 abr 2012
La Declaración de la Conferencia Especial para la Soberanía Alimentaria realizada en Buenos Aires cuestiona la posición adoptada por la FAO en relación al acaparamiento de tierras en América Latina.
---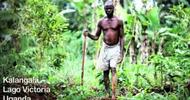 Boletín Agrario | 26 abr 2012
Elaborado por Amigos de la Tierra Uganda, denuncia la expansión descontrolada de cultivos bioenergéticos en las islas de Kalangala en el lago Victoria.
---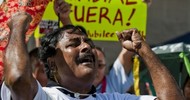 Vía Campesina | 27 Apr 2012
Conferência do Banco Mundial sobre Terra e Pobreza - de 23 a 26 de abril, em Washington
---
farmlandgrab.org
weekly provides a list of the latest postings to farmlandgrab.org by email each week
farmlandgrab.org
is an open-publishing website, initiated by GRAIN, tracking today's global land grab for food production and people's movements against it
to unsubscribe from the list, click
this link
to visit or post materials to the website, click
this link