Food crisis and the global land grab
farmlandgrab.org weekly | 13 Jun 2012
---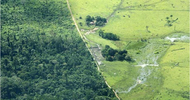 TheWaterChannel | 13 Jun 2012
Large-scale soy monoculture is expanding rapidly in Latin America. Boosted by dubious investment from multi-national corporations, it has moved well beyond the southern states and into the Amazon area.
---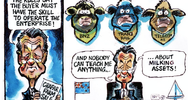 Wall Street Journal | 12 Jun 2012
Foreign ownership of farm land is a sensitive issue in Australia and "across the ditch" in New Zealand.
---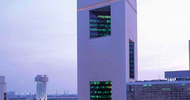 Reuters | 12 Jun 2012
Islamic Development Bank and Rabobank team up to launch fund that intends to invest 5-10% of its funds in global farmland.
---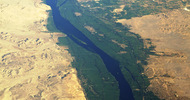 Water Alternatives | 12 Jun 2012
Special issue of Water Alternatives
---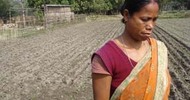 TheWaterChannel | 11 Jun 2012
Our conception of land-grabs and global discussions on the phenomenon are informed too much by contentious, large-scale land deals in Africa and too little by examples from other regions. This has led to many unfounded assumptions about the nature of land-grab.
---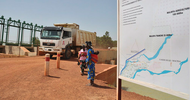 GRAIN | 11 Jun 2012
GRAIN looks behind the current scramble for land in Africa to reveal a global struggle for what is increasingly seen as a commodity more precious than gold or oil - water.
---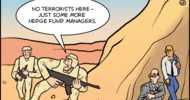 Stock and Land | 10 Jun 2012
As Europe's debt crisis rattles global equity market confidence farming is being increasingly championed by many as a sound, long-term bet for investors needing a safe haven for their money - particularly superannuation funds.
---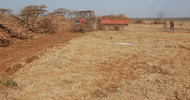 HowWeMadeItInAfrica | 09 Jun 2012
Despite the lucrative returns that foreign investors can achieve by investing in African agriculture, the on-the-ground realities of operating in the continent is often less rosy.
---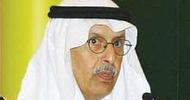 This is Africa | 08 Jun 2012
Dr Fahd bin Abdulrahman Balghunaim, minister for agriculture for the Kingdom of Saudi Arabia, speaks to This is Africa about the government's strategy in Africa.
---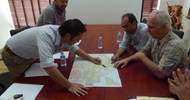 Market Watch | 08 Jun 2012
US stevia company acquires 50 acres of farmland in Cambodia for a propagation centre from which it will coordinate a planned expansion to 5,000 acres.
---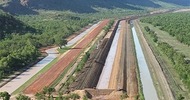 ABC | 08 Jun 2012
Trading as Kimberley Agricultural Investments, it's understood that a Chinese investment group is interested in developing a major sugar industry in the region, as well as a meatworks capable of processing 500,000 head of cattle a year.
---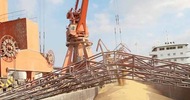 China Daily | 08 Jun 2012
With demand for food rising with China's growing population and economy, domestic companies are looking to boost investments in resource-rich foreign countries such as Brazil and Indonesia to fill the food supply gap at home.
---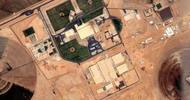 Reuters | 07 Jun 2012
Saudi Arabian dairy and food producer Almarai Co's board has approved a $4.2 billion, five-year investment plan that will fund the expansion of its farms.
---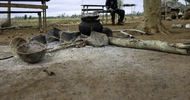 African Agriculture | 06 Jun 2012
Major agricultural investor in Ethiopia, Saudi Star, has bigger problems there than it might have expected.
---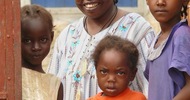 NPA | 06 Jun 2012
In South Sudan, between 2007 and 2010, about 9% of the total land surface was leased or in the process of being leased for large-scale land investment.
---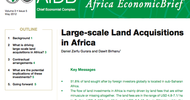 AfDB | 31 May 2012
The distinctive feature of these land deals that has attracted attention is the speed of the acquisitions, the transparency (lack thereof) of the terms and the scale of the acquisitions and implied investment.
---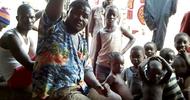 Afriques en lutte | 13 jui 2012
D'un côté, l'acharnement avec lequel certains dirigeants africains s'organisent en toute opacité pour vendre ou mettre en concession la terre africaine contre la volonté des populations et, d'un autre côté, le rapport de l'institut Oakland qui tente d'apporter, avec beaucoup de brio, les conditions qui prévalent lors d'un investissement d'une entreprise multinationale en Afrique sont édifiants.
---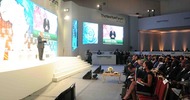 Xinhua | 13 jui 2012
La controverse sur l' accaparement des terres n'empêche pas l'arrivée massive des grands investissements étrangers pur l'exploitation agricole en Afrique, un continent disposant d'environ 22 millions d'hectares de terres arables encore en friche.
---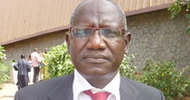 La Gazette | 08 jui 2012
Entretien avec Aliou Diack, directeur de campagne de Bes du Niakk et ex-président de la communauté rurale de Mbane
---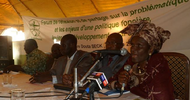 ENDA Pronat | 08 jui 2012
"Ces terres octroyées sous prétexte de lutter contre l'insécurité alimentaire, sont exploitées par d'autres pays pour satisfaire leurs besoins en agro carburants et denrées alimentaires."
---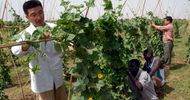 EcoFin | 07 jui 2012
Avec la création de l'Etat du Soudan du Sud en juillet dernier et la perte des ¾ de sa production pétrolière, le Soudan recherche de nouvelles recettes et mise sur l'agriculture.
---
Le Hub Rural | 07 jui 2012
Bulletin d'information du Hub Rural sur les actualités foncières ouest-africaines. Au menu : offre d'emploi, agrobusiness et course aux terres agricoles, politiques foncières, décentralisation, conflits fonciers etc.
---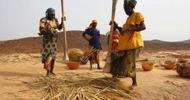 swissaid | 26 avr 2012
A l'issue de la dernière visite du Président de la République du Niger au Qatar, le Qatar a réitéré son vieux rêve «d'investir environ 300 millions de dollars dans le secteur de l'agriculture au Niger».
---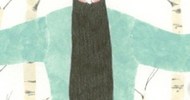 Palabre-Ando | 11 jun 2012
En los últimos 10 años de burbujas especulativas reventadas, una nueva fórmula de inversión está expandiéndose. El capital más capitalista está acaparando toda la tierra fértil que le cabe en sus bolsillos.
---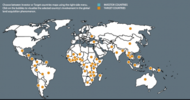 Global Voices | 07 jun 2012
Uno de los países analizados en este informe es Etiopía, donde los campesinos de la provincia de Gambela han sido forzados a instalarse en aldeas pre-designadas por el Estado, facilitando así el camino a los acaparadores de tierra. Gambela es la región más pobre de Etiopía.
---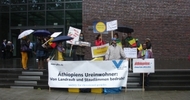 GfbV | 06 Jun 2012
Die Gesellschaft für bedrohte Völker (GfbV) protestiert gemeinsam mit Äthiopiern am Mittwoch in Köln vor der ersten Deutsch-Äthiopischen Wirtschaftskonferenz gegen Landraub und die Vertreibung von Ureinwohnern sowie Kleinbauern in Äthiopien.
---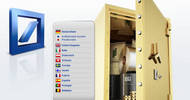 Kontext Wochenzeitung | 23 May 2012
Das Geschäft mit dem Elend ist für manche deutsche Bank außerordentlich lukrativ. Allen voran als Global Player die Deutsche Bank. Aber auch die Landesbank Baden-Württemberg mischte mit, bis sie dabei ertappt wurde.
---
farmlandgrab.org
weekly provides a list of the latest postings to farmlandgrab.org by email each week
farmlandgrab.org
is an open-publishing website, initiated by GRAIN, tracking today's global land grab for food production and people's movements against it
to unsubscribe from the list, click
this link
to visit or post materials to the website, click
this link