Food crisis and the global land grab
farmlandgrab.org weekly | 20 Jun 2012
---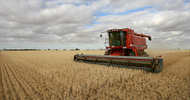 ThePigSite | 20 Jun 2012
The Gillard Government (Australia) has announced a working group to consult on the development of a Commonwealth foreign ownership register for agricultural land.
---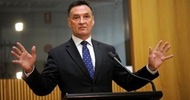 The Land | 20 Jun 2012
Only a fool would believe Australia's agricultural development could be funded without foreign investment from sovereign wealth funds, according to Trade Minister Craig Emerson.
---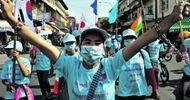 Reuters | 19 Jun 2012
At least one person is being killed in an environmental dispute around the world each week as the battle for land, natural resources and forests becomes increasingly violent, a report said on Tuesday.
---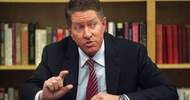 Des Moines Register | 19 Jun 2012
An ethics complaint being filed today alleges agribusiness investor Bruce Rastetter used his membership on a board that oversees Iowa's public universities to advance a business venture involving Iowa State University.
---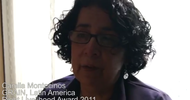 RLA Foundation | 18 Jun 2012
The Right Livelihood Award Foundation co-organised a seminar in the Swedish Parliament on June 14, 2012 where a new report on land grabbing by researchers of the Right Livelihood College Campus in Lund was released.
---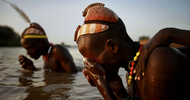 HRW | 18 Jun 2012
The Ethiopian government is forcibly displacing indigenous pastoral communities inEthiopia's Lower Omo valley without adequate consultation or compensation to make way for state-run sugar plantations, Human Rights Watch said in a report released today.
---
PANAP | 18 Jun 2012
A report entitled "The Real Trespassers: Landgrabbing in the Name of Palm Oil in Southern Philippines" that chronicles the findings of the International Fact-Finding Mission in Opol has been released by PAN AP.
---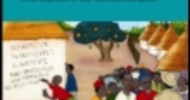 JPS | 18 Jun 2012
This issue of Journal of Peasant Studies explores the complex dynamics of corporate land deals in a broad agrarian political economy perspective, with a special focus on the implications for property and labour regimes, labour processes and structures of accumulation.
---
The Nation | 15 Jun 2012
Singaporean and other foreign traders are taking advantage of a loophole in Thai laws to purchase land suitable for paddy fields and starting up rice-trading houses in Thailand.
---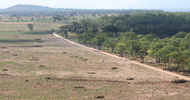 NPR | 15 Jun 2012
In some countries of Africa, there's a land rush under way as investors claim farmland, establish mega-farms and try to cash in on high prices for food and biofuels.
---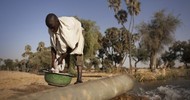 Gulf Times | 14 Jun 2012
We are interested in the opportunity of farming in Nigeria and we are happy that the government is facilitating that process," says Hassad Food Operations and Asset Management executive director Andrew Goodman.
---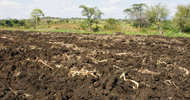 NPR | 14 Jun 2012
NPR takes a closer look at the reality behind the rhetoric, and went to Mozambique, a hot spot in the global rush for land.
---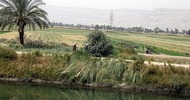 Egyptian Gazette | 14 Jun 2012
An Egyptian model farm is to be created in Ethiopia on an area of some 500 feddans [210 ha] with the potential for expansion in the regional state of Afar some 600 kilometres north of Addis Ababa.
---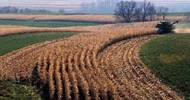 Bloomberg | 14 Jun 2012
Adecoagro, the agricultural company that counts George Soros as its biggest investor, is giving potential buyers the chance to get a hold of farms in Brazil and Argentina at a 36 percent discount to its net assets.
---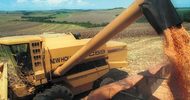 Farmland Investor Centre | 13 Jun 2012
Under a new proposal from the Agricultural Committee of Brazil's Congress, any company established in Brazil, even if controlled by foreigners, would be considered Brazilian and not subject to restrictions on farmland ownership.
---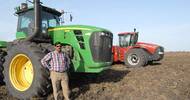 Bloomberg | 13 Jun 2012
The company has approached the African Development Bank, the African Export-Import Bank and the Eastern and Southern African Trade and Development Bank to raise another $100 million for a sugarcane estate.
---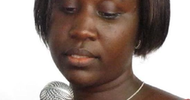 CNCR | 17 Apr 2012
"We, the women of Senegal, with the other women of the world, demand that the State put an end to land grabbing and regain control over spoilated lands since land must belong to those who work it in order to feed themselves and the country"
---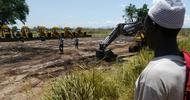 DW | 20 jui 2012
Les nouvelles directives volontaires sur l'accès à la terre, peuvent-elles freiner le "land-grabbing", l'accaparement des terres ? Les organisations de défense des paysans se montrent optimistes. Le point avec Sarah Steffen.
---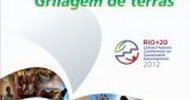 APIC | 19 jui 2012
"Pain pour le prochain" (PPP) a soulevé le problème de l'accaparement des terres, lors d'une conférence co-organisée au Sommet des Peuples à Rio de Janeiro au Brésil, le 18 juin 2012.
---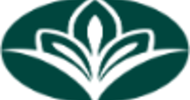 La France Agricole | 19 jui 2012
Le groupe AgroGeneration, spécialisé dans la production de céréales et d'oléagineux en Ukraine et en Argentine, a annoncé, mardi, le lancement d'un emprunt obligataire « ouvert à tous » (y compris les investisseurs individuels) de 15 millions d'euros.
---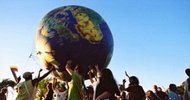 Senewebnews | 18 jui 2012
Venus de différents coins du continent, les sociétés civiles, ONGs et mouvement sociaux ont exprimé leur ras-le-bol face à l'accaparement illicite des terres.
---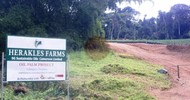 EcoFin | 18 jui 2012
Herakles Farms passe à la vitesse supérieure au Cameroun, tout en lançant une campagne de communication sur les impacts sociaux et environnementaux de son investissement.
---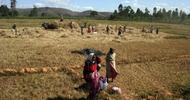 AFP | 18 jui 2012
Le sujet n'est pas à l'ordre du jour officiel du sommet de l'ONU sur le développement durable Rio+20 du 20 au 22 juin, mais il y sera porté par les ONG.
---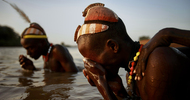 HRW | 18 jui 2012
Le gouvernement éthiopien exproprie de force des communautés d'éleveurs autochtones dans la basse vallée de l'Omo, a déclaré Human Rights Watch dans un rapport publié aujourd'hui.
---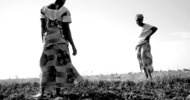 CCFD | 18 jui 2012
Découvrez les deux premiers épisodes de notre série Terres, un tour du monde des accaparements de terres (CCFD - Terre Solidaires)
---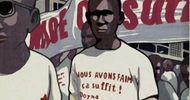 France Info | 17 jui 2012
Entretien radiophonique avec Alexis Marant, l'auteur d'un documentaire sur des investisseurs d'un nouveau genre : ceux qui achètent des milliers d'hectares de terres cultivables.
---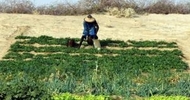 Journal du Mali | 16 jui 2012
Mis à l'arrêt par le coup d'Etat du 22 mars 2012, les grands travaux d'aménagement agricoles redémarrent à l'Office du Niger.
---
Le Hub Rural | 14 jui 2012
Le dernier bulletin d'information du Hub Rural sur les actualités foncières ouest-africaines vient de sortir.
---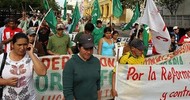 Radio Habana Cuba | 15 jun 2012
Los campesinos del sureste de Paraguay llevan años en la lucha por un repartición justa de la tierra y denunciaron que los suelos más ricos de la nación se encuentran en poder de los "brasiguayos", brasileros que han comprado tierras y se han nacionalizado.
---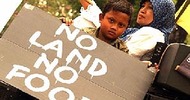 Crónica de Aragón | 13 jun 2012
Varias ONG afirman que esta práctica está exponiendo a la esclavitud y a la explotación laboral a gran parte del campesinado de estos países
---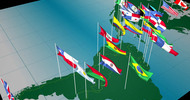 ALAI | 08 jun 2012
Een varios países se establecen límites a la adquisición de tierras por extranjeros. En Argentina, los extranjeros pueden adquirir hasta 15% de la tierra rural.
---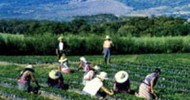 La Repubblica | 18 Jun 2012
Nella terra dove si coltiva il migliore caffè del mondo, il sempre più diffuso fenomeno dell'accaparramento delle terre da parte di investitori internazionali che, con l'appoggio dei governi locali, acquistano terre utili per produrre cibo destinandolo poi alla produzione di biocarburant, ignorando cinicamente l'impatto sociale, economico e ambientale che ne consegue, e violando i diritti dei piccoli proprietari terrieri
---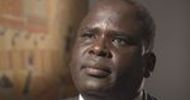 ARD | 17 Jun 2012
"Bodenrausch" und wie sich Konzerne als neue Kolonialherren etablieren
---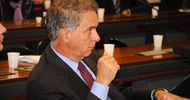 Valor | 14 Jun 2012
A Comissão de Agricultura da Câmara dos Deputados aprovou relatório que dá às empresas brasileiras com capital estrangeiro liberdade para adquirir grandes extensões de terras. Atualmente, isso é proibido.
---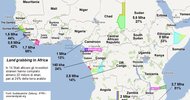 Ecoalfabeta | 25 May 2012
Multinazionali e governi stranieri stanno correndo ad accaparrarsi terre in Africa, per garantirsi cibo e biofuel. Il nuovo colonialismo avanza e minaccia centinaia di milioni di contadini
---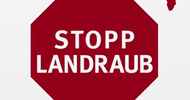 Gemeinsam für Afrika | 23 May 2012
Rund um den Internationalen Afrikatag am 25. Mai macht Gemeinsam für Afrika in jedem Jahr deutschlandweit mit kreativen Aktionen auf Probleme und Missstände aufmerksam.
---
Accaparement des terres : Se défendre ou renoncer à la souverainté alimentaire !

ENDA Pronat et partenaires | Rio | 19 Jun 2012
farmlandgrab.org
weekly provides a list of the latest postings to farmlandgrab.org by email each week
farmlandgrab.org
is an open-publishing website, initiated by GRAIN, tracking today's global land grab for food production and people's movements against it
to unsubscribe from the list, click
this link
to visit or post materials to the website, click
this link