Food crisis and the global land grab
farmlandgrab.org weekly | 06 May 2015
---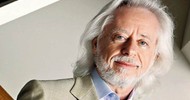 Bloomberg | 06 May 2015
SigmaBleyzer's company AgroGeneration manages fields of wheat, sunflowers and other crops in five Ukrainian regions and is looking for deals to expand farm operations in the country
---
Mongabay | 06 May 2015
There's a saying in Indonesian palm oil industry: Sumatra is yesterday, Kalimantan is today, and Papua is tomorrow. Tomorrow might well have arrived. A new report sheds light on the industry's rapid expansion in Indonesia's easternmost region and the companies behind the plantation drive.
---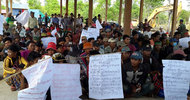 RFA | 05 May 2015
More than 300 villagers formed a human barrier, blocking bulldozers owned by the two foreign companies, Vietnamese developer Thy Nga and Taiwanese firm PNT who are encroaching ancestral farmland and operating outside of the boundaries set by their concessions.
---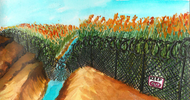 Oakland Institue | 05 May 2015
My Home, My Land is a graphic representation that dismantles the myths promoted by donor countries, development agencies, and corporations about the positive effects of foreign direct investments through large-scale land acquisitions.
---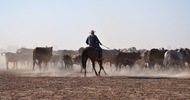 Australian Financial Review | 04 May 2015
One of China's largest beef producers, Honda Agriculture, is looking to buy up to $100 million worth of cattle property in Australia over the next 12 months.
---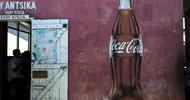 D+C | 03 May 2015
Because of plantations or infrastructure projects, people are displaced from the land that their livelihood depends on. To improve matters, the UN voluntary guidelines on the tenure of land, forests and water must be implemented.
---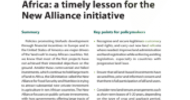 PLAAS | 30 Apr 2015
Land-based investments in Africa supported by the G8's New Alliance follow similar patterns to unrealised ambitions of biofuels investments.
---
awasMIFEE | 30 Apr 2015
A comprehensive investigation into the oil palm industry in West Papua, by awasMIFEE and Pusaka and local Papuan organisations Belantara Papua, Bin Madag Hom, Jasoil, SKP KAME and Jerat. Papua, and Sawit Watch.
---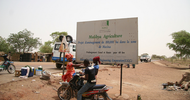 Reuters | 30 Apr 2015
Irrigated farmland near the Niger River should be the breadbasket of Mali. But a lack of infrastructure, political instability, climate change and botched foreign investment deals mean the region isn't living up to its potential.
---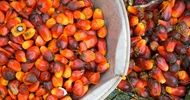 Guardian | 30 Apr 2015
It's right to hold destructive palm oil companies to account, but until we look to the organisations funding their activities we're missing an important part of the puzzle.
---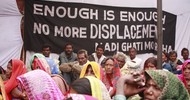 GRAIN | 30 Apr 2015
Legislative changes now sweeping across Asia threaten to displace millions of peasant families, undermine local food systems and increase violent conflicts over land. Already, just six percent of Asia's farm owners hold around 66% of its farmland.
---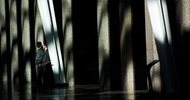 P&I | 10 Apr 2015
New Mxico's SIC makes its second investment into an agriculture-related fund this year by investing $75 million in Brookfield Brazil AgriLand Fund II, after it approved a $200m commitment to a TIAA-CREF fund in February.
---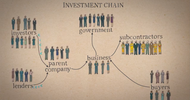 IIED | 15 Mar 2015
Understanding where the money for a given investment comes from and where the produce is sold can provide new levers for public accountability.
---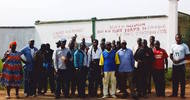 Business & Human Rights Resource Centre | 05 mai 2015
"Les actions nécessaires seront introduites contre les propagateurs de ce mensonge," annonce le groupe Socfin.
---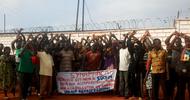 Mediapart | 30 avr 2015
Cette mobilisation n'est que le dernier acte d'un interminable bras de fer entre le groupe Bolloré et le groupement d'association de paysans et de villageois.
---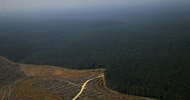 Palabre-ando | 04 may 2015
¿Qué es tal invasión? ¿Qué cubre tantas y tantas hectáreas de esta tierra de enorme fertilidad? Ustedes mismos reconocerán por su morfología que son palmeras, pues sí, este bosque sin fin es un bosque de palma africana que las empresas multinacionales han convertido en una epidemia planetaria para su beneficio.
---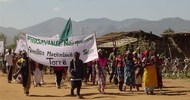 Rádio Vaticano | 02 May 2015
Comboniano, encarregado do sector "Justiça e Paz", o P. Arlindo Pinto escreveu uma carta aberta ao Governo de Moçambique, pedindo a revisão do ProSAVANA que visa o desenvolvimento agráriono país, mas que corre o risco de aumentar a pobreza.
---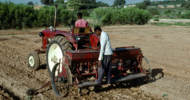 Carta Maior | 02 May 2015
Os países do G-8 querem assumir a terra do continente africano, exportando suas tecnologias e ignorando qualquer conhecimento agroecológico.
---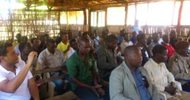 ADECRU | 30 Apr 2015
Mais de 50 pessoas dos quais camponeses e camponesas, associações de camponeses e os seus respectivos fóruns, do posto administrativo de Mutuale, Distrito de Malema, na província de Nampula, disseram NÃO ao ProSAVANA.
---