Food crisis and the global land grab
farmlandgrab.org weekly | 29 Apr 2015
---
Want to read about local peoples' struggles to defend their lands and forests? World Rainforest Movement launches campaign for subscribers to its
free electronic monthly bulletin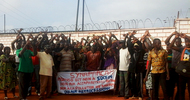 ReAct | 29 Apr 2015
The movement launched in Cameroon by peasants deprived of their land by the oil palm plantations is spreading. Bolloré puts the responsibility for the conflict on the Belgian shareholders of Socfin.
---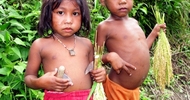 ALDAW | 28 Apr 2015
in Palawan, Philippines traditional farming like 'slash-and-burn'(kaingin) is antagonized through restrictive legislation to pave way for increase land deals for industrial agriculture, especially oil palm and rubber.
---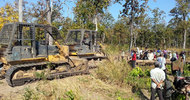 RFA | 28 Apr 2015
Around 50 villagers representing 90 families from Lor Peang village in Kampong Chhnang province presented petitions to the U.S. and European Union embassies among others, accusing KDC International—a company run by Chea Keng, wife of Cambodia's Minister of Mines and Energy Suy Sem—of encroaching on their land.
---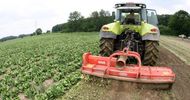 Lusa | 28 Apr 2015
Peasants of Malema, Nampula Province, criticised the government for the way the ProSavana project is being implemented at a public consultation on the project's master plan.
---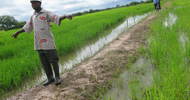 GhanaWeb | 28 Apr 2015
Roberto Jaconi of Brazil Agro-Business Group Limited told Ghana's Minister of Agriculture that his company was only farming 15% of the expected 3,500 hectares because of a slow response to requests for tax exemptions.
---
The Zimbabwean | 27 Apr 2015
Ian Scoones summarises some of the discussion at the PLAAS Cape Town conference on the engagement of Brazil, China and South Africa in patterns of agrarian change.
---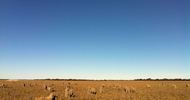 FIN Alternatives | 27 Apr 2015
Alternative investment management firm Blue Sky is targeting North American institutional investors with a new strategy that will invest in Australian agriculture and related industries.
---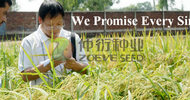 Daily Observer | 27 Apr 2015
The Government of The Gambia and Zoeve Seed Company sign MOU on a farming project that will commence with 1000 hectares for rice production.
---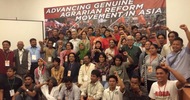 | 27 Apr 2015
Amid massive land grabbing, land-use conversions and plunder of natural resources in the region by foreign and local investors, peasant organizations and land reform advocates vowed to further advance the struggle for genuine agrarian reform at a recently concluded two-day conference here.
---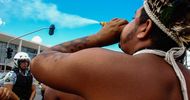 TruthOut | 25 Apr 2015
"Behind the impetus for this law are the interests of Monsanto, Nestlé, Syngenta, Cargill and other corporations that want to take our lands."
---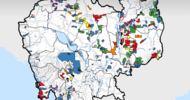 LICADHO | 25 Apr 2015
LICADHO, a Cambodian human rights group is releasing its land concession dataset and renewing its call for the government to fully disclose all concessions.
---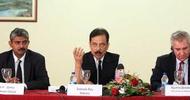 Republika | 24 Apr 2015
14 foreign companies submitted letters of interest at a public call to lease the 4,435 hectares of farmland owned by Macedonia's state company Dzumajlija.
---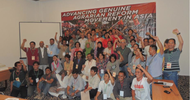 APC | 24 Apr 2015
Landlessness in Asia has worsened due to massive land grabbing, land-use conversions and plunders of natural resources carried out by private investors (domestic or foreign).
---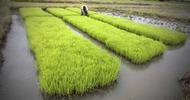 Reuters | 16 Apr 2015
Agriculture Minister Sangafowa Coulibaly says his government will make it easier to get land and speed up the process for investors wanting to get involved in arable farming.
---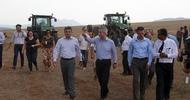 Scoop | 05 Nov 2013
In Dzumajlija there is not enough land, water and space to breed the cows announced by the Indian company Sahara Group
---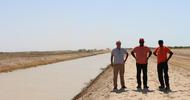 Property Frontiers | 11 Oct 2013
Dean Jobling, CEO and Founder of Sunu Agro, explains how his company's farm project in Senegal will be delivering investors expected returns of 239% over 5 years.
---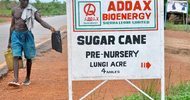 Le Figaro | 29 avr 2015
Le parlement européen a voté hier une directive qui selon certains observateurs marque un coup de frein au développement des biocarburants de première génération tels que l'éthanol produit à partir des céréales et du biodiesel issu d'oléagineux.
---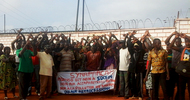 ReAct | 29 avr 2015
Le mouvement lancé au Cameroun par les paysans privés de leurs terres par les plantations de palmiers à huile s'étend. Bolloré renvoie la responsabilité du conflit sur les actionnaires belges de la Socfin.
---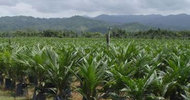 Camer.be | 28 avr 2015
Le Point de contact national français pour la mise en œuvre des principes directeurs de l'OCDE appelle au Groupe Bolloré à prendre leurs responsabilités et à poursuivre leur effort pour engager le dialogue avec les plaignants
---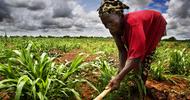 RFI | 28 avr 2015
Au Mali, le ministère des Domaines de l'Etat et des Affaires foncières lutte contre l'accaparement illégal des terres appartenant à des paysans en annulant des titres attribués à d'autres
---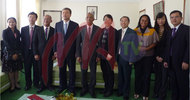 Madagascar TV | 27 avr 2015
Le ministre de l'Agriculture est persuadé que Madagascar pourrait consolider ses acquis, grâce à l'apport des Chinois, pour mettre en oeuvre son programme « Grenier de l'Océan Indien »
---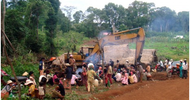 La Libre | 26 avr 2015
La Commission européenne dispose d'un pouvoir discrétionnaire pour enclencher la suspension des avantages commerciaux en cas d'accaparement de terres mais ne s'en sert pas, selon la FIDH
---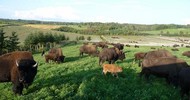 Hebdo du St Maurice | 24 avr 2015
«L'accaparement des terres, c'est un enjeu majeur à travers la province pour le modèle québécois d'agriculture,» renchérit Pierre Lemieux, premier vice-président de l'UPA.
---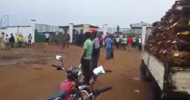 Cameroon-Info.Net | 24 avr 2015
Les populations riveraines des plantations de la Socapalm de Dibombari manifestent devant les installations de la structure productrice d'huile de palme jusqu'à samedi prochain, avant de passer le relais aux riverains de Mbongo qui entreront en scène lundi.
---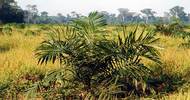 BBC Afrique | 24 avr 2015
Un des organisateurs de la manifestation a affirmé à la BBC que leur mouvement sera étendue aux autres plantations du pays dans le but d'exiger la rétrocession des terres aux exploitants.
---
AIP | 23 avr 2015
Le gouvernement ivoirien a signé un protocole d'accord avec la société française MEMORIS en vue de la mise en œuvre du projet pilote de sécurisation du foncier rural
---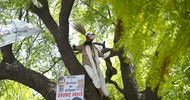 AFP | 22 avr 2015
Un paysan indien s'est pendu à New Delhi lors du'une manifestation contre une réforme gouvernementale visant à faciliter les réquisitions de terres pour l'industrie.
---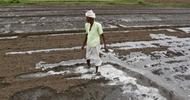 RFI | 21 avr 2015
En Inde, le Parlement vient de se réunir à nouveau pour discuter l'une des réformes les plus controversées voulues par le nouveau gouvernement
---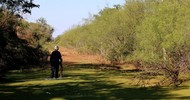 E'a | 28 abr 2015
Actualmente, la extensa propiedad se encuentra rodeada de once estancias, cuyos socios, en su mayoría extranjeros, aprovechan las facilidades impositivas así como también las ventajas en cuanto a restricciones ambientales se refiere.
---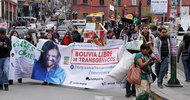 C. I. por Internet de China | 24 abr 2015
El gobierno de Bolivia y productores del país acordaron ampliar las inversiones y la frontera agrícola, a cambio de subir de dos a cinco años el período de verificación de la Función Económica Social (FES) de la tierra.
---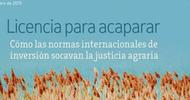 ALAI | 23 abr 2015
Este informe analiza e ilustra cómo las normas internacionales de inversión representan un obstáculo para la lucha por la soberanía alimentaria y de la tierra.
---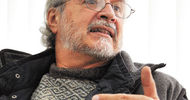 La Razón | 12 abr 2015
"Lo que se decida aquí va a afectar los territorios indígenas; van a exigir un nuevo plus, plan de uso de suelo, van a expandir la frontera agrícola, vamos a tener soya en toda la carretera Santa Cruz-Puerto Suárez, en todo el límites de la provincia Chiquitos (con Brasil)"
---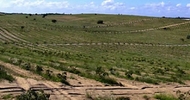 Fátima Missionaria | 28 Apr 2015
Desenvolvido em conjunto pelos governos moçambicano, brasileiro e japonês, o projeto ProSavana abrange 10,2 milhões de hectares de terra, no centro e norte do país. Missionários e ativistas temem consequências graves para a população local
---
Why Land Still Matters: An online panel discussion

USAID | | 07 May 2015