Food crisis and the global land grab
farmlandgrab.org weekly | 25 Feb 2015
---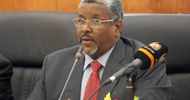 Albashir | 25 Feb 2015
he governor Abdul Rahman Al Khidir has meanwhile stressed when he received the UAE investors of Al Mohair Group, specialized in agricultural production in West Omdurman, that the state is ready to provide all necessary assistance so that the production reach its peak.
---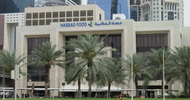 Reuters | 25 Feb 2015
"We are not closing the book on farmlands, but for the time being we are focusing on other layers of the chain," says vice president for business development at Hassad Food.
---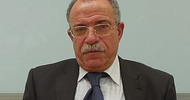 ANBA | 24 Feb 2015
Tunisia is interested in partnering up with Brazil for agribusiness, according to the CEO of the Arab country's Agency for Agricultural Investment Promotion.
---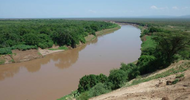 Digital Journal | 24 Feb 2015
World Bank and China join Ethiopia's government to relocate 200,000 villagers of the Omo River and Lake Turkana Valley to replace them with super-irrigation plantations.
---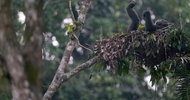 Greenpeace | 23 Feb 2015
Homes of chimpanzees destroyed by agribusiness companies – many foreign-owned – who are clearing vast tracts of rainforest throughout west and central Africa to make way for plantations producing palm oil, rubber and other commodities.
---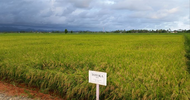 Fiji Times | 23 Feb 2015
Korean rice company, Grace Road Company Ltd, in Navua is looking at investing $10 million in the revitalisation of the rice industry in the country and in expanding its farm.
---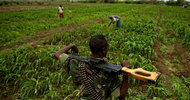 Mareeg | 23 Feb 2015
Somalia's farmland similar to its neighbouring countries is in danger of falling into the hands of transnational companies often in partnership with governments sometimes supported by the local elites.
---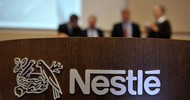 Reuters | 23 Feb 2015
The newly created International Land and Forest Tenure Facility, funded by Sweden, will start pilot initiatives to reform land tenure in developing countries.
---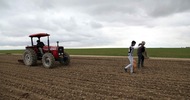 The Diplomat | 21 Feb 2015
In a statement released Thursday, The Cambodian League for the Promotion and Defense of Human Rights (Licadho) said it had registered 10,625 families newly affected by land conflicts in 2014, more than three times the number of families documented in 2013.
---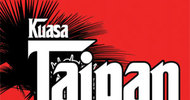 TuK Indonesia | 20 Feb 2015
25 large tycoon business groups control 3.1 million hectares of the total planted oil palm plantation in Indonesia. And another 2 million hectares of undeveloped land banks under control.
---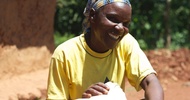 Guardian | 19 Feb 2015
Large-scale agricultural production will benefit private-sector firms rather than poor people, Grain says, noting that financial companies and sovereign wealth funds are responsible for about a third of the deals.
---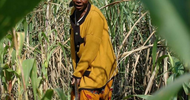 Reuters | 19 Feb 2015
Mozambique, a country wracked by hunger, has signed away land concessions three times larger than Greater London to outside investors in the past decade, displacing thousands of farmers in the process.
---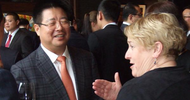 BusinessDesk | 19 Feb 2015
The New Zealand farm group arm of the Shanghai Pengxin Group owned by Chinese billionaire Jiang Zhoabai says it plans to double its $500 million of local assets within the next five years.
---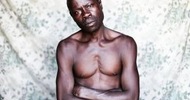 The Ecologist | 19 Feb 2015
UN Agency IFAD is robbing poor farmers and farming communities of their land and livelihoods, leaving them destitute, and handing over their wealth for plunder by foreign corporations and profiteering financiers.
---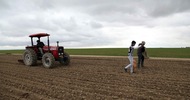 World Bulletin | 19 Feb 2015
Local NGO Licadho says registered more than 10,625 families newly affected by land conflicts.
---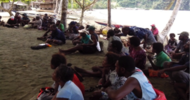 Act Now | 19 Feb 2015
Customary landowners in Papua New Guinea have been meeting to discuss their next steps following last month's National Court decision to halt the cancellation of flawed land leases.
---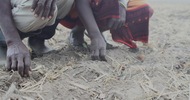 GRAIN | 19 Feb 2015
New survey of land deals shows that since 2006 dozens of deals have been reached with foreign investors for the production of food crops, covering over 1.5 million ha.
---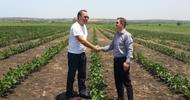 ModernGhana | 03 Jun 2014
Magcor is investing $10 million USD to boost food production and security in Ghana after investing in Agricon Global last year.
---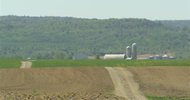 Radio Canada | 25 fev 2015
Le fonds d'investissement Pangéa fait de nouvelles acquisitions au Kamouraska, au Québec.
---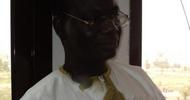 L'Informateur | 25 fev 2015
Depuis 2009, les villageois mènent un bras de fer avec le patron de GDCM autour de l'accaparement des terres de culture à l'Office du Niger au Mali.
---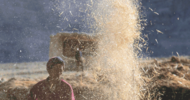 RFI | 20 fev 2015
Malgré l'accaparement des terres ou la production d'agrocarburants au détriment des aliments, les solutions existent pour que tous mangent à leur faim
---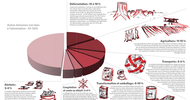 Secours Catholique | 20 fev 2015
Les fausses solutions contre le changement climatique provoquent une importante pression foncière et un accaparement des terres, explique Jean Vettraino
---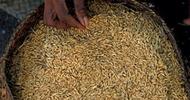 Le Monde | 19 fev 2015
Le nom de Modibo Keïta, qui contrôle 20 000 ha dans l'Office du Niger, figure dans les documents SwissLeaks auxquels a eu accès Le Monde Afrique, provenant de HSBC Private Bank à Genève
---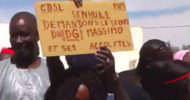 Youtube | 19 fev 2015
Sénégal : 83 employés licenciés d'une manière abusive par la nouvelle direction de SENHUILE (20 000 ha) manifestent contre Massimo Castellucci et Giovani Tampieri
---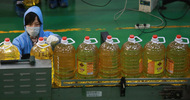 La Tribune | 17 fev 2015
Les investissement chinois dans l'agroalimentaire montent en puissance. Objectif: assurer l'indépendance alimentaire du pays.
---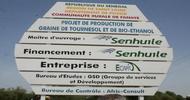 Actunet | 12 fev 2015
Cette multinationale établie à Dakar depuis le 26 juillet 2011, avec une mission "d'obtenir des concessions dans un espace de 20 000 ha à Gnith pour la production de graine de tournesol destinées à l'exportation vers l'Italie", vient de se séparer de 83 de ses employés pour des "motifs économiques" .
---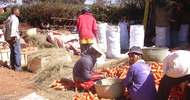 Madagascar Tribune | 06 fev 2015
Antananarivo abritera les 19 et 20 février la conférence des bailleurs relative au projet régional de sécurité alimentaire de la Commission de l'Océan Indien.
---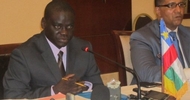 Africa Intelligence | 18 jui 2013
Le Qatar avait depuis 2012 un diplomate en Centrafrique chargé de surveiller les opportunités de terres agricoles.
---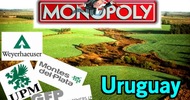 Kaos en la Red | 20 feb 2015
27 conglomerados empresariales poseen 1.641.000 hectáreas. Trasnacionales con al menos 10% de la tierra productiva en Uruguay.
---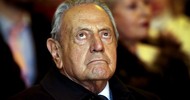 OJE | 23 Feb 2015
A organização ambientalista não governamental GRAIN reiterou hoje as acusações de usurpação de terras feitas à AgroMoz em Moçambique, depois de a empresa ter rejeitado as acusações iniciais de um relatório sobre este tema.
---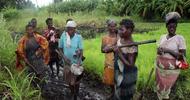 DW | 20 Feb 2015
"O colonialismo português está de volta" é o título de um novo relatório sobre os negócios fundiários em Moçambique, centrado no Corredor de Nacala, no norte do país.
---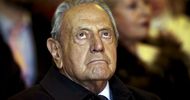 SAPO | 19 Feb 2015
Os empresários Miguel Pais do Amaral, Américo Amorim e a Rio Forte são acusados por uma Organização Não Governamental espanhola e pelo sindicato de camponeses de Moçambique de usurparem terras sem indemnizarem os habitantes locais.
---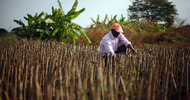 Visao | 19 Feb 2015
Empresas portuguesas são acusadas de ocupar ilegalmente propriedades agrícolas. E estilhaços do caso BES chegam a África.
---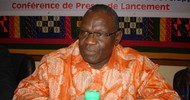 Mali Actu | 19 Feb 2015
Il ressort de notre enquête plus d'un million de victimes de l'accaparement des terres au Mali, écrit Lassana Coulibaly.
---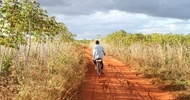 UNAC | 19 Feb 2015
Um novo estudo sobre os negócios fundiários de Moçambique conclui que desde 2006 se fizeram pelo menos 36 negócios com investidores estrangeiros para a produção de cultivos alimentares.
---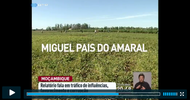 RTP | 18 Feb 2015
O relatório da Grain a que a RTP teve acesso denuncia a expulsão de milhares de camponeses das suas terras em Moçambique para dar lugar a grandes plantações industriais com capitais portugueses.
---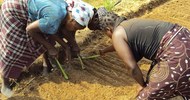 | 12 Dec 2014
prosavana, mozambique, JICA
---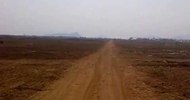 Verdade | 24 Oct 2014
モザンビーク現地新聞Verdade紙 2014年10月24日記事(仮訳) 「リオマ郡で何百人もの農民ら土地を追われる」
---