Food crisis and the global land grab
farmlandgrab.org weekly | 08 Oct 2014
---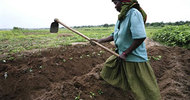 Down to Earth | 08 Oct 2014
Sivasankaran's land grabbing spree has threatened millions of livelihoods, says report
---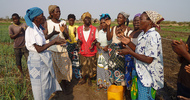 Huffington Post | 07 Oct 2014
"Our land is being occupied without our consultation," say Mozambican peasants.
---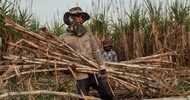 Inclusive Development | 07 Oct 2014
A formal complaint filed to Organization for Economic Cooperation and Development (OECD) against Australian ANZ Bank. The complaint was lodged on behalf of 681 families who were forcibly displaced.
---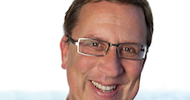 Opalesque | 07 Oct 2014
"The buzz has actually been agricultural investment conferences, where about one tenth of the people seem to be people I recognize from the hedge fund circuit."
---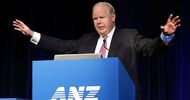 ABC | 07 Oct 2014
Inclusive Development International sent a letter of complaint to the Australian Government outlining how ANZ was a part financier of a sugar plantation in Cambodia which saw almost 700 families forcibly evicted.
---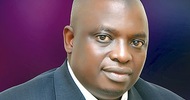 NIgeria Tribune | 07 Oct 2014
Niger State Commissioner for Agriculture says Aliko Dangote is coming to Niger State in grand style with a request for 50,000 ha of land in the flood plain bank of River Niger for rice and sugarcane production.
---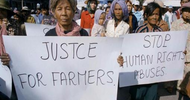 Huffington Post | 07 Oct 2014
If the Cambodian government is held to account for these crimes, other governments and the companies involved will have to heed the warning and recognise that land grabbing is too big a price to pay for doing business.
---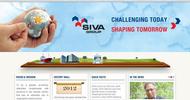 Mint | 07 Oct 2014
GRAIN's report accuses the Siva Group of land grab in many countries across South America, Africa and Asia
---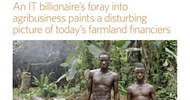 GRAIN | 07 Oct 2014
An IT billionaire's foray into agribusiness paints a disturbing picture of today's farmland financiers.
---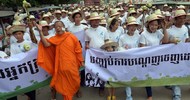 Channel News | 07 Oct 2014
Aid groups estimate that 770,000 people, or 6 per cent of Cambodia's population, have been evicted since 2000, including 20,000 people in the first three months of 2014.
---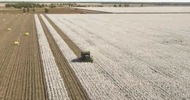 Financial Review | 06 Oct 2014
The little known Chinese group Orient Agriculture has emerged as the buyer of a south-west Queensland cropping property Undabri for $30 million, in a further sign of China's growing appetite for Australian farmland.
---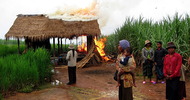 Policy Review | 06 Oct 2014
Suspending the imports of sugar and rubber from Cambodia under the EBA arrangement should be the first step that the EU should take until the blatant abuse of human rights is halted.
---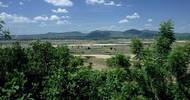 NAN | 06 Oct 2014
The Dangote Group had indicated interest in investing in irrigation around Kampe dam, adding that the land was suitable for sugar cane cultivation
---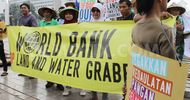 Oakland Institue | 06 Oct 2014
Groups will stage "creative resistance" outside of Bank's Annual Meeting in Washington, D.C.—and around the World—on October 10th & 11th.
---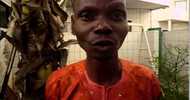 LandJustice4wa | 03 Oct 2014
Invited by Synergie Paysanne, civil society in West Africa discusses strategies against land grabbing, 23 -25 September 2014 in Cotonou, Benin.
---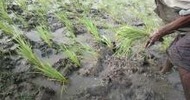 MEI | 02 Oct 2014
How did such a promising idea (which appeared to offer a textbook example of a win-win situation) fail?
---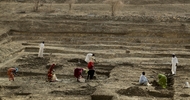 Radio Tamazuj | 01 Oct 2014
Street protests could erupt at any time in El Obeid town in North Kordofan due to a dispute over agricultural land between local farmers and the state governor, an activist said.
---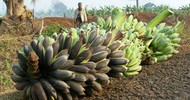 Vientiane Times | 29 Sep 2014
Chinese investors are eying the potential of multi-million dollar investments in banana and other tropical fruit plantation projects in Saravan province, according to the provincial deputy governor.
---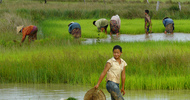 Vientiane Times | 10 Sep 2014
Authorities of Quanzhou city in China's Fujian province have expressed their interest in agricultural investment in growing rice and organic vegetables to supply the Chinese market.
---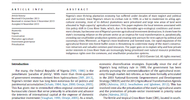 LUP | 02 Nov 2013
Cross River State has become one of Nigeria's premier agricultural investment destinations, crowding out smallholder production systems and creating new avenues for rent capture by elites.
---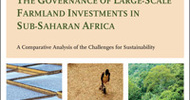 Eburon Delft | 03 Oct 2013
The primary aim of this book is to advance the understanding of the regulatory conditions under which large-scale farmland investments can contribute to sustainable development in sub-Saharan Africa.
---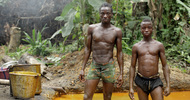 GRAIN | 07 oct 2014
L'irruption dans l'agrobusiness d'un milliardaire indien de l'informatique donne une image inquiétante du rôle actuel de la finance dans l'agriculture
---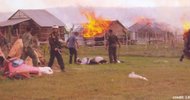 FIDH | 07 oct 2014
Une communication soumise aujourd'hui à la Cour pénale internationale atteste que la pratique des crimes découlant de l'accaparement des terres au Cambodge est constitutive de crimes contre l'humanité.
---
visionscarto | 06 oct 2014
Lors d'une présentation au cours de laquelle je parlais de la série de cartes des appropriations de terres à l'étranger par les entreprises européennes, quelqu'un dans le public me posa cette question : Vous évoquez les pays européens, soit, mais et la Chine en Afrique, et les milliers de paysans chinois qui s'installent en Afrique, vous en dites quoi ?
---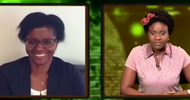 Sahara TV | 03 oct 2014
Farida reçoit Mme Binta Terrier qui avec son ONG PLAD (Partnership League for African's Dévelopment) a organisé un géant concert au Warner Theater à Washington D.C pour dénoncer ce fléau.
---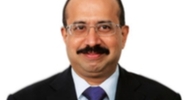 Jeune Afrique | 02 oct 2014
"Nous avons appris en Afrique que ce n'est pas parce que le gouvernement vous accorde une concession que vous allez pouvoir travailler comme vous l'entendez. Il faut d'abord obtenir l'autorisation des populations locales."
---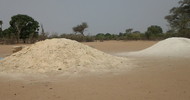 Oeildafrik | 25 sep 2014
Ce reportage a été réalisé à Mbomboye, un village sénégalais où presque toutes les terres culivables ont été cédées à des multinationales, investisseurs au détriment des paysans.
---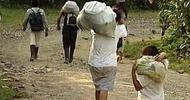 Vanguardia | 05 oct 2014
En Colombia hay más formas de robar tierras baldías, que maneras de combinar una arepa.
---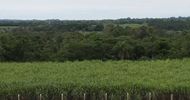 El Pais | 05 oct 2014
Gobiernos y empresas han acaparado en los países en desarrollo un área mayor que México
---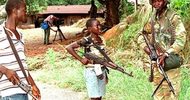 El Mundo | 03 oct 2014
Ahora, el empobrecimiento de los pueblos africanos debido al acaparamiento de tierras y recursos naturales, la violencia armada, los niños soldado y el lucrativo negocio del tráfico de armas, la trata de personas o el abuso infantil siguen siendo temas de plena vigencia.
---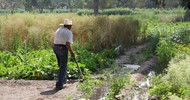 Pulzo | 03 oct 2014
Así lo establecería el proyecto de Ley de Tierras que comenzará a delinear cómo se piensa financiar y materializar esta etapa del proceso.
---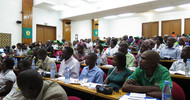 La Vía Campesina | 03 oct 2014
"Nuestra producción va a caer, porque nos estamos quedando sin tierras", sostuvo Estevão Costa. Según él, el fenómeno [usurpación de tierras] reducirá la producción, "arrastrando" a muchos campesinos al hambre y a la pobreza.
---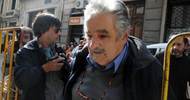 Yahoo Finanzas | 02 oct 2014
Uruguay promulgó una normativa que establece la prohibición y la tenencia de tierras para explotación agropecuaria a cualquier empresa en la que tenga participación directa o indirecta algún Estado extranjero.
---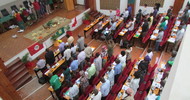 ADECRU | 06 Oct 2014
Os camponeses apontam que a entrada desses investimentos empurram as comunidades para terra inférteis, desestruturam o tecido social, destroem os meios de vivência das comunidades, levando ao aumento da pobreza.
---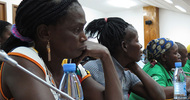 UNAC | 03 Oct 2014
"Quando os camponeses procuram saber como é que as terras foram ocupadas, apenas lhes mostram documentos que os camponeses não percebem o seu conteúdo. Ou seja, o camponês é tratado como nada"
---