Food crisis and the global land grab
farmlandgrab.org weekly | 30 Jul 2014
---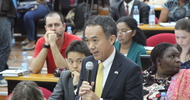 Via Campesina | 30 Jul 2014
After concerns were raised about the negative effects ProSavana poses to the Mozambican peasants, the governments of Brazil and Japan defended their participation in the program.
---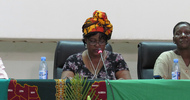 Via Campesina | 30 Jul 2014
Evidence of the effects of land grabbing on peasants in the region of Mozambique where the ProSavana project is being implemented is beginning to show, especially the impacts on women.
---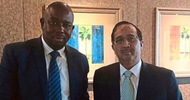 Business Wire | 30 Jul 2014
Guinea's Minister of Trade, Marc Yombouno, says that if the Malaysian company completes the project within five years the Republic of Guinea will provide the company with an additional 100,000 ha.
---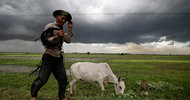 Global Witness | 30 Jul 2014
The killing on 27th July 2014 of a teenage farmer by a soldier from the Royal Cambodian Armed Forces is the latest tragedy emerging out of Cambodia's land grabbing crisis.
---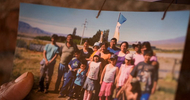 Tommaso Barsali | 30 Jul 2014
SUR is a documentary project about a Mapuche family reclaiming the right to live on their ancestral land in Patagonia, Argentina, in a major case of post-colonial land grabbing.
---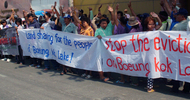 Inclusive Development International | 30 Jul 2014
Despite earlier commitments that safeguards on land rights would be strengthened, the proposed policy changes would gut essential requirements necessary to prevent displacement, impoverishment, and environmental damage.
---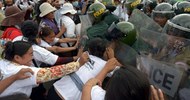 Cambodia Daily | 29 Jul 2014
About 100 villagers locked in a land dispute with an agriculture firm temporarily forced the company on Sunday to cease excavating the contested site in Kampot province.
---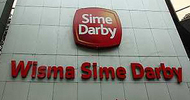 Heritage | 29 Jul 2014
A 35 year-old resident of Gbar in Klay District, Bomi County has threatened to set himself ablaze for being terminated from the employ of the Sime Darby Company without benefits.
---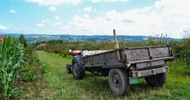 inSerbia | 28 Jul 2014
Farmers are outraged at the Ministry of Agriculture, which leased more than 3,000 ha of the best arable land to the company "Al Rafaved" from the United Arab Emirates for 250 euros per hectare.
---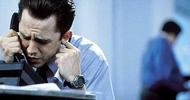 CityWire | 28 Jul 2014
Sipp operator warns of spike in overseas property investment schemes that could leave you short-changed.
---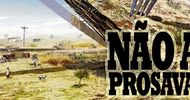 Via Campesina | 28 Jul 2014
Grabbing of land for the production of soy in Nacala corridor North of Mozambique has raised harsh criticism from the peasant organizations of Nampula, Zambezia and Niassa provinces.
---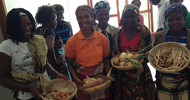 Via Campesina | 26 Jul 2014
Na província de Nampula, as mulheres estão impedidas de atravessar e passar nas zonas onde as empresas operam no âmbito da ProSavana, e isso restringe o acesso a lenha e outras culturas que as mulheres habitualmente buscavam no campo.
---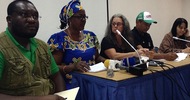 Via Campesina | 25 Jul 2014
The plan of action was revealed during a Press Conference on the second Triangular Conference of the Peoples held on July the 24th, in Maputo.
---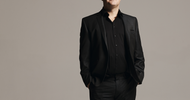 Agrimoney | 25 Jul 2014
Russian agribusiness giant Prodimex is said to have bought 27% of Stockholm-listed farmland operator Agrokultura, which has operations in Ukraine and Russia.
---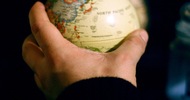 The Broker | 25 Jul 2014
The global land grab is not the consequence of ad hoc crises; it is the logical outcome from the policies and political environment laid down before it.
---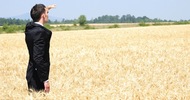 NY Times | 24 Jul 2014
Wall Street is looking for ways to invest in America's heartland, and the government is ready to play matchmaker.
---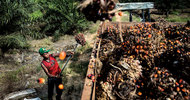 Reuters | 24 Jul 2014
Global trader Louis Dreyfus Commodities has left a joint venture operating palm oil plantations across 50,000 ha in Indonesia after an investment review.
---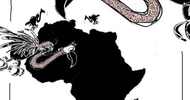 Africa Report | 22 Jul 2014
In making 2014 the 'Year of Agriculture' [sic!], the African Union has concentrated its focus on private-sector investment and public-private partnerships to drive the sector. Private equity financiers, funds and investors are answering the call.
---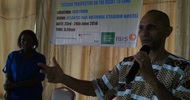 Green Scenery | 24 Jun 2014
180 citizens of Sierra Leone propose measures to combat land grabbing at the National Conference on Land and the Constitution in Freetown.
---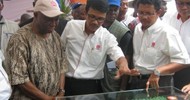 Sky FM | 01 Nov 2011
Radio programme investigates housing conditions for workers on Sime Darby's plantations project in Liberia.
---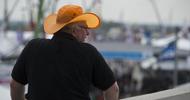 Le Soir | 26 juil 2014
Le prix des terres agricoles belges flambe par la faute d'investisseurs étrangers au secteur. Un lobby s'est créé pour sensibiliser le monde politique et enrayer la machine.
---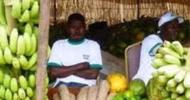 APA | 25 juil 2014
Le Gouvernement burkinabé a retenu 108 producteurs sur 737 ayant formulé une requête pour exploiter 13.023 hectares des terres aménagées du Pôle de croissance de Bagré, situé à l'Est du Burkina. 5% représente des investisseurs étrangers.
---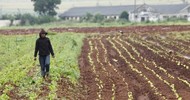 AFP | 24 juil 2014
Le gouvernement sud-africain souhaiterait « limiter » les acquisitions de terre pour les étrangers afin d'accélérer sa réforme agraire.
---
Le Monde | 23 juil 2014
Les étrangers ne pourront plus acheter de terre en Afrique du Sud d'ici cinq ans.
---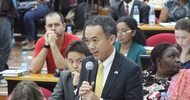 UNAC | 28 Jul 2014
Os Governos de Brasil e Japão vieram em defesa dos seus países, alegando que só estão no programa porque o Governo de Moçambique assim os solicitou.
---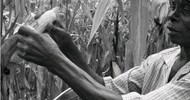 Folha 8 | 26 Jul 2014
Um conselheiro da embaixada do Japão em Moçambique reconheceu que o programa agrícola moçambicano ProSavana tem como modelo o Prodecer, implementado no Brasil.
---
????????DW?????????????? | 25 Jul 2014
モザンビークでは、プロサバンナ事業に関する懸念が、情報の不足により深刻化している。市民社会は、現場で実施される各種モデルが明確になるまで、このイニシアティブの操業停止を求めた。
---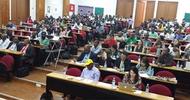 MMC | 25 Jul 2014
Organizações da sociedade civil moçambicana exigem que se pare com as acções do ProSavana e que haja uma coordenação entre o governo e a sociedade civil no redesenho das politicas da agricultura.
---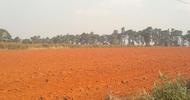 DW | 25 Jul 2014
Em Moçambique, prevalecem os receios em relação ao ProSavana, alegadamente por escassez de informação. A sociedade civil defende a paralisação da iniciativa, até que sejam clarificados os modelos de implementação.
---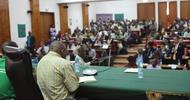 Vertical | 24 Jul 2014
Este plano de accões foi revelado durante uma Conferência de Imprensa no âmbito da segunda Conferência Triangular dos Povos (de Moçambique, Brasil e Japão) que tem lugar hoje na Cidade de Maputo.
---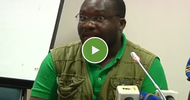 SAPO | 24 Jul 2014
Organizações da sociedade civil de Moçambique, Brasil e Japão juntam esforços em protesto ao Prosavana, um projecto que visa desenvolver om sector agrícola na região centro e norte do país.
---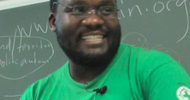 Lusa | 24 Jul 2014
Organizações da sociedade civil associaram hoje em Maputo a ocupação de pelo menos 6.000 hectares de terra em Moçambique para produção de soja ao ProSavana
---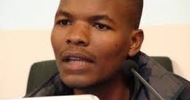 RFI | 24 Jul 2014
Maputo acolheu a Segunda Conferência Triangular dos Povos -Moçambique, Japão, Brasil, um evento que reuniu cerca de 250 representantes do governo, sociedade civil, camponeses, empresários e estudiosos para debater sobre o ProSavana.
---