Food crisis and the global land grab
farmlandgrab.org weekly | 26 Feb 2014
---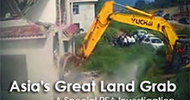 RFA | 26 Feb 2014
Rising tension over land seizures is emerging as a critical issue in Asia. An RFA special report examines the changing dynamic of Asia's Great Land Grab.
---
| 25 Feb 2014
Overnight, China has become a leading world grain importer, set to buy a staggering 22 million tons in the 2013–14 trade year. As recently as 2006—just eight years ago—China had a grain surplus and was exporting 10 million tons. What caused this dramatic shift?
---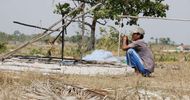 Phnom Penh Post | 25 Feb 2014
Vietnam and China lead the pack of foreign companies granted economic land concessions in Cambodia for agro-industrial development by a wide margin.
---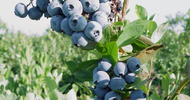 PI | 24 Feb 2014
A $50 million commitment was made to ACM Permanent Crops, a fund managed by Agriculture Capital Management that seeks "superior value creation from vertically integrated, sustainable farming."
---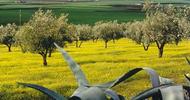 Reuters | 24 Feb 2014
The target is 500,000 hectares by 2020, nearly four times the current level.
---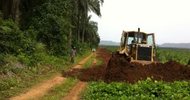 Wall Street Journal | 24 Feb 2014
AIM-listed Paragon acquires 10% shareholding in Paragon Volta Limited, which is in the process of finalising a sublease over 5,000 ha close to the River Volta in Ghana from a much larger farm land estate.
---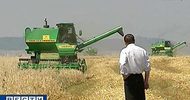 Agrimoney | 21 Feb 2014
The Russian farm operator unveiled a loss of $18.1m for 2013, compared with earnings of $7.49m in 2012 – the only profitable year in the company's nine year history.
---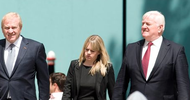 Daily Mirror | 21 Feb 2014
African Land Limited sold itself on the back of a promise that its rice farms in Sierra Leone could turn "a tidy profit of 15% a year".
---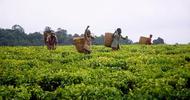 WDM | 21 Feb 2014
In return for corporate investment and aid, African states are reforming policies to make it easier for corporations to operate in their farming sectors.
---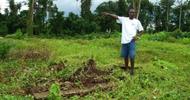 | 21 Feb 2014
Citizens of Sinoe County have filed a complaint to the RSPO, an overall body of Palm Oil Worldwide, to stop Golden Veroleum Liberia's (GVL) ongoing operations of land clearing in their towns and villages.
---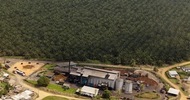 Jeune Afrique | 17 Feb 2014
To make up for a shortfall in financing of the agriculture sector, 24 million ha have been made available to private investors.
---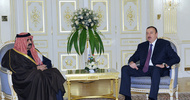 APA | 05 Feb 2014
Azerbaijani Minister of Agriculture Heydar Asadov meets with representatives of Qatar Holding to study opportunities for investment in Azerbaijan's agriculture.
---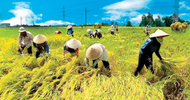 VietNamNet | 23 Jan 2014
SSI, a Vietnames securities company, has joined forces with LR Group to set up a $150 million fund to invest in agriculture.
---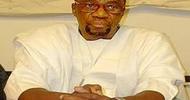 Points chauds | 24 fev 2014
Les FLAM rappellent que la juste solution au problème réside dans la mise en oeuvre d´une réforme agraire à caractère National
---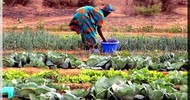 PANA | 24 fev 2014
Le bradage de terres de la vallée du fleuve Sénégal au profit d'hommes d'affaires saoudiens est dénoncé par les Forces de libération africaine de Mauritanie (FLAM).
---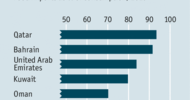 Les Échos | 24 fev 2014
Les pays arabes du Golfe sont de plus en plus préoccupés par leur sécurité alimentaire, souligne « The Economist »
---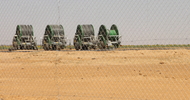 RFI | 20 fev 2014
Le gouvernement veut favoriser l'installation d'investisseurs étrangers qui se consacrent à la production agricole destinée essentiellement à l'exportation. Reportage
---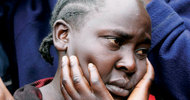 TJN et al | 14 fev 2014
Karuturi Ltd, l'entité de production florale de Karuturi Global Ltd au Kenya, est au bord de l'effondrement financier et vient d'être placé sous administration judiciaire. L'un des pires accapareurs de terres de la planète est dans la situation la plus difficile qu'il ait jamais connue.
---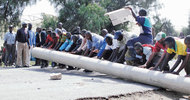 TJN et al | 14 fev 2014
Un résumé des derniers événements au 13 février 2014 publié par Tax Justice Network, Forum Syd Kenya, GRAIN, Anywaa Survival Organisation et le South Indian Coordination Committee of Farmers Movements
---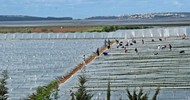 Reuters | 24 feb 2014
Afin d'atteindre les objectifs de croissance agricole dessinés par le plan Maroc Vert à l'horizon 2020, le gouvernement entend quadrupler les locations de terres agricoles à destination des agriculteurs locaux et investisseurs étrangers.
---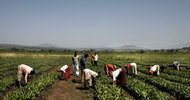 La Jornada | 21 feb 2014
El sufrimiento que para los habitantes locales han representado los últimos estertores de la división de Karaturi en Kenia no hace más que evidenciar que los supuestos "beneficios de las inversiones extranjeras", como se repite en el catecismo neoliberal, son una dramática mentira.
---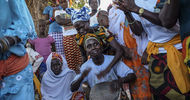 El Diario | 20 feb 2014
El proyecto tiene un hilo conductor que le une con otras acciones de las ONG implicadas, que es evitar el acaparamiento de tierras en Guinea Bissau.
---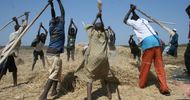 El País | 20 feb 2014
La empresa Agrogeba desplaza a unos 600 campesinos de sus arrozales en Guinea Bissau sin darles ninguna compensación
---
L'accaparement des terres au Sénégal : débat public

Peuples Solidaires en partenariat avec GRAIN, Enda Pronat, Re:Common, Oakland Institute, CNCR, Actionaid | Paris | 28 Feb 2014