Food crisis and the global land grab
farmlandgrab.org weekly | 11 Dec 2013
---
Support the
online signature campaign
launched by Sarawak indigenous leaders against land grabbing by corporations
Sarawak indigenous leaders have launched an online signature campaign against land grabbing by private and government corporations - See more at: http://farmlandgrab.org/post/view/22843-sarawak-indigenous-communities-launch-campaign-against-land-grabbing#sthash.oa7IRHv9.dpuf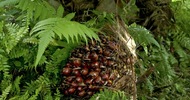 Bloomberg | 11 Dec 2013
Bloomberg reports that a Colombian government plan to help Cargill and other investors acquire farmland was possibly killed by the FARC, meeting with officials for peace talks 1,400 miles away in Havana.
---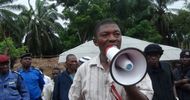 Reuters | 10 Dec 2013
Police in Sierra Leone opened fire on Tuesday on an armed protest against the expansion of palm oil plantations operated by the international agro-investor Socfin Group, a police chief said.
---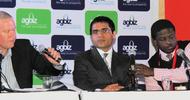 Business Day | 10 Dec 2013
Nedbank Capital head of Africa business Zhann Meyer referred to a number of recent acquisitions in the sector, concluding that "the livelihoods, ways of life and culture of millions of Africans are at risk".
---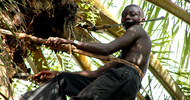 SDI | 10 Dec 2013
The RSPO complaint by Liberian communities extends to Equatorial Palm Oil's new majority shareholder Kuala Lumpur Kepong Bhd of Malaysia
---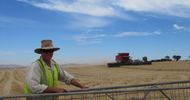 ABC | 09 Dec 2013
In four years, Hassad Foods has accumulated 255,000 hectares of agricultural land with the aim of producing 165,000 tonnes of grain and 100,000 lambs annually.
---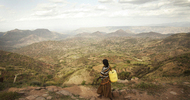 DFID | 09 Dec 2013
Governments of Ethiopia, UK, US and Germany sign land country partnership to work together to improve rural land governance for economic growth and to protect the land rights of local citizens in Ethiopia.
---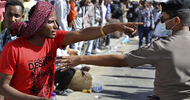 Al-monitor | 09 Dec 2013
A Saudi agricultural investor warns about the failure of Saudi agricultural investments in Ethiopia and the liquidation of businesses due to the conditions set by the Saudi Agricultural Development Fund
---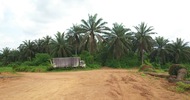 RRDC | 09 Dec 2013
NGO working extensively in the forest region of Cross River State of Nigeria, expresses doubts about Wilmar International's new policy to protect forests and communities.
---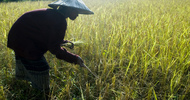 Vientiane Times | 07 Dec 2013
A large Chinese investor is looking to secure a concession for 10,000 hectares of land on the Bolaven plateau in Champassak province, Laos PDR, for rice, small crops and cattle raising, according to provincial officials.
---
Arab News | 07 Dec 2013
Ethiopian ambassador Mohammad Kabeera said his country has approved more than 361 investment projects to Saudi Arabia mainly in the agricultural sector.
---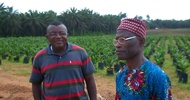 GRAIN | 07 Dec 2013
Wilmar, the world's largest palm oil processor, is building a massive plantation on forest lands illegally gifted to Nigeria's former president, Olusegun Obasanjo. The local community wants these lands back.
---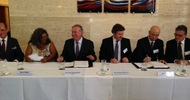 ABC | 06 Dec 2013
Western Australia signs agreement with Chinese-owned Kimberley Agricultural Investment on Ord Irrigation Scheme
---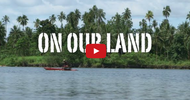 Oakland Institute | 06 Dec 2013
Film chronicles the experiences of communities in PNG--giving a voice to those who are losing their land and natural resources to illegal logging operations and palm oil companies.
---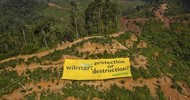 businessGreen | 06 Dec 2013
Wilmar says it will ensure that its own plantations and companies from which it sources only provide products that are "free from links to deforestation or abuse of human rights and local communities".
---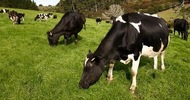 NZ Herald | 06 Dec 2013
Labour bill aims to make it more difficult for foreign investors to purchase rural land
---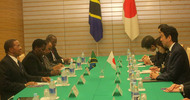 Tanzania Daily News | 06 Dec 2013
The Japan investor has secured 40,000 hectares of land for commercial cotton farming in Handeni District where it will open a cotton farm and a processing plant.
---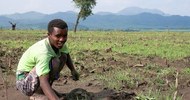 Le Monde diplomatique | 05 Dec 2013
Government plans to reform Ethiopia's agriculture failed to consider the country's peasant culture, subsistence farming and basic needs, letting the corporations take the most fertile land from peasant farmers.
---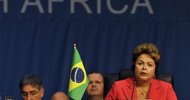 This is Africa | 05 Dec 2013
BNDES will open its first Africa office as it looks to finance the expansion of Brazilian companies across the continent
---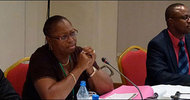 IISD | 05 Dec 2013
Over sixty parliamentarians from Central Africa met in Malabo, the capital of Equatorial Guinea, to discuss how to promote sustainable agricultural investment.
---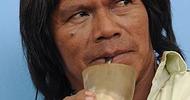 World Bulletin | 04 Dec 2013
A Brazilian indigenous leader who spent decades campaigning for his tribe's right to live on their ancestral land was murdered on Sunday night
---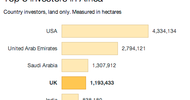 Guardian | 27 Nov 2013
The UK is the fourth largest investor in the world in African land - but how much does it have and what is it using it for?
---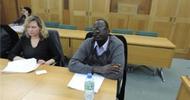 ASO | 26 Nov 2013
In Ethiopia, where pastoralists and indigenous communities are displaced and evicted from their traditional lands amidst widespread human rights abuses, history is repeating itself.
---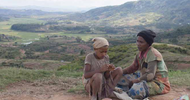 Re:Common, SIF, TANY | 13 Nov 2013
This joint report from Re:Common, SIF and TANY takes the reader through five regions of Madagascar exposing the consequences and impacts of six land grab projects led by foreign investors.
---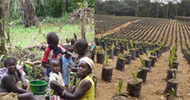 WRM | 05 Nov 2013
Members of communities affected by industrial monoculture oil palm plantations and other organizations from Africa, Europe, the Americas and Asia reaffirm opposition to land and forsst grabs.
---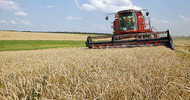 China Ukraine News Blog | 05 Nov 2013
With vast tracts of rich, black earth but antiquated infrastructure, Ukraine is attracting interest from Chinese companies hoping to meet their nation's growing demand for grains and meat.
---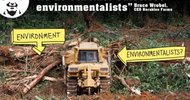 Afrik.com | 30 Oct 2013
Au Cameroun, le projet pharaonique et controversé de la société américaine Herakles Farms de planter des palmiers à huile semble avoir tourné court. Et le pdg de la firme a disparu comme par enchantement.
---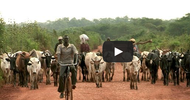 Journeyman Pictures | 28 Oct 2013
Ethiopia's huge agricultural output has brought about an economic miracle for the nation. But inhabitants are being pushed out of their native land by foreign investors and have no share in the profits.
---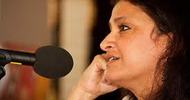 Redeye Collective | 21 Oct 2013
Anuradha Mittal of the Oakland Institute speaks abouthow farmers in Ethiopia are being pushed off their land to make way for multinational agribusiness.
---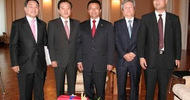 TANY | 16 Oct 2013
Five years after it was proposed, Daewoo Logistics' agribusiness project, which envisioned a 99-year lease of 1.3 million ha in four regions of Madagascar, has now returned to the news.
---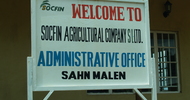 Green Scenery | 15 Oct 2013
Five members of Malen Affected Land Owners Association arrested by police for allegedly destroying oil palms of Luxembourg-based SOCFIN say they are being unfairly targeted by those profiting from the plantation.
---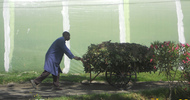 CorpWatch | 10 Oct 2013
Flower growers in Kenya have gone on strike to protest unpaid wages from Karuturi Global, the Indian flower export multinational.
---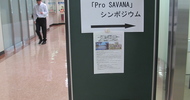 | 30 Sep 2013
We, civil society organizations in Japan, call on the Japanese Ministry of Foreign Affairs and the Japan International Cooperation Agency for the immediate suspension and fundamental review of the ProSAVANA program.
---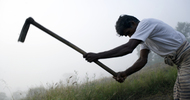 Dow Jones | 25 Sep 2013
The Asian Development Bank plans to pick up direct equity stakes in food and agri-business enterprises in the region next year, a senior official said.
---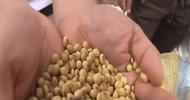 NHK | 13 Jun 2013
NHK World video report looks at Itochu's efforts to grow soybeans for export in Mozambique in collaboration with JICA.
---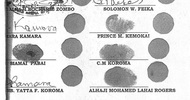 | 31 Dec 2012
Lesse between Aristeus Palm Oil Limited and the Chiefdom Council of Sorogbema (Pujehun District), for 47,567 ha.
---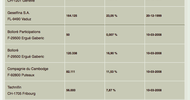 Agence Ecofin | 11 dec 2013
La police sierra-léonaise a ouvert le feu, le 10 décembre, sur des manifestants armés, protestant contre un projet d'expansion d'un projet de culture d'huile de palme de la Société financière des caoutchoucs (Socfin), a déclaré un responsable de la police.
---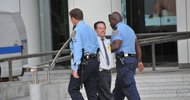 Multinationales.org | 11 dec 2013
Face aux voix critiques qui mettent en lumière les atteintes aux droits occasionnées par leurs activités, de plus en plus d'entreprises répondent en leur intentant des procès.
---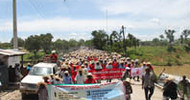 AlterPresse | 10 dec 2013
L'administration Martelly/Lamothe s'accapare, de force, des terres paysannes dans le Nord et le Nord-Est du Haïti au profit de firmes multinationales, dénoncent plusieurs organisations paysannes
---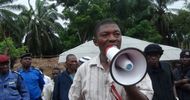 Reuters | 10 dec 2013
La police sierra-léonaise a ouvert le feu mardi sur des manifestants armés protestant contre un projet d'expansion de plantations d'huile de palme du groupe Socfin, a déclaré un responsable de la police.
---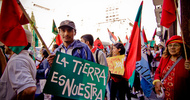 Alai-Amlatina | 10 dec 2013
En Amérique Latine, l'accaparement des terres présente sans aucun doute une caractéristique distincte, comme l'explique Cristóbal Kay, spécialiste en développement et réforme agraire.
---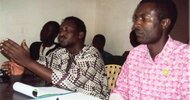 Info Matin | 09 dec 2013
La Convergence malienne contre l'accaparement des terres, en partenariat avec l'Organisationn internationale pour le droit à l'alimentation, a attiré l'attention des autorités maliennes sur les risques d'expropriation des paysans de leurs terres au profit des entreprises multinationales.
---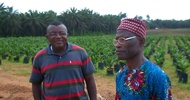 GRAIN | 07 dec 2013
Wilmar, la plus grande société mondiale d'huile de palme, installe actuellement une gigantesque plantation sur des terrains forestiers qui ont été offerts de façon illégale à l'ancien président du Nigeria, Olusegun Obasanjo. La communauté locale veut récupérer ces terres.
---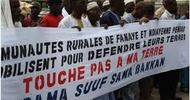 RFI | 07 dec 2013
Selon Mariam Sow, « L'accaparement des terres concerne 1/3 des surfaces cultivables du Sénégal ! » Emission sur RFI.
---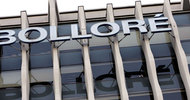 Survie | 14 nov 2013
Le groupe Bolloré, expert patenté des poursuites en diffamation et autres intimidations permettant de bâillonner toute critique, alimente à nouveau l'actualité judiciaire. Mais, cette fois-ci, pas uniquement à son profit.
---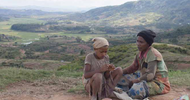 Re:Common, SIF, TANY | 13 nov 2013
Ce nouveau rapport de Re:Common, SIF et TANY vous amènera dans cinq régions de Madagascar et vous apprendra les conséquences et impacts de six projets d'accaparement de terres par des investisseurs étrangers.
---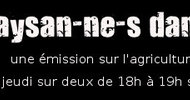 Radio Canut | 09 nov 2013
Entretien radiophonique avec Massa, autour des problématiques et des luttes sur les accaparements de centaines de milliers d'hectares de terres au Mali
---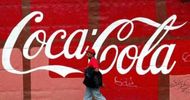 Belga | 08 nov 2013
Coca-Cola a décidé de mettre en oeuvre une politique de "tolérance zéro" des accaparements de terres dans sa chaîne d'approvisionnement, indique vendredi Oxfam dans un communiqué de presse.
---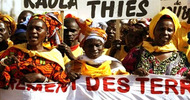 Le Soleil | 05 nov 2013
Les Ong africaines avertissent les autorités du continent des impacts négatifs sur la sécurité alimentaire que pourront engendrer les acquisitions massives de terres en Afrique au détriment des communautés.
---
IPS | 09 dic 2013
Camerún también sufre el problema del acaparamiento de tierras. Cientos de miles de hectáreas han sido arrebatadas a comunidades.
---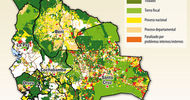 La Razón | 30 nov 2013
El Gobierno anunció que la disposición será establecida en una ley
---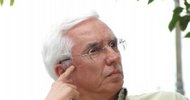 MOIR | 22 nov 2013
"A pesar de nuestras reiteradas advertencias –las mías y las de Wilson Arias, también congresista del Polo–, su ministro radicó el proyecto modificatorio de la Ley 160 de 1994"
---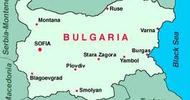 Diario Sur | 22 oct 2013
La ampliación de la moratoria prevista en el Tratado de Adhesión de Bulgaria a la UE, que finaliza el 1 de enero de 2014, fue aprobada por 171 diputados, mientras que 38 votaron en contra y 12 se abstuvieron.
---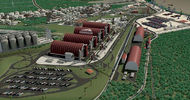 La Información | 22 oct 2013
La casa comercial japonesa Sojitz informó hoy que ha decidido invertir en la brasileña Cantagalo, empresa agrícola y recolectora de grano, y su subsidiaria CGG, de cara a potenciar sus exportaciones de productos alimentarios a Asia.
---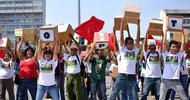 Oxfam | 19 oct 2013
El caso del Valle del Polochic es un claro ejemplo de acaparamiento de tierras.
---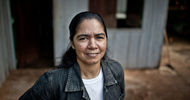 El Diario | 13 oct 2013
Perla Álvarez, defensora de los derechos humanos en Paraguay, asegura que el modelo intensivo de producción de soja está condenando a miles de personas al hambre, la exclusión y la emigración.
---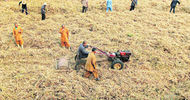 La Tercera | 13 oct 2013
China recurre a ambiciosas jugadas para asegurar provisión futura de alimentos.
---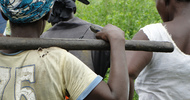 JA! | 05 Dec 2013
O Prosavana e? uma ma? experie?ncia importada do Brasil, um exemplo perfeito de abordagem do topo para a base, um processo iniciado e conduzido apenas ao mais alto ni?vel
---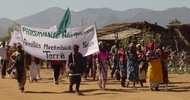 Nigrizia | 18 Oct 2013
Un'alleanza a tre tra Mozambico-Brasile-Giappone prevede di trasformare un'area di 145mila km² nel nordest del paese in un'immensa industria agroalimentare. Scatenando la mobilitazione dei contadini, della società civile e della Chiesa contro la privatizzazione della terra e lo sfratto di milioni di piccoli agricoltori.
---