Food crisis and the global land grab
farmlandgrab.org weekly | 04 Dec 2013
---
Support the
online signature campaign
launched by Sarawak indigenous leaders against land grabbing by corporations
Sarawak indigenous leaders have launched an online signature campaign against land grabbing by private and government corporations - See more at: http://farmlandgrab.org/post/view/22843-sarawak-indigenous-communities-launch-campaign-against-land-grabbing#sthash.oa7IRHv9.dpuf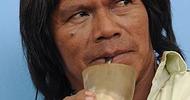 World Bulletin | 04 Dec 2013
A Brazilian indigenous leader who spent decades campaigning for his tribe's right to live on their ancestral land was murdered on Sunday night
---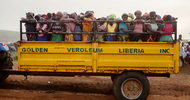 On Earth | 04 Dec 2013
That palm oil listed in the ingredients of your favorite candy bar or lipstick? More and more of it comes from forest and farmland razed by multinational corporations a world away.
---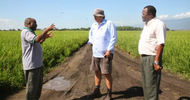 Tanzania Daily News | 03 Dec 2013
The government pledges to continue supporting Rufiji Basin Development Authority (RUBADA) in its endeavour to encourage large scale plantations in the country
---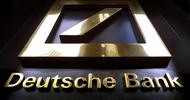 Deutsche Welle | 03 Dec 2013
Germany's largest bank, Deutsche Bank, confirms that one of its funds has sold its shareholding in a Vietnamese company accused of rights abuses in Laos and Cambodia.
---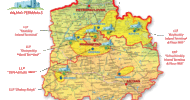 Moscow Times | 02 Dec 2013
Interest in farming from a new class of institutional investors — including hedge, endowment, pension, private equity and sovereign wealth funds — has surged.
---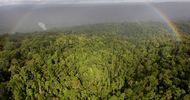 Free City Radio | 01 Dec 2013
Violent corporate land grabbing is driven by logging corporations operating with little oversight in some of the world's largest rainforests, all with the direct complicity of many politicians.
---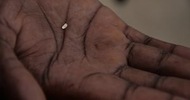 The Ecologist | 30 Nov 2013
China led the reclamation of the largest abandoned rice farm in Mozambique, with the blessing of the authorities. But now the company involved is accused of land grabbing and displacing thousands.
---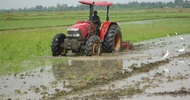 Business Daily | 29 Nov 2013
An investor is seeking to partner with the Bunyala Irrigation Scheme to improve rice production in the area to boost food security in Kenya.
---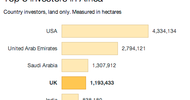 Guardian | 27 Nov 2013
The UK is the fourth largest investor in the world in African land - but how much does it have and what is it using it for?
---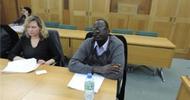 ASO | 26 Nov 2013
In Ethiopia, where pastoralists and indigenous communities are displaced and evicted from their traditional lands amidst widespread human rights abuses, history is repeating itself.
---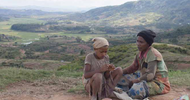 Re:Common, SIF, TANY | 13 Nov 2013
This joint report from Re:Common, SIF and TANY takes the reader through five regions of Madagascar exposing the consequences and impacts of six land grab projects led by foreign investors.
---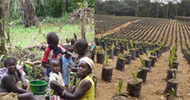 WRM | 05 Nov 2013
Members of communities affected by industrial monoculture oil palm plantations and other organizations from Africa, Europe, the Americas and Asia reaffirm opposition to land and forsst grabs.
---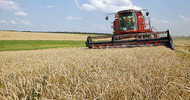 China Ukraine News Blog | 05 Nov 2013
With vast tracts of rich, black earth but antiquated infrastructure, Ukraine is attracting interest from Chinese companies hoping to meet their nation's growing demand for grains and meat.
---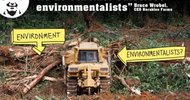 Afrik.com | 30 Oct 2013
Au Cameroun, le projet pharaonique et controversé de la société américaine Herakles Farms de planter des palmiers à huile semble avoir tourné court. Et le pdg de la firme a disparu comme par enchantement.
---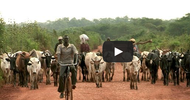 Journeyman Pictures | 28 Oct 2013
Ethiopia's huge agricultural output has brought about an economic miracle for the nation. But inhabitants are being pushed out of their native land by foreign investors and have no share in the profits.
---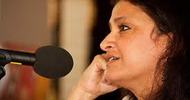 Redeye Collective | 21 Oct 2013
Anuradha Mittal of the Oakland Institute speaks abouthow farmers in Ethiopia are being pushed off their land to make way for multinational agribusiness.
---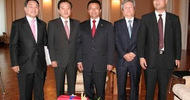 TANY | 16 Oct 2013
Five years after it was proposed, Daewoo Logistics' agribusiness project, which envisioned a 99-year lease of 1.3 million ha in four regions of Madagascar, has now returned to the news.
---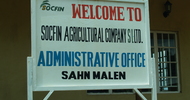 Green Scenery | 15 Oct 2013
Five members of Malen Affected Land Owners Association arrested by police for allegedly destroying oil palms of Luxembourg-based SOCFIN say they are being unfairly targeted by those profiting from the plantation.
---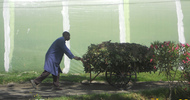 CorpWatch | 10 Oct 2013
Flower growers in Kenya have gone on strike to protest unpaid wages from Karuturi Global, the Indian flower export multinational.
---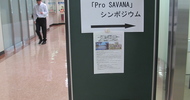 | 30 Sep 2013
We, civil society organizations in Japan, call on the Japanese Ministry of Foreign Affairs and the Japan International Cooperation Agency for the immediate suspension and fundamental review of the ProSAVANA program.
---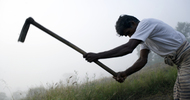 Dow Jones | 25 Sep 2013
The Asian Development Bank plans to pick up direct equity stakes in food and agri-business enterprises in the region next year, a senior official said.
---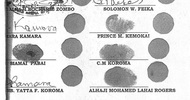 | 31 Dec 2012
Lesse between Aristeus Palm Oil Limited and the Chiefdom Council of Sorogbema (Pujehun District), for 47,567 ha.
---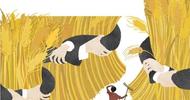 APA News | 04 dec 2013
Le réseau international d'Enda Tiers Monde invite les pays du sud à promouvoir ''l'agriculture paysanne'' et à freiner l'accaparement des terres pour accéder à la souveraineté alimentaire.
---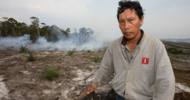 Belga | 03 dec 2013
BNP Paribas Fortis, Deutsche Bank, ING, KBC, Belfius ou AXA: toutes ces banques ont, de par les fonds qu'elles gèrent, une part de responsabilité dans le phénomène mondial d'accaparement de terre
---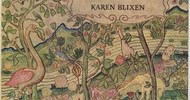 JDD | 30 nov 2013
Au cours de son reportage au Kenya sur les achats massifs par des pays étrangers de terres inexploitées, l'envoyée spéciale du JDD Karen Lajon a essayé de devenir propriétaire au pays de Karen Blixen.
---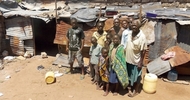 JDD | 30 nov 2013
Le Kenya est le pays où a commencé cette ruée vers les terres fertiles africaines. Le sujet y reste tabou quand il n'est pas un instrument politique. Reportage du JDD.
---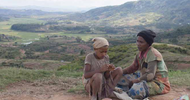 Re:Common, SIF, TANY | 13 nov 2013
Ce nouveau rapport de Re:Common, SIF et TANY vous amènera dans cinq régions de Madagascar et vous apprendra les conséquences et impacts de six projets d'accaparement de terres par des investisseurs étrangers.
---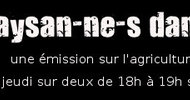 Radio Canut | 09 nov 2013
Entretien radiophonique avec Massa, autour des problématiques et des luttes sur les accaparements de centaines de milliers d'hectares de terres au Mali
---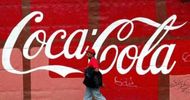 Belga | 08 nov 2013
Coca-Cola a décidé de mettre en oeuvre une politique de "tolérance zéro" des accaparements de terres dans sa chaîne d'approvisionnement, indique vendredi Oxfam dans un communiqué de presse.
---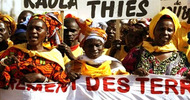 Le Soleil | 05 nov 2013
Les Ong africaines avertissent les autorités du continent des impacts négatifs sur la sécurité alimentaire que pourront engendrer les acquisitions massives de terres en Afrique au détriment des communautés.
---
El País | 30 nov 2013
China, el tercer país origen de inversión extranjera en el mundo, pretende cultivar más en América Latina, a pesar de las carencias que esta región arrastra en su infraestructura.
---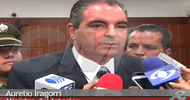 CMI | 30 nov 2013
Colombia es el undécimo país con mayores índices de concentración de la tierra en el mundo y el segundo en América Latina, solo por detrás de Paraguay.
---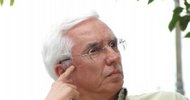 MOIR | 22 nov 2013
"A pesar de nuestras reiteradas advertencias –las mías y las de Wilson Arias, también congresista del Polo–, su ministro radicó el proyecto modificatorio de la Ley 160 de 1994"
---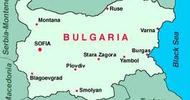 Diario Sur | 22 oct 2013
La ampliación de la moratoria prevista en el Tratado de Adhesión de Bulgaria a la UE, que finaliza el 1 de enero de 2014, fue aprobada por 171 diputados, mientras que 38 votaron en contra y 12 se abstuvieron.
---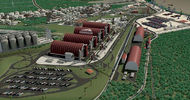 La Información | 22 oct 2013
La casa comercial japonesa Sojitz informó hoy que ha decidido invertir en la brasileña Cantagalo, empresa agrícola y recolectora de grano, y su subsidiaria CGG, de cara a potenciar sus exportaciones de productos alimentarios a Asia.
---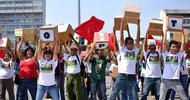 Oxfam | 19 oct 2013
El caso del Valle del Polochic es un claro ejemplo de acaparamiento de tierras.
---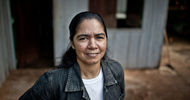 El Diario | 13 oct 2013
Perla Álvarez, defensora de los derechos humanos en Paraguay, asegura que el modelo intensivo de producción de soja está condenando a miles de personas al hambre, la exclusión y la emigración.
---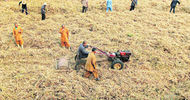 La Tercera | 13 oct 2013
China recurre a ambiciosas jugadas para asegurar provisión futura de alimentos.
---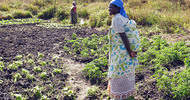 Folha de S.Paulo | 30 Nov 2013
Um projeto de produção de alimentos em Moçambique, com financiamento do Brasil, vem recebendo críticas de pequenos agricultores e entidades do país do leste africano, ex-colônia portuguesa.
---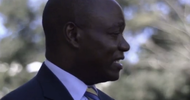 Folha de S.Paulo | 30 Nov 2013
O ministro da Agricultura de Moçambique, José Condungua Pacheco, vê uma "conspiração" nas críticas ao ProSavana.
---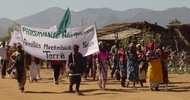 Nigrizia | 18 Oct 2013
Un'alleanza a tre tra Mozambico-Brasile-Giappone prevede di trasformare un'area di 145mila km² nel nordest del paese in un'immensa industria agroalimentare. Scatenando la mobilitazione dei contadini, della società civile e della Chiesa contro la privatizzazione della terra e lo sfratto di milioni di piccoli agricoltori.
---
Les banques en Belgique financent l'accaparement de terres - Quelle régulation du secteur ?

CNCD-11.11.11, SOS Faim, Oxfam Solidarité, FairFin, RFA, 11.11.11 | Bruxelles | 03 Dec 2013