Food crisis and the global land grab
farmlandgrab.org weekly | 11 Sep 2013
---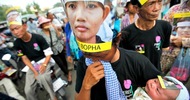 CSM | 10 Sep 2013
Land grabbing has affected an estimated 400,000 Cambodians since 2003, helping to create a sizable under class of landless villagers with no means for self-sustenance.
---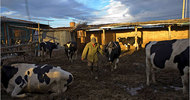 Reuters | 09 Sep 2013
Huishan Dairy has received commitments worth $220 million from three cornerstone investors -Norway's Norges Bank, Yili Group and Cofco Agricultural Industry Management - to expand its herd of cows.
---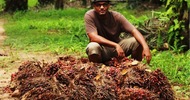 BBC | 09 Sep 2013
Demand for the lucrative oil is increasing and land in the main exporting countries of Malaysia and Indonesia is quickly running out, so companies are now looking to the hot, humid countries along the Equator in West Africa.
---
Tanzania Daily News | 09 Sep 2013
The Hadzabe people of Tanzania are acquiring basic skills on how to survive in a globalised world, where investment in land translates into money.
---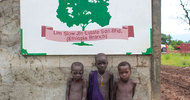 The Reporter | 09 Sep 2013
In Ethiopia, some 43 firms have acquired agricultural land but scores of these have already left the sector, while 16 of them are currently under probation.
---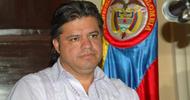 Caracol Radio | 08 Sep 2013
Arias said that he has been named as responsible for the eventual loss of farmland by the sugar mills, and for that reason become the subject of an extermination plan.
---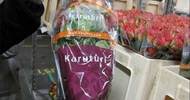 The Star | 07 Sep 2013
A manufacturer of a cartons and polythene bags has applied to the High Court in Kenya to wind up cash-strapped Indian flower firm, Karuturi.
---
NY Times | 06 Sep 2013
Smithfield Foods won national security clearance on Friday for its proposed $4.7 billion sale to a Chinese meat processor, overcoming one of the biggest obstacles to a takeover.
---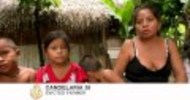 Al Jazeera | 06 Sep 2013
Hundreds of families remain displaced despite government promises to give land to thousands of people evicted two and a half years ago to make way for sugar and palm oil plantations.
---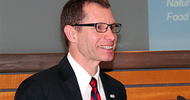 DEVEX | 05 Sep 2013
Gregory Myers, division chief of the US Agency for International Development's land tenure and property rights division, argues that, done right, large-scale land acquisitions can boost development.
---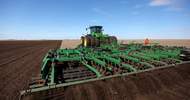 Western Producer | 05 Sep 2013
Two Chinese-Canadian entrepreneurs that have been investing in farmland in Manitoba say they will establish an agricultural fund for Chinese investors who want to own a piece of Canada's agriculture industry.
---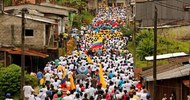 IUF | 05 Sep 2013
Undermining food security is a joint venture of Colombian and foreign investors, says IUF.
---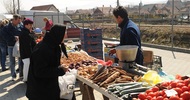 nineoclock.ro | 05 Sep 2013
Changes to the law in Romania will prevent individuals from owning more than 100 hectares of unincorporated farmland and will oblige them to show proof of agricultural knowledge and experience.
---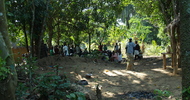 Joan Baxter | 05 Sep 2013
Joan Baxter profiles Indian national Chinnakannan Sivasankaran and his quest to make his Siva Group into the largest player in the production of palm oil by leasing land and establishing oil palm plantations from Papua New Guinea to Sierra Leone to South America.
---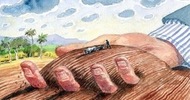 EJOLT | 05 Sep 2013
In less than ten years, agricultural land granted by the Government of Madagascar, often unilaterally and completely opaque, has run up to hundreds of thousands of hectares.
---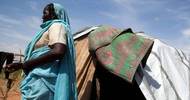 UNECA | 04 Sep 2013
The Land Policy Initiative will host a workshop on 30 September to evaluate recommendations arising from a study by Dalberg Global Development Advisors, which has developed a high level strategy and business plan; as well as an M&E framework to guide the implementation of the African Union declaration on land.
---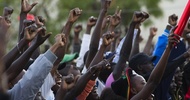 TNI | 03 Sep 2013
As foreign governments and corporations lease and purchase large tracts of land across the globe, in Africa, such 'land grabs' have allegedly provided the grievance behind protests, riots, coups, and other conflict from Mali to Madagascar.
---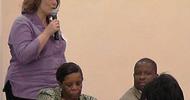 Donor Platform | 01 Sep 2013
On the margins of the annual World Bank land and poverty conference in April a donor roundtable agreed to establish a first global donor working group on land, which was launched recently. Video interview with the first chair of the group, from DFID.
---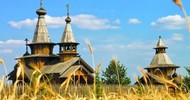 Ukrinform | 30 Aug 2013
The right to purchase agricultural land belongs to citizens of Ukraine, the state, the Land Bank, and territorial communities, according to a new draft law "On Agricultural Land Turnover".
---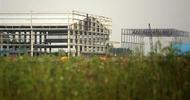 Reuters | 29 Aug 2013
The bill's pricing rules would oblige developers to pay up to four times the market rate for land in rural areas and twice the rate in urban areas. Displaced people must also be given homes and jobs.
---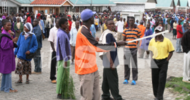 The Star | 28 Aug 2013
A meeting called to address the problems facing Karuturi flower farm in Naivasha, Kenya, was cancelled. The farm directors who had flown in from India kept off the venue of the meeting due to the anger of union officials and the farm workers
---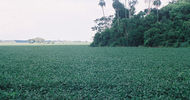 Oxfam | 27 Aug 2013
A soy field in Santa Rita, Paraguay. Source: Wikimedia http://bit.ly/15vEKCu - See more at: http://politicsofpoverty.oxfamamerica.org/2013/09/04/do-land-grabs-promote-food-security/#sthash.nn4PAnJb.dpuf
---
The Citizen | 24 Aug 2013
Tanzania's Prime Minister Mizengo Pinda said allegations that a large portion of arable land had been taken over by foreigners at the expense of local people were not true.
---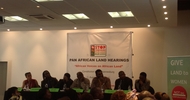 Oxfam | 20 Aug 2013
Hearing gives voice to the stories of communities affected by land grabs in Africa and brings the land grab issue to policy makers and influential people and groups.
---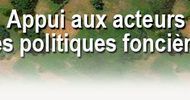 Commission de l'UEMOA / Hub Rural | 09 sep 2013
Le dernier bulletin d'information de la Commission de l'UEMOA et du Hub Rural sur les actualités foncières ouest-africaines vient de paraître
---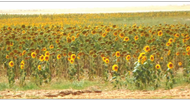 Walfadjri | 07 sep 2013
Chassée de Fanaye grâce à une prise de conscience collective, l'entreprise italo-américaine Senéthanol-Senhuile fait son atterrissange forcé à Gnith, décimant des vies entières.
---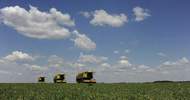 Les Echos | 05 sep 2013
Entre le Caucase et la mer Noire, le groupe familial français cultive l'équivalent de la surface de Paris.
---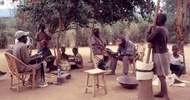 Sud Online | 05 sep 2013
Une enquête d'opinion réalisée par le réseau Afrobaromètre révèle que 70% des sénégalais considèrent que la terre est une ressource nationale et sont défavorables à la cession des terres aux étrangers.
---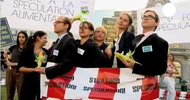 Belga | 04 sep 2013
Une cinquantaine de militants ont manifesté ce mercredi matin devant le Parlement européen, à Bruxelles, pour dénoncer la spéculation sur les produits alimentaires et les terres arables, ainsi que le recours aux agrocarburants dans le secteur des transports.
---
FPP | 01 sep 2013
Appel des organisations de la société civile pour la suspension d'un mégaprojet agro - industriel dévastateur, en attente de réparation pour les collectivités locales.
---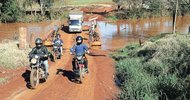 Última Hora | 08 sep 2013
Casi la mitad del distrito de Ñacunday, cuya superficie es de 85.000 hectáreas, pertenece a empresas que conforman el Grupo Favero, liderado por el productor brasileño Tranquilo Favero, conocido como el Rey de la Soja.
---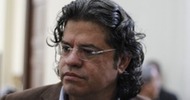 Caracol Radio | 08 sep 2013
El congresista del Polo Democrático y otros dirigentes de la colectividad en el Valle recibieron intimidaciones en las que se les declara objetivo militar por sus denuncias.
---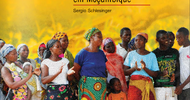 Abong | 09 Sep 2013
A publicação apresenta uma análise dos dados e consequências do programa ProSavana, que busca implantar o agronegócio no Norte do país africano, através de um acordo de cooperação triangular entre Brasil, Japão e Moçambique.
---