Food crisis and the global land grab
farmlandgrab.org weekly | 03 Jul 2013
---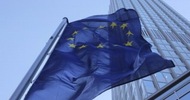 dalje.com | 27 Jun 2013
Croatia has retained restrictions on the purchase of farmland, so that foreigners will not be able to buy agricultural land in Croatia for seven years after the country's entry into the EU, with a possibility of extending this time frame for another three years.
---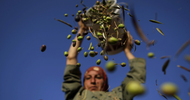 CIT | 26 Jun 2013
Steep growth in Chinese olive oil consumption, unlikely to be met soon by a budding domestic supply, is encouraging investors to get hold of olive farms and processing plants in producing countries.
---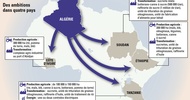 El Watan | 03 juil 2013
Au Soudan et en Ethiopie, le gouvernement djiboutien dispose de près de 10 000 hectares de terres fertiles irrigables (4200 au Soudan et 5000 en Ethiopie). Djibouti se dit disposé à concéder au groupe algérien Cevital l'exploitation de ces terres.
---
Nouveau Courrier | 02 juil 2013
La Côte d'Ivoire s'est engagée à réformer ses lois foncières et à mettre en œuvre d'autres changements pour faciliter l'investissement privé dans le domaine agricole
---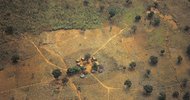 Land Portal | 01 juil 2013
Les Etats-Unis sera partenaire avec le Burkina Faso au titre de l'Initiative pour la transparence du G-8 pour améliorer la gouvernance foncière.
---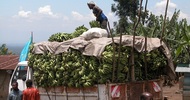 Syfia | 28 jui 2013
Au Conog, le Code minier pose la suprématie des droits miniers sur ceux fonciers, dont les droits agricoles. Ainsi, un agriculteur ne peut s'opposer à ce qu'un permissionnaire minier exploite l'espace qu'il cultive.
---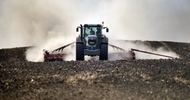 Nouvelles de Roumanie | 27 jui 2013
Selon l'association roumaine EcoRuralis, plus de 700.000 hectares, soit 6,5 % des terres arables du pays, seraient déjà aux mains de compagnies du Qatar, d'Arabie Saoudite ou de Grande-Bretagne.
---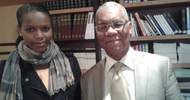 StarAfrica | 26 jui 2013
L'association des parlementaires francophones étudiera un projet de loi-cadre sur le "titre sécurisé simplifié" comme réponse à l'accaparement de terres en Afrique
---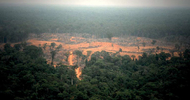 IPS | 24 jui 2013
"La destruction à perte de vue de nos forêts nous amènera à chasser et à cultiver très loin de nos villages", affirme Jules Itoua, un habitant de Yengo, au nord du Congo-Brazzaville, ajoutant avec regret: "Ils nous ont presque chassés d'ici sans le déclarer".
---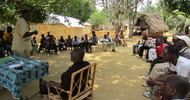 IPS | 17 jui 2013
La multinationale française Bolloré s'est accordé jusqu'au 30 juin pour donner suite aux revendications des paysans riverains de ses plantations, qui manifestent dans plusieurs pays africains contre l'expansion des activités du groupe sur leurs terres.
---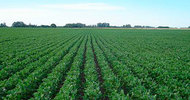 Verdad Abierta | 29 jun 2013
Un estudio financiado por la organización humanitaria británica Oxfam advierte que la multinacional de cereales acaparó tierras en Vichada que les compró, a través de múltiples sociedades anónimas, a campesinos beneficiarios de baldíos estatales.
---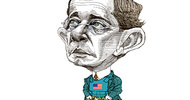 PDA | 26 jun 2013
Se trata de tierras en la altillanura y lo consintió, denuncia representante Wilson Arias
---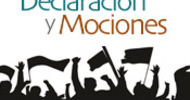 Vía Campesina | 15 jun 2013
¡No al acaparamiento de tierras y aguas y a la liberalización del comercio en Taiwan!
---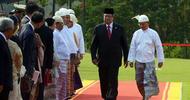 Gatra | 27 Jun 2013
Adakah cara lain untuk menjamin ketahanan pangan di samping impor beras? Ada. Yakni ekspansi lahan pertanian ke luar negeri. Amin Subekti, direktur eksekutif ABAC, melontarkan gagasan ini ketika berbincang dengan Gatra pekan lalu.
---