Food crisis and the global land grab
farmlandgrab.org weekly | 26 Jun 2013
---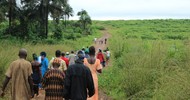 FOE Europe | 24 Jun 2013
European banks, pension funds and private equity funds have given financial assistance worth more than €450 million to Malaysian palm oil giant Sime Darby, responsible for environmental degradation and violations of national regulations in Liberia.
---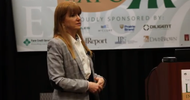 Peoples Company | 24 Jun 2013
Video presentation by EmVest CEO Susan Payne at the 2013 Land Investment Expo at the Sheraton West Des Moines Hotel.
---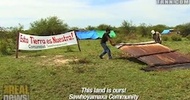 Real News | 23 Jun 2013
Indigenous families in Paraguay have been living precariously on the side of a highway in the remote Chaco region for more than 20 years, ever since a German cattle rancher and the Paraguayan state illegally kicked them off of their ancestral lands.
---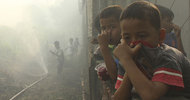 Bloomberg | 23 Jun 2013
Singapore yesterday sought "strong, firm, effective" action against Singaporean companies that may be involved in illegal burning in Indonesia that led to the city-state's worst pollution on record.
---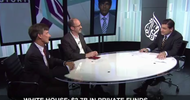 Al Jazeera | 21 Jun 2013
Among the concerns is that smallholder farmers could be pushed out of their land to make way for large, powerful international corporations.
---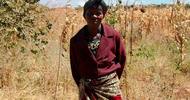 The Guardian | 20 Jun 2013
Yamba has been warned by her local MP not to accept any offer by an investor for her "worthless" roadside scrubland. When the new road from Iringa to Dodoma is finished, it could be worth a fortune, he says.
---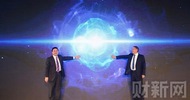 Caixin | 20 Jun 2013
China's Legend Holdings went on a buying binge, both at home and abroad, taking over a blueberry farm in Qingdao, a kiwi fruit company in Sichuan Province and five Chilean fruit companies.
---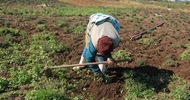 IPS | 19 Jun 2013
Africa is the main target for "land grabs" by foreign investors, according to a new report on large-scale land acquisitions around the world released June 10.
---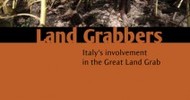 Re:Common | 13 Jun 2013
Report by Re:Common investigates land grabbing by Italian companies.
---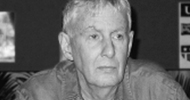 Mokoro | 05 Jun 2013
Veteran advocate against land grabbing, Robin Palmer, reflects on the context of his work since 1963 in this keynote presentation at the University of Limerick.
---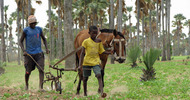 La Libre | 25 jui 2013
Les exploitations agricoles doivent désormais être à 51 % congolaises.
---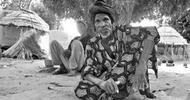 Le Courier | 25 jui 2013
Deux villages de cultivateurs de mil de la zone de l'Office du Niger résistent tant bien que mal à la privatisation de leurs terres par une société agroindustrielle.
---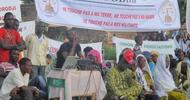 RFI | 25 jui 2013
L'Afrique subsaharienne, où les investisseurs profitent de la faiblesse de la gouvernance et des failles du droit foncier, est une des régions les plus visées par l'accaparement des terres.
---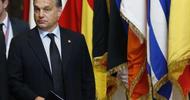 La France Agricole | 24 jui 2013
Le Parlement hongrois a adopté, le 21 juin 2013, une loi sur les terres agricoles, qui impose notamment des restrictions aux étrangers pour l'acquisition de foncier.
---
SOLIDARITÉ | 24 jui 2013
Dans l'État d'Odisha, Inde, la société sud-coréenne POSCO accélère la réquisition des terres agricoles et forestières dans les villages de Govindapur et Dhinkia, alors que le National Green Tribunal indien a retiré son aval pour le projet (complexe sidérurgique et port maritime). A l'international, une plainte a été déposée à l'OCDE - Watch, qui mène son enquête sur la violation des Droits de l'Homme.
---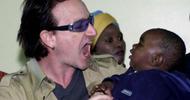 Le Courier International | 21 jui 2013
Cette fois, c'est pire. Alors que le Royaume-Uni a accueilli un nouveau sommet du G8, la campagne menée par Bono – et avec laquelle Geldof travaille étroitement – semble aujourd'hui absoudre l'action des pays du G8 en Afrique.
---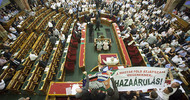 Nouvelles de France | 21 jui 2013
Chaos dans le Parlement à Budapest : les parlementaires du Jobbik ont occupé le siège du président en déployant une banderole « La transmission frauduleuse de la terre hongroise au profit des étrangers : haute trahison ! »
---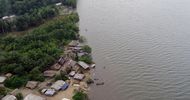 Le Monde via LBN | 20 jui 2013
"Mais qu'est-ce que j'ai fait de mal ?" Mercredi 5 juin, à Puteaux, Vincent Bolloré s'enveloppe d'une candeur inhabituelle pour un capitaine d'industrie aux dents longues, dont le chemin vers la réussite est jalonné des cadavres de concurrents plus tendres que lui
---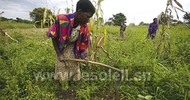 Le Soleil | 20 jui 2013
Le chef de l'Etat sénégalais a fait une communication au Sommet du G8 sur la transaction foncière en Afrique. « Notre continent risque de vendre ses terres à d'autres pays plus riches et à des multinationales qui vont y développer l'agriculture », a-t-il déclaré.
---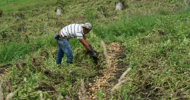 El Nuevo Siglo | 24 jun 2013
Wilson Arias recientemente denunció que Cargill, una de las multinacionales agroindustriales "ha acaparado en la altillanura colombiana al menos 26.000 hectáreas de tierra con antecedente de baldío".
---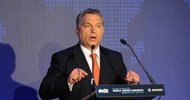 Yahoo | 21 jun 2013
El Parlamento húngaro adoptó este viernes una ley sobre la tierra agrícola que impone, entre otras cosas, restricciones a los extranjeros para comprar campos.
---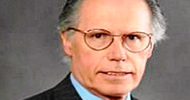 Polo Democrático Alternativo | 21 jun 2013
En carta a embajador en E.U., Robledo indaga sobre cuál fue el papel de Brigard & Urrutia en compra ilegal de tierras de Riopaila y Cargill
---