Food crisis and the global land grab
farmlandgrab.org weekly | 15 May 2013
---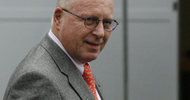 Reuters | 15 May 2013
Lonrho Plc, which operates farms and claims land concessions in several African countries, said it received a £174.5 million buyout offer from a company controlled by Swiss billionaire Thomas Schmidheiny and investor Rainer-Marc Frey.
---
The Star | 14 May 2013
Africa is white hot with minerals and land deals in what could be the second scramble for Africa.
---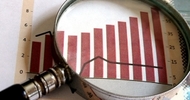 Aprodev | 13 May 2013
Aprodev commissioned research to investigate the involvement of European Development Finance Institutions (DFIs) in land grabs. The evidence shows that European DFIs are indeed involved in some land grabs, and there are real risks of being complicit in others in the future.
---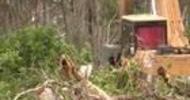 The Guardian | 13 May 2013
Two Vietnamese firms bankrolled by Deutsche Bank and the International Finance Corporation – the World Bank's private lending arm – are leading a wave of land grabs in Cambodia and Laos, causing widespread evictions, illegal logging and food insecurity, according to a report.
---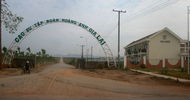 Global Witness | 12 May 2013
Rubber Barons shows how vast amounts of land have been acquired for rubber plantations in Cambodia and Laos by two of Vietnam's biggest largest companies, Hoang Anh Gia Lai (HAGL) and the Vietnam Rubber Group (VRG).
---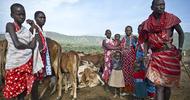 Wealth of the Commons | 09 May 2013
Everywhere in Africa the story is more or less the same: communal rights are being grossly interfered with, farming systems upturned, livelihoods decimated, and water use and environments changed in ways which are dubiously sustainable.
---
FrontPageAfrica | 09 May 2013
Liberia's silent land war has now become a war of words and placards with tension brewing daily either between individuals and families or companies and tribes or clans.
---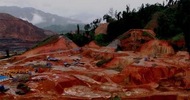 Irrawaddy | 09 May 2013
About 40 ethnic activist groups are calling on the government, ethnic militias and the international community to address a surge in land-grabbing, as companies move into Burma's ethnic regions following recent ceasefire agreements.
---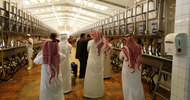 Zawya | 07 May 2013
A consortium of Saudi groups - comprising dairy giant Almarai, grain importer Al Rajhi and Salic, the agriculture arm of the country's sovereign wealth fund - agreed to pay US $92mn to acquire Continental Farmers Group located in northern Poland and western Ukraine
---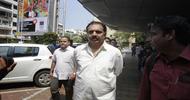 Live Mint | 07 May 2013
Governments in African countries lease out land at low rates, which makes it attractive to investors
---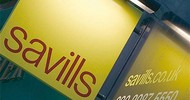 Agrimoney.com | 07 May 2013
Savills, the UK property consultancy, believes sub-Saharan Africa, in agriculture, is the Brazil of the 1970s but warns against investments in farms of over 5,000 ha because of land ownership sensitivities.
---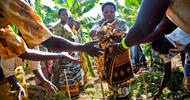 AWDF | 06 May 2013
Africa's primary food security systems are at threat from the process of relentless land degradation, dispossession, privatisation and large scale land grabs.
---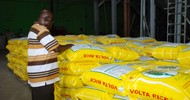 Government of Ghana | 02 May 2013
Chinese executives of state farms in Ningxia Province visit Ghana to explore opportunites in rice farming and express interest in acquiring the struggling state-owned Aveyime Cattle Ranch.
---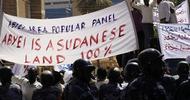 Gulf News | 01 May 2013
Last week, hundreds of Sudanese protested in Eastern Khartoum demanding the government revoke the sale of farming lands to Gulf investors. There is no logical reason behind these demonstrations except ignorance of the reality of the GCC approach, says economist.
---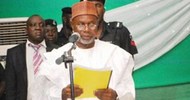 Nigeria News | 01 May 2013
"We have also approved the allocation of 20, 000 hectares of land to a Chinese company for rice production," says state governor, Alhaji Garba Umar.
---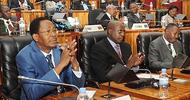 The New Times | 30 Apr 2013
African lawmakers have resolved to strengthen existing laws at the national and regional level to prevent fraudulent land deals on the continent
---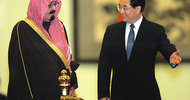 Arab News | 29 Apr 2013
Commerce and Industry Minister Tawfiq Al-Rabiah has approved the establishment of a new East Asia Agricultural Development and Investment Company to invest in farming.
---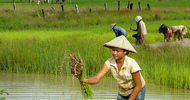 Vientiane Times | 27 Apr 2013
The company will also seek to obtain land concessions for additional rice cultivation in the districts of Soukhouma and Sanasomboun.
---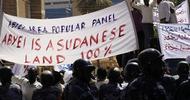 Reuters | 26 Apr 2013
Sudanese police used tear gas and batons to break up a protest of more than 250 people on Friday demanding that the government revoke the sale of farming land to Gulf Arab investors
---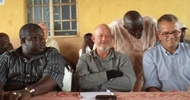 Green Scenery | 24 Apr 2013
Green Scenery calculates that 60% of the total area in Pujehun district is already being, or could soon be converted for large-scale industrial agriculture, primarily for oil palm plantations.
---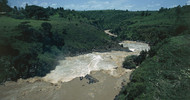 Bloomberg | 24 Apr 2013
Authorities have attributed the growth of a saline lake to irrigation runoff, including that from a company bought this year from the government by Horizon Plantations, a venture majority owned by Mohamed al- Amoudi, the largest single investor in Ethiopia.
---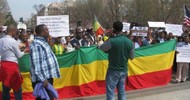 Daily Independent | 23 Apr 2013
Ethiopians stormed the 17th Street Office complex of the World Bank in Washington DC, protesting the bank's alleged support for land grab and ethnic cleansing by President Girma Wolde-Giorgis
---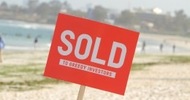 Blue & Green Tomorrow | 22 Apr 2013
Friends of the Earth is running an ethical pension campaign to encourage investors to ask their providers if they invest in land grabbing activities. Emma Websdale spoke with campaigner Kirtana Chandrasekaran to discuss why it is such an important issue.
---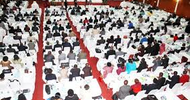 The Times of Zambia | 19 Apr 2013
Delegates demand that land should not be recklessly sold to foreigners during proceedings at Zambia's National Constitution Convention in Lusaka.
---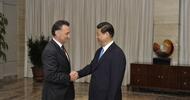 Wall Street Journal | 18 Apr 2013
Australia's Trade Minister Craig Emerson says plans to increase scrutiny on farmland investments would ruin any chance at all of a free-trade deal being struck with China.
---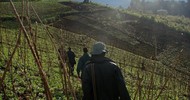 New Vision | 17 Apr 2013
The Uganda Land Alliance (ULA) has observed that unfair government policies and ignorance of land rights and values have escalated the problem of land grabbing by investors in the country.
---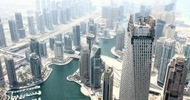 Halal Focus | 15 Apr 2013
Pressed on which countries in Africa would be suitable food sources, Hisham Abdullah Al Shirawi, the chairman of Economic Zones World, says the test would be countries where water was in abundance and which were not spoilt by strife.
---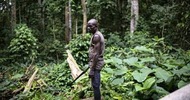 Think Africa Press | 15 Apr 2013
As part of a trend that is accelerating across Africa, thousands of Cameroonians have been displaced from their homelands to make way for large-scale agribusiness projects.
---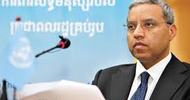 PIEL | 15 Mar 2013
Keynote Speaker 'International Investment Law: Reconciling Policy and Principle': Prof. Surya Subedi, OBE (University of Leeds) (video)
---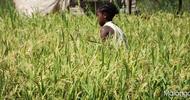 Le Quotidien | 13 mai 2013
La COI est bien déterminée à tout faire pour que ce projet passe de la phase de préparation à celle d'activation.
---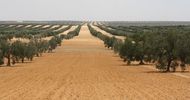 Webmanagercentre | 11 mai 2013
"La cession des terres agricoles tunisiennes aux étrangers représente un danger pour la souveraineté de l'Etat et une ingérence dans ses affaires," estime Mohamed Mabrouk de l'Institut tunisien des études stratégiques
---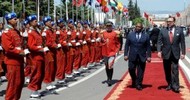 Infos Gabon | 24 avr 2013
Le Gabon Vert, fort de ses 5 millions d'hectares cultivables, est ouvert aux investisseurs.
---
CIRAD | 24 avr 2013
Ce numéro spécial des Cahiers Agricultures analyse la place accordée au foncier et aux diverses formes d'agriculture dans les stratégies des Etats, des investisseurs et des communautés d'acteurs locaux.
---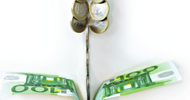 La France Agricole | 17 avr 2013
Pour Clara Jamart, « des banques telles que la BNP Paribas, la Société générale et le Crédit agricole financent largement la production d'agrocarburants, et se rendent complices de l'augmentation des prix alimentaires et des dynamiques d'accaparement de terres dans les pays du sud. »
---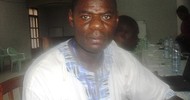 Yaoundé Infos | 16 avr 2013
« Protéger les communautés locales, les femmes et les minorités contre l'accaparement des terres » c'est le thème de cette importante rencontre organisée du 10 au 12 avril 2013.
---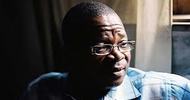 Le Podcast Journal | 15 avr 2013
La condamnation de Marc Ona Essangui, leader de la société civile gabonaise, a une peine de six mois de prison avec sursis et au paiement d'une amende de 5 millions de francs cfa a suscité une levée de boucliers hors des frontières gabonaises.
---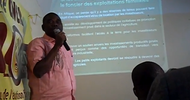 CCPA Kaolack | 10 avr 2013
Sidy Ba, secrétaire général du CCPA, fait un exposé sur l'accaparement des terres lors de l'atelier de partage et de réflexion «La sécurité alimentaire face aux enjeux liés aux OGM et à l'accaparement des terres»
---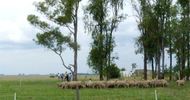 Subrayado | 13 may 2013
El Poder Ejecutivo hizo suyo un proyecto de ley elaborado por legisladores del Frente Amplio. Se busca limitar la tierra en manos de extranjeros.
---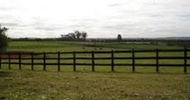 Unoticias | 13 may 2013
El secretario de Presidencia, Homero Guerrero, informó que el gobierno cruzará información con los organismos de registros de tierras, con el fin de saber que porcentaje está en manos de uruguayos y de extranjeros.
---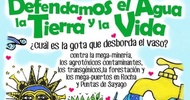 Unoticias | 10 may 2013
Los manifestantes exigen que se pare "la entrega de la tierra y los bienes naturales del país a la inversión extranjera que saquea nuestras riquezas, al igual que lo hacen en el resto de nuestro continente y del mundo".
---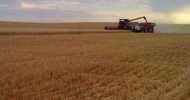 Blogs El País | 18 abr 2013
Argentina, Brasil y Bolivia han reaccionado al fenómeno adoptando restricciones a la propiedad extranjera de la tierra, sin embargo Grain advierte de que las barreras que están creándose contra la inversión extranjera resultan endebles.
---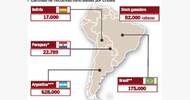 Argenpress | 16 abr 2013
Radiografía de uno de los grupos económicos más poderosos, poseedor de cientos de miles de hectáreas en el país y la región, y dueño del imperio inmobiliario más grande de la Argentina. Sus propiedades, historia y vínculos con el poder.
---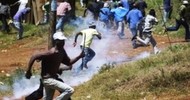 UMOYA | 09 mar 2013
Sen- Ethanol, es el nombre de un proyecto muy controvertido.Esta sociedad de capitales extranjeros y senegaleses, asociada a la Sen-Huile, otra sociedad de la cual ella es accionista y que ha obtenido la concesión de 20.000 hectáreas en agosto del 2012 por parte del Estado senegalés.
---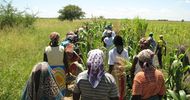 UNAC | 14 May 2013
Camponeses e camponesas da UNAC pretendemos reforçar a atenção a dar em relação ao Prosavana e definição de estratégias para o seu enfrentamento, apresentando alternativas às políticas agrárias que tem vindo a ser aprovadas, com quase total ausência e exclusão de camponeses e camponesas de todo o Pais.
---
Duurzaamnieuws | 13 May 2013
Het Maleisische palmoliebedrijf Wilmar is wereldwijd op grote schaal betrokken bij landroof, milieuovertredingen en schending van nationale wetten bij palmolieprojecten.
---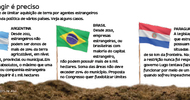 Portal Vermelho | 14 Apr 2013
Se você quiser encontrar um brasileiro com motivos para estar feliz com a última década, e otimista quanto ao futuro, procure entre os proprietários de terras. Entre 2003 e 2012, o preço médio do hectare no Brasil pulou de R$ 2.280 para R$ 7.470. Foi um crescimento de 227%, o dobro da inflação registrada no mesmo período.
---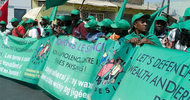 I Bahia | 11 Apr 2013
Segundo estimativas da organização Oxfam, que lançou um relatório em 2011 e mantém uma campanha dedicada a tratar publicamente do tema, grandes negócios de comércio de terras realizados desde 2000 envolveram 227 milhões de hectares, mais que o dobro de toda a área.
---
From land grabbing to land reform: ECVC conference on land issues in Europe

ECVC & GUE/NGL | Brussels | 25 Jun 2013