Food crisis and the global land grab
farmlandgrab.org weekly | 09 Feb 2011
---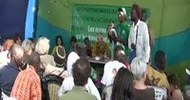 WSFTV | 09 Feb 2011
Youcoulele' dif Pap Sacko talks about a workshop on land grabs at the World Social Forum in Dakar and the case of the Malibya project in Mali.
---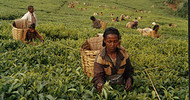 Ethiopian Review | 08 Feb 2011
Ato Tamiru, chairman of the Gumare Kebele in Gambella, western Ethiopia, and people in his kebele have been protesting the leasing of a large tract of land to an Indian company to be used for tea farming even though there is a severe food shortage in the country.
---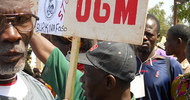 The Peninsula | 08 Feb 2011
The leftist World Social Forum yesterday denounced land grabbing in Africa by foreign groups as a form of neo-colonialism in a day devoted to debates on the continent.
---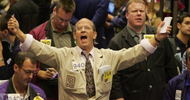 The National | 08 Feb 2011
Food security is back on the agenda with a bang, but while countries with money but little land want to invest elsewhere, few efforts are as emotive as a global "land grab".
---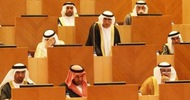 Gulf News | 08 Feb 2011
The UAE and other GCC member countries should draw up a unified food security strategy with the bloc, and not individual countries, investing in farms abroad to minimise risks of political blackmail.
---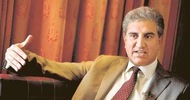 Gulf News | 07 Feb 2011
Pakistan Foreign Minister says there is a win-win situation in combining Pakistan's richness in agriculture with the GCC's richness in energy resources.
---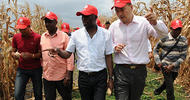 CS Monitor | 07 Feb 2011
Foreign investment in a Zambian farming firm may be a business model for Africa's hunger and food security problems.
---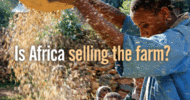 CSMonitor | 06 Feb 2011
Foreign investors see Africa as a breadbasket. Done well, investment could help with African hunger but create food security for the rest of the world.
---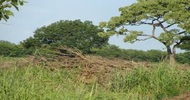 Bloomberg | 04 Feb 2011
Ethiopian President Girma Woldegiorgis and the country's environmental regulator have both written to the Agriculture Ministry expressing concern over the sale of forestry land to foreign agricultural companies.
---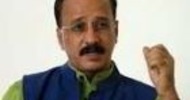 Ground Reality | 04 Feb 2011
I don't know why the Africa leaders are so blind that they can't see the threat farmland grabs pose for their national sovereignty.
---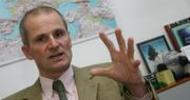 Bloomberg | 03 Feb 2011
Asian and Middle East buyers want to buy agriculture companies in Ukraine to secure supply of grains and oilseeds, Vienna-based Raiffeisen Investment AG said.
---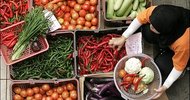 Reuters | 03 Feb 2011
Countries in north Africa and the Middle East are urgently seeking ways to soften the blow of surging food prices for their citizens, alarmed by protests against authoritarian rulers from Algeria to Yemen.
---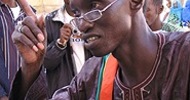 Yale e360 | 03 Feb 2011
Mali's president and Libyan leader Moammar Gaddafi have begun a major agricultural project that will divert much of the river's water and threaten the delta's future.
---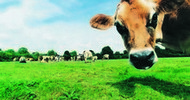 NZ Herald | 03 Feb 2011
The New Zealand Superannuation Fund's purchase of a New Zealand farm is just the first of a $500 million plan which will see it invest in local and international rural land.
---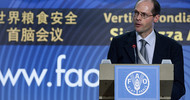 Project Syndicate | 28 Jan 2011
The G-20 could call for a moratorium on large-scale agriculture investments until an agreement on appropriate ground rules is reached, says Olivier DeSchutter
---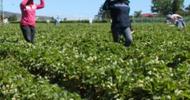 Reuters | 13 Dec 2010
More South African farmers expect to receive land offers in Mozambique as they seek to expand across Africa amid uncertainty over land reform at home, an official from a mostly white farmers group said
---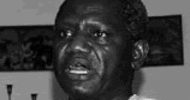 Walf Fadjri | 09 Feb 2011
Le président de la Communauté rurale de Mbane, au Sénégal, a tiré la sonnette d'alarme sur une 'possible révolte des paysans', si les terres de la localité continuent d'être vendues à des riches et aux étrangers.
---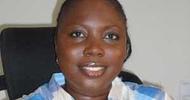 Walf Fadjri | 09 Feb 2011
'C'est difficile de comprendre nos gouvernants qui bazardent nos terres alors que le Sénégal est un pays avec une insécurité alimentaire assez sévère,' déplore la responsable du programme droit à l'alimentation d'Action Aid/Sénégal
---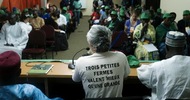 Via Campesina | 09 Feb 2011
La Via Campesina lancera durant le Forum Social Mondial, avec d'autres mouvements, une campagne pour mettre une fin à l'accaparement des terres
---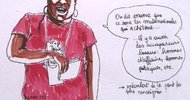 Politis | 08 Feb 2011
« Il faudrait créer une commission au niveau de l'ONU qui permettrait à toute victime de l'accaparement des terres de pouvoir porter plainte » selon Ana Maria Suarez de FIAN
---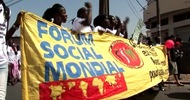 WSFTV | 08 Feb 2011
"L'accaparement des terres c'est du banditisme d'Etat." Entretiens vidéos avec Ibrahim Coulibaly (Cnop Mali), Renaldo (Unac Mozamique) et Melanie Kasom (Confédération Paysanne Congo).
---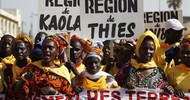 AFP | 07 Feb 2011
Le Forum social mondial a consacré lundi à Dakar toute une journée de débats au continent africain, y dénonçant en particulier "l'accaparement des terres" par des groupes étrangers et les "mécanismes du néocolonialisme".
---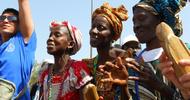 Walf Fadjiri | 07 Feb 2011
Dakar qui accueille le Forum Social Mondial retiendra ce cliché dans lequel apparaît un monde fou, animé par le désir de combattre l'hégémonie, la dictature, le monopole sans partage du néolibéralisme sur les richesses du monde.
---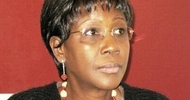 TdG | 06 Feb 2011
Entretien avec Joséphine Ouedraogo, secrétaire exécutive de l'ENDA.
---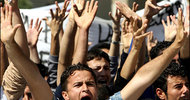 CNCD/11.11.11 | 04 Feb 2011
Être cohérent dans notre lutte contre la faim implique de remettre en cause les accords que nous signons avec les pays du Sud pour la libéraliser les échanges de produits agricoles ou garantir la protection de nos investissements dans l'achat de terres.
---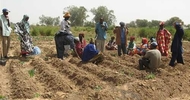 Alliance Sud | 03 Feb 2011
Au Sénégal, si l'accaparement des terres par des multinationales ou particuliers étrangers est plus visible, le phénomène est avant tout imputable à des propriétaires terriens locaux.
---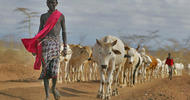 Univers Nature | 03 Feb 2011
Au Kenya, dans certaines régions pastorales, l'acquisition de terres communales par le gouvernement, au profit d'une agriculture intensive irriguée, a entraîné des changements dans le mode de vie des communautés pastorales.
---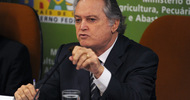 Reuters | 02 Feb 2011
Le Brésil, l'un des premiers exportateurs de produits agricoles au monde, a déclaré mardi vouloir simplifier l'achat de terres par ses agriculteurs, tout en cherchant à dissiper les inquiétudes des investisseurs étrangers.
---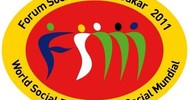 Terra | 07 Feb 2011
"No toquen mi tierra. ¡Es mi vida!", fue el título elegido por las ONGs Enda y Oxfam para denunciar "el acaparamiento de tierras por parte de grupos extranjeros, europeos, asiáticos", pero también por "africanos pudientes".
---
Lettera 43 | 09 Feb 2011
L'Italia non è estranea al fenomeno del land grabbing, anche se gli investimenti in terreni riguardano soprattutto aziende cinesi, indiane o saudite.E i gruppi italiani hanno messo le mani su oltre 1,5 milioni di ettari
---
farmlandgrab.org
weekly provides a list of the latest postings to farmlandgrab.org by email each week
farmlandgrab.org
is an open-publishing website, initiated by GRAIN, tracking today's global land grab for food production and people's movements against it
to unsubscribe from the list, click
this link
to visit or post materials to the website, click
this link