Food crisis and the global land grab
farmlandgrab.org weekly | 13 Apr 2011
---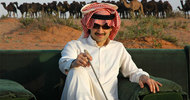 Forbes | 13 Apr 2011
The richest man in the Middle East had a grand vision for turning a swath of land in southern Egypt into an agricultural marvel. Now that land has become part of a political struggle, in the wake of the overthrow of former President Hosni Mubarak.
---
macauhub | 12 Apr 2011
Chinese group Chongqing Grain is due to launch an agri-industrial project expected to cost 4 billion reals (US$2.4 billion) in the state of Bahia, Brazil, the state's secretary for Agriculture said.
---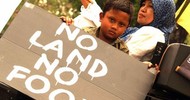 IPC | 12 Apr 2011
Participants find that land grabbing is occurring at a scale and speed as never before, resulting in widespread displacement and dispossession of local communities.
---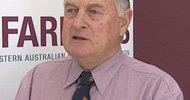 AAP | 12 Apr 2011
Australia is "asleep at the wheel" when it comes to foreign companies buying important agricultural land and greater scrutiny is needed, farmers say.
---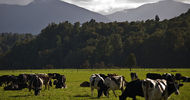 Radio NZ | 12 Apr 2011
Pengxin International of Shanghai, which already has farmland holdings in Argentina, Bolivia, Brazil and Cambodia, has offered to buy the 16 North Island Crafar farm properties in New Zealand
---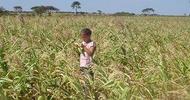 Anyuak Media | 11 Apr 2011
It is shameful that the Ethiopian Ambassador to the UK would claim that the areas targeted for foreign investment have no adequate social and economic infrastructures such as education, health facilities and roads.
---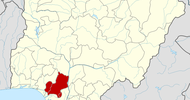 Nigerian Tribune | 11 Apr 2011
Communities in Edo State, Nigeria at odds over projects to bring foreign investors in to carry out development on large expanses of farmland.
---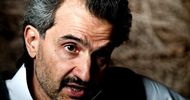 Reuters | 11 Apr 2011
Egypt's public prosecutors' office said on Sunday it had frozen land in southern Egypt controlled by Saudi billionaire Prince Alwaleed bin Talal because the original sale of the land violated the law.
---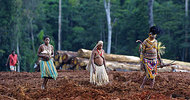 ABC Radio | 08 Apr 2011
Colin Filer says 5 million hectares of customary land has passed into the hands of national and foreign corporations in Papua New Guinea using a legal mechanism called the 'lease-lease-back scheme'.
---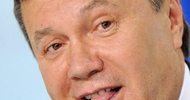 Bloomberg | 07 Apr 2011
Efficient agriculture needs "concentrated land ownership," says President Viktor Yanukovych.
---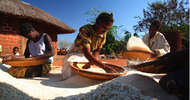 Pambazuka | 06 Apr 2011
Corporations and bankers do not believe in farming as a way of life; they believe in farming as a very profitable business that they control. Their goal is not to improve family farming in Africa, but to eradicate it.
---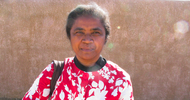 farmlandgrab.org | 06 Apr 2011
An interview with Mamy Rakotondrainibe, an activist with the Collectif pour la Défense des Terres Malgaches, about the struggle against land grabbing in Madagascar.
---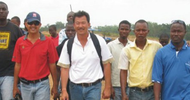 Liberian Observer | 05 Apr 2011
It appears that the Bomi County operations of Sime Darby are being hindered as locals there are reportedly holding back lands leased by the government of Liberia to the company.
---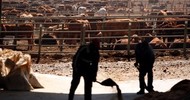 Times | 03 Apr 2011
South Africa's commercial farmers say they will continue setting up in other countries to flee "unreasonable" laws, such as a new bill the government says will "stop cruelty against farm workers".
---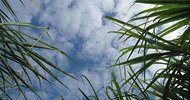 North Queensland Register | 03 Apr 2011
Wilmar's take-over of Sucrogen gave the company a significant amount of cane land that it increased with the purchase of additional farms to guarantee cane supply, outbidding local farmers for land.
---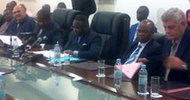 IPS | 26 Mar 2011
The Republic of Congo has handed over 80,000 ha of arable land to a company owned and operated by 14 South African farmers.
---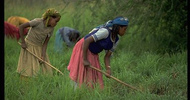 Zambia Post | 22 Feb 2011
Of the 16 applications received, only six were from Zambia while the rest were from foreign investors from the UK, Egypt, China, Hungary, Mauritius, Switzerland and South Africa.
---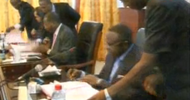 Africa Bulletin | 06 Jan 2011
Atama Plantation of Malaysia will invest $US300 million to develop 470,000 ha, including 180,000 ha of palm groves in northern Congo.
---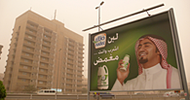 ARTE | 07 avr 2011
Voir trois extraits du film avant sa diffusion le 19 avril 2011 sur ARTE France
---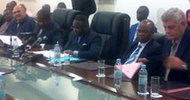 IPS | 21 mar 2011
Congo-Brazzaville a cédé 80.000 hectares de terres agricoles à 14 fermiers sud-africains, propriétaires d'une société, 'Congo Agriculture'.
---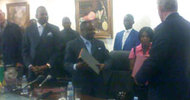 PANA | 15 mar 2011
Le gouvernement congolais et Congo Agriculture ont signé jeudi dernier à Pointe-Noire une convention pour mettre 80.000 ha à la disposition dans les départements du Niari et de la Bouenza, dans le Sud du Congo
---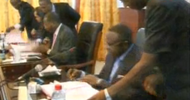 JTV-Congo | 17 dec 2010
La société Atama plantation Sarl de la Malaisie entend investir plus de 150 millions de Franc CFA pour la mise en œuvre des complexes agro-industriels de palme à huile à Makoua dans la Cuvette et Moukéko dans la Sangha. Le contrat d'autorisation d'occuper une réserve foncière de l'Etat a été accordé à cette société par le gouvernement du Congo. JTV-CONGO du 17/12/10 -
---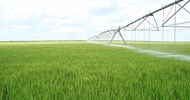 AIM Digital | 11 abr 2011
En el Uruguay, 12 empresas extranjeras poseen más de un millón de hectáreas, hecho que no es muy diferente de lo que acontece en Entre Ríos y en todo el llamado "Tercer Mundo" desde que la "revolución verde" promovida por el las grandes corporaciones nos viene reduciendo cada vez más al monocultivo.
---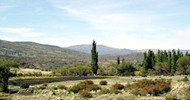 Página 12 | 07 abr 2011
El proyecto, ya próximo a salir hacia el Congreso, establece un límite del 20 por ciento para la superficie que podrá quedar en manos extranjeras. Y de ese total por jurisdicción, no más del 30 por ciento de una misma nacionalidad.
---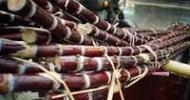 International Land Coalition | 15 mar 2011
A diferencia de hace décadas, en esencia el proceso de concentración no se hace de manera violenta e ilegal. No es necesario hacerlo así: a lo largo de los últimos quince años los gobiernos han construido conscientemente las instituciones que permiten esta gran concentración.
---
Vermelho | 09 Apr 2011
Entretanto, com a crescente compra de terras brasileiras por chineses (dados do Incra falam em 5,5 milhões de hectares, mas o relatório estima que já sejam 7 milhões), os importadores do gigante asiático estariam se interessando mais por mercadorias elaboradas
---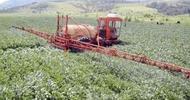 Estadao | 06 Apr 2011
"A China vem consolidando há alguns anos uma base internacional de matérias-primas e o Brasil passou a fazer parte desta base de fornecedores", diz o estudo. De fato, o maior volume de investimentos provenientes da China tem sido voltado para as áreas de petróleo, mineração e produção agrícola.
---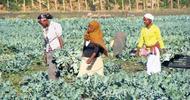 Der Tagesspiegel | 03 Apr 2011
Das Klima ist ideal, Arbeitskräfte sind billig und die lukrativsten Märkte sind nur wenige Flugstunden entfernt. In Äthiopien züchten Investoren tonnenweise Gemüse und Reis. Jedoch nicht für die Bevölkerung.
---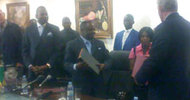 http://www.portalangop.co.ao/motix/pt_pt/noticias/africa/2011/2/11/Governo-cede-mil-hectares-terra-empresa-sul-africana,66576adc-1d26-4005-a5b4-7b5e156e9563.html | 14 Mar 2011
O Governo congolês disponibilizou à Congo Agriculture 80 mil hectares de terra nos departamentos de Niari e Bouenza, no sul do Congo
---
farmlandgrab.org
weekly provides a list of the latest postings to farmlandgrab.org by email each week
farmlandgrab.org
is an open-publishing website, initiated by GRAIN, tracking today's global land grab for food production and people's movements against it
to unsubscribe from the list, click
this link
to visit or post materials to the website, click
this link