Food crisis and the global land grab
farmlandgrab.org weekly | 20 Apr 2011
---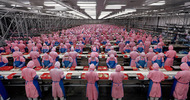 Reuters | 20 Apr 2011
Black River's investment pipeline includes a Chinese pork producer and distributor, a duck farming firm in northern China, a fish producer in Costa Rica and a frozen fish processor in Singapore.
---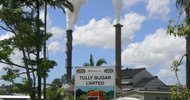 The Cairns Post | 20 Apr 2011
China's Cofco Corporation has acquired an equity stake in Australian sugar producer Tully Sugar and is said to be pursuing a take-over.
---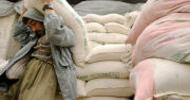 ips | 20 Apr 2011
The highly-contested Principles on Responsible Agricultural Investment are back on the table this week, as the annual Conference on Land and Poverty opens at the World Bank.
---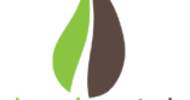 ILC | 19 Apr 2011
The Land Portal, an online platform to find, share, and collaborate on land information, was launched today at the annual World Bank Conference on Land and Poverty.
---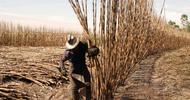 Reuters | 19 Apr 2011
International investors have suspended at least $15 billion in Brazilian farming and forestry projects since August, when the government put limits on land buying by foreigners, sector analysts said on Monday.
---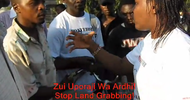 Tanzania Daily News | 18 Apr 2011
Tanzania should seize the opportunity of rising food prices by investing in smallholder farmers and allow large scale foreign investors targeting exports, Agriculture Council of Tanzania (ACT) Chairman, Salum Shamte has said.
---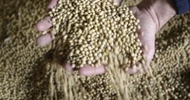 ANBA | 18 Apr 2011
According to Pessôa, as a result of limitations on foreign capital, Brazil will have problems increasing its production at a rate adequate to meet the global demand.
---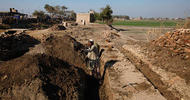 Pakistan Observer | 18 Apr 2011
UAE is ready to build small dams for cultivation on lands they would acquire in Pakistan, provided the government ensures that there is no ban on exports.
---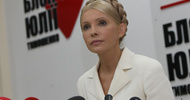 Interfax | 18 Apr 2011
Opposition says "the privatization of farmland in the execution of an order of the incumbent president and his entourage is a large-scale scam, which will deprive Ukraine of a great part of its land."
---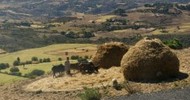 WRI | 18 Apr 2011
Governments often justify these deals by citing their potential contribution to economic growth – however, any gains risk being greatly outweighed by negative impacts on local livelihoods, say WRI
---
Morung Express | 18 Apr 2011
The World Bank, UN agencies and governments are criticized for promoting agricultural investments that are resulting in land grabbing on a massive scale.
---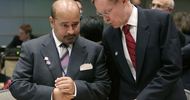 IPS | 17 Apr 2011
An immense coalition of peasant collectives and land-rights organisations stated that the Annual World Bank Conference on Land and Poverty happening here this weekend would likely sign thousands of hectares away from farming communities into the hands of industrial corporations.
---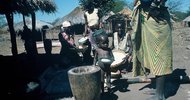 | 17 Apr 2011
In Zambia 15,000 hectares along the Zambezi River in the Kazungula district will be cleared of its forest, and sugar cane planted for ethanol and sugar production. It is not clear that the particular chief involved, or his customary community, were properly consulted or advised. No EIA has been produced
---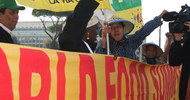 farmlandgrab.org | 17 Apr 2011
Trying to compensate for the absence of legitimacy of these massive land deals by getting investors to adhere to a few principles is deceitful.
---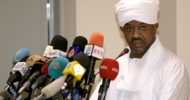 SUNA | 17 Apr 2011
Sudan and UAE have agreed to concentrate investment in the field of agriculture, referring that the UAE Al-Thahra Company expressed desire to invest in Sudan as strategic partner in the food security projects.
---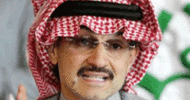 Reuters | 16 Apr 2011
Saudi's Kingdom Holding said on Saturday it had not given up contested land in southern Egypt and had spoken to Egypt's public prosecutor about a settlement.
---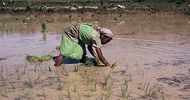 World Bank | 16 Apr 2011
There is a jobs cow waiting to be milked in Africa. It is agriculture and agri-business, says World Bank VP of Africa Region
---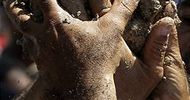 bne | 15 Apr 2011
Chinese and other eastern investors are looking to buy agriculture land and agribusiness across the globe, and Ukraine is increasingly on their radar.
---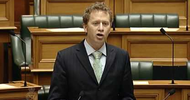 Green Party | 15 Apr 2011
Selling the Crafar farms to an overseas consortium cannot possibly be in New Zealand's economic interests, says Green Party Co-leader.
---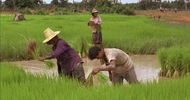 Guardian | 15 Apr 2011
While investment is critical for agriculture, the rush into long-term land leases is a dramatic step with many risks and substantial social and environmental costs
---
TVNZ | 15 Apr 2011
Agria has lifted its stake in PGG Wrightson to 50.5%, putting control of New Zealand's biggest rural services company in Chinese hands.
---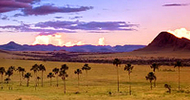 Yale e360 | 14 Apr 2011
While Brazil touts its efforts to slow destruction of the Amazon, another biodiverse region of the country is being cleared for large-scale farming. But unlike the heralded rainforest it borders, the loss of the cerrado and its rich tropical savanna so far has failed to attract much notice.
---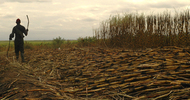 The Atlantic | 14 Apr 2011
"Only 12% of [the land investors have acquired in Africa in the last few years] is actually being farmed," Oxfam Senegal's Head of Economic Justice Lamine Ndiaye says. "The other 88% is just sitting there. It's just for speculation. You buy it, and three years later, you sell it at a higher price."
---
Al Arabiya | 13 Apr 2011
The world's wealthiest Arab, Prince Alwaleed bin Talal of Saudi Arabia, has dismissed allegations that he had conceded land that he had bought to anyone
---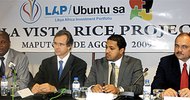 AIM | 13 Apr 2011
Project backed by the Libyan sovereign wealth fund wants to extend its land under cultivation to 5,000 ha so that it can undertake industrial scale production.
---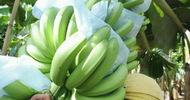 Mindanao Examiner | 12 Apr 2011
Philippine communist rebels on Tuesday accused a Japanese subsidiary of grabbing lands from local farmers in Mindanao.
---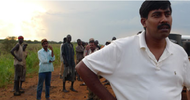 ARTE | 19 avr 2011
Les crises alimentaire et financière qui ont secoué le monde en 2008 ont eu un effet méconnu du public. Elles ont provoqué une incroyable course pour la mainmise sur les terres cultivables partout dans le monde.
---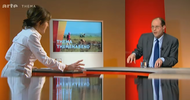 ARTE | 19 avr 2011
Olivier De Schutter, Rapporteur spécial des Nations Unies sur le droit à l'alimentation, et Prof. Harald von Witzke, Faculté de l'agriculture et de l'horticulture, Université Humboldt de Berlin.
---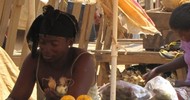 AJAC | 19 avr 2011
Le problème d'accès à la terre se pose avec acuité en RDC et les paysans paient un lourd tribut. Ils deviennent sans le savoir des gens sans terre dans leurs propres terres.
---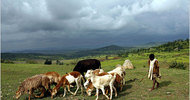 Agrobiosciences | 18 avr 2011
Au cœur du problème, la grande opacité de termes des accords passés entre les Etats et les grandes firmes.
---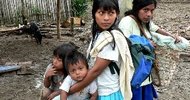 Franciscans Int'l | 18 avr 2011
Aujourd'hui, 5,2 millions Colombiens, soit un habitant sur neuf, sont classés personnes déplacées dû principalement à l'accaparement de terres pour la production de l'huile de palme
---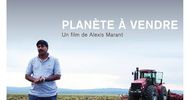 France Inter | 17 avr 2011
Entretien avec le réalisateur Alexis Marant pour son documentaire "Planète à vendre" diffusé mardi 19 avril à 20h40 sur Arte (France Inter)
---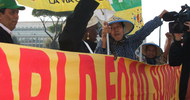 farmlandgrab.org | 17 avr 2011
Tenter de pallier le manque de légitimité de ces acquisitions foncières en faisant adhérer les investisseurs à quelques principes n'est qu'une vaste supercherie.
---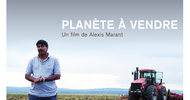 AFP | 15 avr 2011
Après l'industrie et les services, c'est l'agriculture qui garantit des retours sur investissements lucratifs aux riches acquéreurs de terres dans les pays pauvres, comme le montre un documentaire d'Arte.
---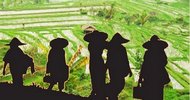 CCFD | 14 avr 2011
"À La Via Campesina, nous sommes farouchement opposés à l'accaparement de terres et demandons qu'une véritable politique de réforme agraire soit entreprise au niveau mondial."
---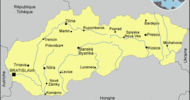 La France Agricole | 14 avr 2011
La Commission européenne a autorisé la Lituanie et la Slovaquie à prolonger jusqu'en 2014 l'interdiction de vendre des terres agricoles aux étrangers, afin d'éviter une éventuelle spéculation
---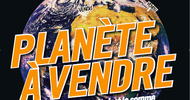 Politis | 14 avr 2011
Avec Planète à vendre, Alexis Marant brosse le?tableau des nouveaux investisseurs en quête de?terres cultivables. Édifiant.
---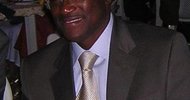 Vision PME Afrique | 12 avr 2011
En attendant la mise en place d'un code de conduite au niveau de la CEDEAO, chaque pays devra déterminer les règles régissant de tels investissements.
---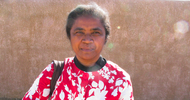 Farmlandgrab.org | 06 avr 2011
Entretien avec Mamy Rakotondrainibe, membre du Collectif pour la Défense des Terres Malgaches, à propos de la lutte contre l'accaparement des terres à Madagascar.
---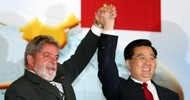 Americas Program | 17 abr 2011
Las preocupaciones de que la creciente presencia china esté socavando la soberanía local han llegado a su punto más alto en Argentina, donde el gobierno de la provincia de Río Negro firmó en 2010 un acuerdo con la corporación china Beidahaung Group para arrendar unas 320 mil hectáreas de sus mejores terrenos agrícolas para la producción de soya, trigo, colza y otros productos.
---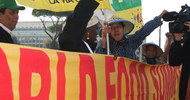 farmlandgrab.org | 17 abr 2011
Intentar compensar la ausencia de legitimidad de estos negocios con tierras haciendo que los inversionistas se adhieran a unos cuantos principios es una estafa.
---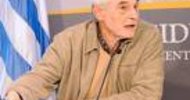 Kaos en la Red | 16 abr 2011
La propiedad de la tierra será un tema de debate central en la administración de Mujica. Agazzi vaticinó que habrá una "lucha de posiciones" y de "búsqueda de alianzas", y se lamentó porque en nuestro país hay "mucha gente" que no le da importancia a estos temas, que son "problemas nacionales y no sólo de los pequeños productores".
---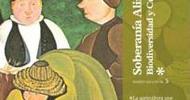 Soberanía Alimentaria | 14 abr 2011
En este artículo contamos con la voz de dos importantes dirigentes campesinos africanos Mamadou Cissokho del Senegal e Ibrahim Coulibaly de Mali, que siempre se han distinguido por su autonomía política como por su feroz defensa de la independencia de las organizaciones campesinas.
---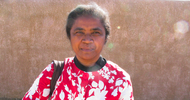 farmlandgrab.org | 06 abr 2011
Mamy Rakotondrainibe, un activista clave del Collectif pour la Défense des Terres Malgaches, explica la lucha contra el acaparamiento de tierras en Madagascar
---
farmlandgrab.org
weekly provides a list of the latest postings to farmlandgrab.org by email each week
farmlandgrab.org
is an open-publishing website, initiated by GRAIN, tracking today's global land grab for food production and people's movements against it
to unsubscribe from the list, click
this link
to visit or post materials to the website, click
this link