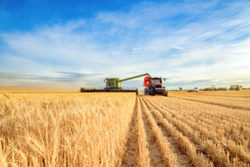 Global AgInvesting | 31 August 2022
Veripath Farmland Partners' R-Fund acquires 4,588 acres in Saskatchewan
By Lynda Kiernan-Stone
Considering it launched its official memorandum in mid-2020 during the worst of a global pandemic, Calgary-based Veripath Farmland Partners (Veripath) has rapidly grown, operating on the conviction that global demand for agricultural products, including food, feed, fiber, and fuel, make farmland – particularly Canadian farmland with compelling valuation discounts and an ability to hedge both inflation and stagflation – a prime long-term investment.
Veripath's highly experienced team offers funds that incorporate two features that are unique for the Canadian market, Stephen Johnston, director, Veripath, explained to GAI News. The first is an evergreen structure giving their investors control over exactly how long they wish to continue being deployed in the fund, as opposed to a traditional private equity structure wherein the life of the fund is predetermined. This enables long-term investors, such as family offices or pensions and shorter-term investors such as retail, to gain access to farmland that they seek through the same vehicle.
The second feature that Johnston outlined is a dual fund structure that divided Canada into two distinct geographies (R Fund invests only in Saskatchewan and Manitoba, and UR Fund invests in the rest of the country) to comply with ownership regulations that vary by province. This structure streamlines, simplifies, and opens the Canadian farmland thesis to a broader universe of investors.
It is through its R-Fund that Veripath has made its most recent acquisition of 4,588 acres of farmland across five rural municipalities in Saskatchewan. This deal brought the total farmland portfolio of the R-Fund to 39,317 acres, and total acres across all funds under management to 91,000 acres.
For all of Veripath's funds, in order to avoid short-term operational volatility from impacting land returns, the firm's strategy takes a non-operated approach. Johnston explained that all portfolio assets are leased to farm operators under long-term agreements that include full up-front cash payment in the spring (mitigating default risk), and escalations, without involving crop sharing or profit sharing, or the like.
However, this does not mean that Veripath is completely hands-off. Veripath employs a proprietary land management system that leverages an in-house software platform combined with satellite monitoring and AI crop analysis to ensure the manifestation of Veripath's belief that: "Properly managed farmland is a unique non-depleting, commodity producing capital asset…"
Feeding this belief are certain compelling characteristics supportive of the Canadian farmland investment premise:
Value – Canada is home to some of the most competitively priced farmland among developed nations, especially when viewed on a productivity adjusted pricing basis.
Diversification – Farmland has a low correlation to traditional stock and bond markets, providing an ideal mechanism by which to improve portfolio risk diversification.
ESG – Zero-till portfolios centered on Western Canada capture material amounts of carbon.
Demand – Farmland is a non-volatile class through which investors can capitalize upon the demands generated by population growth, and the global growing need for food, feed, fuel, and water.
Inflation hedging – Historically, farmland has presented strong hedging capabilities in the face of inflation/stagflation, and has outperformed (in real terms) during periods of low real rates/high inflation.
In addition to these factors, Johnson noted in Canadian Farmland Portfolio Construction – Adjusting For Provincial Variations in Sharpe Ratios, an article published in GAI News in August 2021, "Canadian row-crop farmland investments have had Sharpe ratios materially higher than publicly traded equities and bonds over the last 30 years – meaning they produced much higher average returns over the risk-free rate per unit of total risk."
Under its carefully developed mandate, Veripath is currently managing more than $225 million in AUM, comprising 91,000 acres growing more than 12 crop varieties in 30 geographic locations with more than 30 farmer partners.
And given that Canadian farmland represents a $500 billion market with $20 billion in turnover (approximately 50 percent the size of Canadian commercial real estate), with the majority of farmers over the age of 55, Veripath is well positioned to achieve its goal of building portfolios representing $1 billion in AUM.