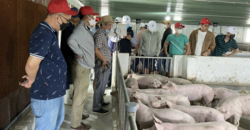 Shareholders and investors of HAGL on a tour in Gia Lai, Vietnam.
Asian Agribiz | 20 April 2022
HAGL raising capital to expand pig production

By Ha Thu

Vietnamese conglomerate Hoang Anh Gia Lai JSC (HAGL) is raising capital to expand its pig and banana farming operations. It will raise funds through a private placement of 161.9 million shares with an expected value of USD 74 million. Hoang Nguyen Duc, Chairman of HAGL, said the company will build nine more commercial farms this year, bringing its total to 16, with a combined capacity of more than 1 million pigs/year. Of the new farms, two will be built in Laos and two in Cambodia.