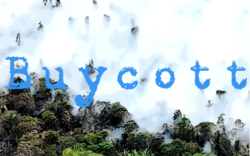 GIFT | 11/12/2019
Borneo in fiamme per l'olio di palma, il report CNN. Buycott!
Borneo, incendi, olio di palma. Quasi 1 milione di ettari di foreste in fiamme nel 2019, altrettanti casi di crisi respiratorie acute nella sola estate. Il report CNN. (1) #Buycott!
Borneo in fiamme, 2019. L'apocalisse
L'apocalisse
– della quale
abbiamo già scritto
, nel 2017 – sta proseguendo. Non solo in Indonesia, come si è visto nel rapporto di Greenpeace
Burning Down The House
. Ma anche nel Borneo, la terza isola del pianeta ripartita tra la Malesia (Sabah e Sarawak), il minuscolo Stato del Brunei e l'Indonesia stessa (provincia di
Kalimantan
).
857.800 ettari di foreste
(un'area superiore all'intera regione Umbria) sono stati divorati dalle fiamme tra gennaio e novembre 2019. In soli tre mesi, tra agosto e ottobre, gli incendi hanno rilasciato 626 milioni di tonnellate di CO2, più delle emissioni dell'intera Australia in un anno (dati Commissione europea). Ed è impossibile la missione dei 9000 giovani impegnati a combattere i fuochi, poiché essi vengono innescati nella giungla, a giornate di cammino dai corsi d'acqua.
Orangutan e biodiversità in cenere
L'orangutan
è anche chiamato, in Indonesia, 'l'uomo della foresta'. È infatti l'essere più vicino all'uomo, con il quale condivide il 97% del DNA. La sua intelligenza è sviluppata, ben oltre quella dei cani e gatti con cui siamo abituati a convivere. È predisposto a socializzare ed è tuttavia ingenuo, al punto da non comprendere le attitudini fratricide di alcuni uomini e divenirne facile vittima. A colpi di arma da fuoco, quando non al rogo.
Gli oranghi del Borneo
sono ora in pericolo di estinzione. (2) La loro comunità – attualmente stimata in circa 50 mila unità (pari al numero degli abitanti di Mantova) – è dimezzata in meno di quattro decadi proprio a causa delle deforestazioni. La foresta più antica del pianeta tuttora copre circa 240.000 km2, poco meno di un terzo dell'isola. E all'attuale tasso di deforestazione potrebbe scomparire in un paio di decenni, con le sue 15.000 piante, 420 tipi di uccelli e 222 mammiferi, molti dei quali unici. E poi elefanti pigmei, leopardi nebulosi, orsi del sole, cervi topo, pipistrelli volpe volanti, pangolini.
Kaputt
.
Asfissia
'Era proprio come la fantascienza, tutto era arancione. Ed era buio, alle 12 del pomeriggio, ci si sentiva come fossero le 17. La gente stava arrivando, in preda al panico.'
(dr. Kevin Sutrapura, Palangkaraya Hospital, Kalimantan)
920.000 persone
sono state curate, nell'estate 2019, per problemi respiratori acuti causati dagli incendi (secondo l'agenzia indonesiana per i disastri). I fumi del Borneo hanno raggiunto Jakarta, capitale dell'Indonesia, a un migliaio di chilometri di distanza. E i soli roghi che precedono le deforestazioni – senza considerare l'impatto degli agrotossici abusati nelle piantagioni di palma da olio – espongono 264 milioni di persone a gravi rischi per la salute.
'Abbiamo deciso di aprire una camera per l'ossigeno, dove le persone potessero iniziare a utilizzare l'ossigeno, in modo da selezionare i pazienti da sottoporre a un altro tipo di assistenza medica avanzata'
(dr. Kevin Sutrapura, Kalimantan).
Palma fuorilegge, sanzioni inefficaci. Buycott!
L'81% delle piantagioni
di palma da olio in Indonesia è fuorilegge, per invasione di aree protette e mancato rispetto degli standard nazionali di sostenibilità. È quanto rivela il rapporto di audit presentato il 23.8.19 dal ministro per gli affari marittimi Luhut Pandjaitan. (3) 9 sentenze di condanna, US$ 250 milioni di sanzioni amministrative, tre licenze revocate dal 2015. Ma nulla è cambiato, i palmocrati continuano a divorar foreste.
'Tutte le società portate in tribunale hanno subito verdetti di condanna e tuttavia non pagano neppure le sanzioni al governo. I procedimenti giudiziari non sono quindi risolutivi, né producono alcun effetto dissuasivo. Gli operatori continuano perciò a bruciare e drenare le torbiere'
(Ratri Kusumohartono, Greenpeace Indonesia)
#Buycott!
Olio di palma, soia OGM e carni americane. Interrompiamo la domanda di ogni prodotto che contenga questi ingredienti sanguinari, fuori anche dai nostri serbatoi. La petizione, che invitiamo tutti a sottoscrivere e divulgare, su
https://www.egalite.org/buycott-petizione/
Dario Dongo e Giulia Caddeo
Note
(1)
Borneo is Burning, How the world's demand for palm oil is driving deforestation in Indonesia
, Rebecca Wright, Ivan Watson, Tom Booth and Masrur Jamaluddin, CNN, cap.2, Orangutans,
https://edition.cnn.com/interactive/2019/11/asia/borneo-climate-bomb-intl-hnk/index.html#chapter2
(2) V. IUCN, Lista rossa delle specie minacciate,
https://www.iucnredlist.org/species/17975/123809220
(3) V.
https://news.mongabay.com/2019/08/81-of-indonesias-oil-palm-plantations-flouting-regulations-audit-finds/
Tags
Borneo
Buycott!
CNN
Indonesia
Malesia
olio di palma
Informazioni sull'autore
Dario Dongo
Dario Dongo, avvocato e giornalista, PhD in diritto alimentare internazionale, fondatore di WIISE (FARE - GIFT – Food Times) e cofondatore del Fatto Alimentare.
Giulia Caddeo
Laureata in giurisprudenza, master in Food, Law & Finance. Ha approfondito il tema degli appalti verdi e delle urban food policies presso il settore Cooperazione internazionale e Pace della Città di Torino.