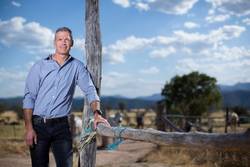 NFF chief executive Tony Mahar says more detail surrounding foreign ownership of Australia's agricultural assets should be made publicly available
The Weekly Times \ 24 January 2018
Foreign ownership: More detail needed, NFF says

by NATALIE KOTSIOS,
More detail surrounding foreign ownership of Australia's agricultural assets should be made publicly available, the National Farmers' Federation says.
NFF chief executive Tony Mahar said while the Federal Government's register of foreign-owned agricultural land was a "step in the right direction", more information on who and what they own would help address public concerns about foreign investment.
It comes after the Red Meat Advisory Council called for the Federal Government to lift the Foreign Investment Review Board screening threshold for agricultural land from $15 million.
While Mr Mahar did not believe the threshold needed to be changed "at the moment", better publicly available data would "improve the conversation" around foreign investment.
"There's no question people want to know where and what the investment is, but we need to look at that impact across the supply chain," Mr Mahar said.
"The register doesn't distinguish the amount of control, whether it's 1 per cent foreign-owned or 99 per cent, and what that means — a simple percentage of farmland owned is a pretty blunt indicator."
Mr Mahar said the NFF generally supported foreign investment in agriculture, seeing it as key to the sector's growth.
RMAC has argued the FIRB screening thresholds — $15 million for agricultural land and $55 million for agribusinesses — could be unattractive to potential investors.
Agriculture Minister David Littleproud said he was comfortable with the current thresholds.