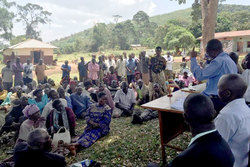 Residents of Nkuusi Village in Busamuza Sub-county, Buvuma District, meet officials from Vegetable Oil Development Project recently. (Photo: DENNIS SSEBWAMI)
The Monitor | 19 January 2018
Buvuma palm oil project: 5,000 reject compensation for land

By DENNIS SSEBWAMI & AL-MAHDI SSENKABIRWA
Buvuma. About 5,000 residents in the Island district of Buvuma have rejected a government proposal to compensate them for their land to pave way for oil palm growing, claiming their property was undervalued.

This comes after government unveiled a programme for the relocation and resettlement of the affected people late last year.

Residents led by Mr Mohammed Ssengooba said they will not hand over their pieces of land to Buvuma palm oil project managers until they are given fair compensation.

The oil project is a component of the Vegetable Oil Development Project (VODP) under the Ministry of Agriculture.

The affected residents, mainly bibanja (plots) holders, are in Busamuzi Sub-county and some parts of Buvuma Town Council.

"The project coordinators and valuers cheated us, they undervalued our property and they did not compensate us for the bibanja," Mr Ssengooba said during a recent consultative meeting at Nkuusi Village in Busamizi.
Complaint

"I had five-and-a-half acres, but l was given Shs8.4 million as compensation for the property, including plantations and a house. They did not value my kibanja and now I cannot vacate my land unless I am [fully] compensated," he added.

Mr George Wabwire, another resident, said his six-acre piece of land was reduced to a quarter an acre after the survey.

"My kibanja is approximately six acres, but they conducted a survey when I was not around. The report they gave me shows that l own quarter an acre, so where did the rest of my land go? I took my complaint to the project coordinator in the area and he chased me away," Mr Wabwire said.

"I sought help from district leaders, including the Resident District Commissioner (RDC) but I have not received any assistance. They want to evict us. Where will I go?" he asked.
Ms Connie Masaba, the VODP project coordinator, said although the project is meant to create jobs, "some [residents] are bent on failing it".

Ms Masaba said so far, they have spent more than Shs50 billion on compensation and more than 8,000 hectares of land have been secured from 5,000 people.

"All those people [5,000] have already received their money and we appeal to them to vacate the land for the project to start. We plan to set up a nursery for oil palm trees by the end of February," she said.

Ms Masaba said part of the land will be used by Oil Palm Uganda Ltd and the rest for out growers.

The company is a subsidiary of Bidco Uganda which already manages oil palm plantations on Bugala Islands in Kalangala District.

Ms Masaba advised residents who are not satisfied with compensation, but signed for the money, to refund it.

"We cannot force anyone to vacate his or her kibanja but we only appeal to those who signed for the money and do not want to refund it," she said.

She also said many of the affected residents bought plots from other people before compensation started hoping to get huge amounts of money, but after valuation, they started complaining because what was offered is not what they had anticipated. "Some brought their family members from other parts of the country and they distributed small pieces of their bibanja to them and when the compensation process started, they wanted to be given the money for their bibanja as heads of the families and at the same time to compensate those who are on the same land, which is double compensation," Ms Masaba said.

The RDC, Ms Lillian Nakaweesi, said through a series of meeting, she discovered that a section of those complaining that they have not received compensation have misunderstandings with their land lords.

However, Ms Nakaweesi vowed to task the valuers to explain why some residents received compensation for only crops.

She said the project is expected to benefit 80,000 residents and displace 10,000 others.

The district chairperson, Mr Alex Mabirizi, said they are working with VODP team to address the concerns.

"We do not want anybody to complain that he was cheated, this is a government project and every affected person must be fully compensated," Mr Mabirizi said.
Concerns
A section of conservationists have since 2016 been opposed to the oil project like they did to one in Kalangala Islands, saying it is not environment friendly. Recently, environmentalists blamed the disappearing forest cover on the increasing change in land use where large acreage of forest land in Buvuma Islands has been converted into farmland. Last year, this newspaper broke a story where government had earmarked 3,500 hectares of private forests in Buvuma for oil palm growing, a move that was protested by conservationists. The RDC, Ms Lillian Nakaweesi, said then that the decision to encroach on private forest land was due to the scarcity of farmland in the area.