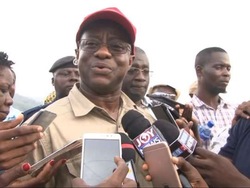 Mr John Peter Amewu,Ghana's Minister of Lands and Natural Resources, has lamented over the plight of peasant farmers who have lost their lands and thrown into abject poverty as a result of land grabbing
GNA | 19 December 2017
CARITAS Ghana holds two-day dialogue on Land Grabbing
By Joyce Danso/ Emmanuel Kwame Donkor, GNA

Accra, Dec. 19, GNA - Mr John Peter Amewu, Minister of Lands and Natural Resources, has lamented over the plight of peasant farmers who have lost their lands and thrown into abject poverty as a result of land grabbing.
The Minister was also not happy about "galamsey" activities, militating against commercialised agriculture, thereby posing a great threat to food security and water bodies.
The Minister expressed these sentiments in a speech read for him at a two-day policy dialogue on land grabbing in Accra, which brought together State agencies, Religious and Traditional Rulers, civil society groups and members of communities affected by land grabbing.
It is on the theme: "Securing Community lands for domestic agricultural production and food security in the context of the Sustainable Development Goals (SDG 2)."
The SDG 2 seeks to End Hunger, Achieve Food security and Improve Nutrition and Promote Sustainable Agriculture.
The Policy dialogue aims at charting a path that would put community interest at the forefront and to make progress in addressing the issue of land grabbing in the country.
Mr Amewu said government was poised to help tackle issues confronting land grabbing in Ghana against the backdrop of its National Development Goals and the SDG's.
To this end, the Minister said under the Land Administration Project II, the Ghana Enterprise Land Information System- (GLIS) is being developed to fully automate services rendered by the Lands Commission to the public.
In addition, Mr Amewu said government is about to implement the Multilateral Mining Integrated Project (MMIP) with "galamsey" areas as its target, to among others things, roll-out pragmatic measures to provide alternative livelihoods, reclaim galamsey sites and restore arable lands to boost food security.
The sector Minister said as part of initiatives to curb the practice of land grabbing in the country, the Lands Commission was also developing a detailed guidelines on large scale land acquisition in the country.
Mr Amewu commended CARITAS for ensuring the efficient, equitable, judicious and sustainable use of land resources within Ghana and across the African content.
Citing a recent World Bank Report on securing land for Africa, Mr Amewu said the report showed a worrying dichotomy between the availability of vast land resources and extreme levels of poverty.
He said the report revealed that Africa had the highest poverty rate although Africa has vast arable land and its productivity gap tend to be the highest globally.
The Minister said government was keen to transform the agriculture sector, hence, had rolled out the Planting for food and Jobs, One Village one dam and the one district one factory policies to provide jobs for the youth.
To this end, Mr Amewu said there ought to be continuous collaborative effort between government and stakeholders to muse over a suitable panacea to put lands to optimum use.
Mr Samuel Zan Akologo, Executive Secretary, CARITAS, said the dialogue also seeks to understand what avenues were available to land owners when their interest were under threat.
Very Reverend Father Lazarus Anondee, Secretary- General of the National Catholic Secretariat, said when communities lose their agricultural lands, it could have consequences on their economic situation.
Caritas Ghana is policy advocacy organization formed under the Ghana Catholic Bishops' Conference.