Vientiane Times| 16 November 2017
Regional countries seek new approaches to agricultural investment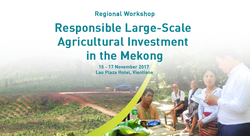 Laos and other countries located along the Mekong River will assess the
challenges of large-scale agricultural investments to find better solutions
for sustainable development and boost economic growth in the region.

Representatives of the government, private sector, research institutions
and civil society across the Mekong countries, including China, are joining
international organisations and partners at a regional workshop in
Vientiane to explore the challenges of agricultural investments.
The exercise will enable them to suggest solutions that support sustainable
and pro-poor development as well as economic growth.

The three-day workshop will also examine how to improve national regulatory
frameworks and agreements between private investors and communities.
The event brings together all these partners to present and share their
experiences and results, to learn from each other, and to discuss how they
can improve linkages, cooperation and synergies at the regional level.
The workshop also offers a space for other stakeholders who are not direct
partners of Mekong Region Land Governance (MRLG) to bring their perspective
from the national, regional or global levels.

The regional workshop on Responsible Large Scale Agriculture Investments in
the Mekong Region is being hosted by the MRLG in collaboration with the
Investment Promotion Department under the Lao Ministry of Planning and
Investment.

Land grants for agro-industrial concessions are not new and can be traced
back the colonial era. But since the 1990s, a wave of large-scale land
acquisitions for agricultural investments has re-emerged worldwide,
particularly in the Mekong region.

The convergence of the global food, financial and energy crises in the
mid-2000s has intensified interest in large-scale agriculture at
unprecedented levels in the Mekong region.

However, the benefits from large-scale agricultural investments, including
income generation, modernisation and productivity boosts, and increased
government revenues, have been disappointing.

More often, the result has been social and environmental impacts that are
problematic for communities, the investors and the government.
The government, investors, and development organisations have been
directing their efforts towards designing and implementing mechanisms that
protect small farmers and promote more responsible agro-industrial
investments.

The workshop will produce recommendations for alternative approaches to
agricultural development and for making investments more inclusive for
small farmers.

MRLG is a project of the government of Switzerland, implemented through the
Swiss Agency for Development and Cooperation (SDC) with co-financing from
the German Federal Ministry for Economic Cooperation and Development and
the Government of Luxembourg.