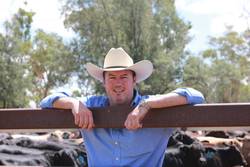 Arcadian founder and CEO Alister Ferguson has secured deal with Hewitt Cattle Australia that he believes will help grow global organic meat markets.
North Queensland Register | 31 October 2017
Hewitt Cattle Australia secure stake in Arcadian Organic

by Penelope Arthur,

HEWITT Cattle Australia (HCA) has purchased a fifteen percent stake in one of Australia's largest organic meat companies, Arcadian Organic and Natural Meat Co.
The confidential deal will also see HCA purchase two certified organic properties owned by Arcadian - the 28,350 hectare Oakwood at Augathella, and the 1700ha irrigated lamb finishing depot, Warilba, near Narrandera in south west NSW.
Arcadian founder and CEO Alister Ferguson has been working on attracting an equity partner to his business for over 12 months.
He said HCA had been supplying organic cattle to Arcadian for several years and was the right fit for the deal on a number of levels.
"We not only need to grow our supply base but also want bring a bit of sophistication into the supply chain as far as our ability to finish animals," he said.
"Obviously as a 100 per cent grass fed system we don't utilise feedlots so seasonal variations affect our business and we need to work more ways to mitigate that risk and believe HCA can help do that.
"Certainly raising some capital to invest in our markets both here and overseas is also a key part of the deal.
"We have a processing facility at Gosford in NSW which we continue to invest in and at some point will need upgrading but the real opportunities we see are around product innovation and value adding."
Arcadian's key domestic retail product range, branded Cleaver's Organic Meat, is among Australia's oldest branded retail beef lines and Mr Ferguson said it would be the focus of product development made possible by the HCA capital injection.
"We strongly believe that rapid growth in the organic segment will continue, and see evidence of this in a number of ways including the ongoing strength of the Cleaver's brand," he said.
Mr Ferguson said the 80 organic producers currently supplying Arcadian would also benefit from the deal.
"We think this is a great outcome for Arcadian as a business but also all our loyal suppliers because it helps us develop a more sophisticated supply chain and help grow the global organic market," he said.
HCA has emerged as one of Australia's largest family run beef businesses since it partnered with Canadian pension fund, Public Sector Pension Investment Board, in 2015.
Since then, the company has continued to expand its land and livestock holdings and currently manages 85,000 head of cattle across 1.85 million acres.
CEO Mick Hewitt said the company was aiming to have about 50 per cent of their herd in organic production in the short to medium term.
He said HCA saw great opportunities across a range of Australian meat markets, including organics.
"We have historically been conventional producers supplying the Jap Ox trade steer market but as our business has grown we have looked for different opportunities and we see one here with Arcadian in the organic space," he said.
"There has been a lot of discussion about Australian agribusinesses leveraging the Asian century and meeting the increased demand out of Asia.
"But, to date, there have been limited examples of upstream businesses that have been able to partner with a customer facing business to leverage this opportunity.
"That's the really exciting part for us."
Mr Hewitt said HCA would be continuing prime lamb production, a first for the Hewitts, with the acquisition of the lamb finishing depot in south west NSW.
"Certainly the macro trends for lamb both domestically and globally are very positive," he said.