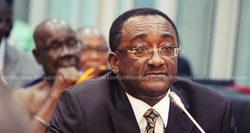 Minister-designate for Agriculture, Dr. Owusu Afriye-Akoto
Ghanaweb | 25 January 2017
Agriculture to get boost from foreign investment – Afriyie-Akoto
The Agric Minister-designate says the sector under the current administration will pursue foreign investments in a bid to increase production.
Dr Owusu Afriyie-Akoto revealed Tuesday that investors from South African and the United States have already undertaken preliminary feasibility studies and, coupled with assurances from the government to support the sector, seem satisfied.
"Last week, a group came from South Africa, I sent them out to the field to Afram plains, to Kintampo and other places and they came back very excited based on the assurances that I gave them that this government is going to support the sector with infrastructure, roads and so on and all that, and they are coming back with a boat load of cattle, young cattle, sheep and goat," he said.
The incoming minister made the revelations in Parliament Tuesday when he came before the Appointments Committee for vetting.
"[Investors] have come from America; they are very interested in investing based on what they have heard that we are doing and determined to do," he said.
Agricultural production figures and its contribution to GDP have become a topic of heated political debate.
Although figures from the Ghana Statistical Service show that production has been increasing steadily, the New Patriotic Party (NPP) criticised the John Mahama-led administration for poorly managing the sector in the run-up to the 2016 general elections.
Vice President, Dr Mahamudu Bawumia, said during a lecture last year that agricultural growth has not developed to its potential because of low budgetary allocation to the sector under the Mahama administration.
During the vetting on Tuesday, Dr Akoto-Afriyie re-echoed some of Dr Bawumia's claims, blaming former President Mahama for not investing adequately in developing agricultural infrastructure.
He said under the Nana Akufo-Addo-led administration, the sector will get substantial budgetary allocation for infrastructural development.