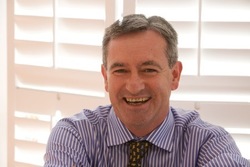 Mike Carroll, who is a board director for multiple agribusiness companies, feels many farm sector businesses are underprepared for the growth era opening up to agriculture.
Farm Weekly | 16 January 2017
Investors wake up to ag value

by ANDREW MARSHALL

THE investment sector's frequently frigid interest in agricultural business opportunities looks to have thawed considerably in the past year says a prominent agribusiness board director and former agri-banker.
Victorian beef producer and former National Australia Bank agribusiness head Mike Carroll said local superannuation and investment groups have been prodded into action by increasing overseas investment activity in Australian farm sector ventures.
"I think we reached a tipping point in 2016 when investors finally woke up and started paying attention to what agriculture had to offer," he said.
But he warned the sector needed to open up to better off-farm management guidance to stay relevant to investors.
"There's already been enormous interest in investing in Australian agriculture from a range of overseas institutions, private wealth funds and individuals.
"It now seems Australian investors, including big fund names like QIC, Telstra, First State Super and VicSuper, have recognised there are opportunities in ag that weren't well explored before."
The $78 billion investment manager QIC made headlines in May 2016 when it bought an 80 per cent stake in the North Australian Pastoral Company.
It wants to rapidly grow its own portfolio of farmland investments and become a major manager of funds invested in agriculture.
First State Super, which purchased almond plantations from Select Harvests a year ago, has also flagged its wants more farmland assets.
Mr Carroll, who sits on five agribusiness boards including Select Harvests, Tassal, and Macquarie Bank's Paraway Pastoral, and chairs the Australian Rural Leadership Foundation, said Canadian investors - particularly pension funds - had led the way in changing Australian city money attitudes to agriculture.
Plenty of other North American, European and Asian investors were also consciously adding agribusiness to their portfolios, partly to insulate their funds against economic volatility and inflation.
"They have to make money for their fund members and shareholders and they're doing it in Australia," Mr Carroll said.
However, Mr Carroll is worried too many Australian farm sector businesses are under prepared to manage themselves in the complex and capital-hungry growth era now opening up for agriculture.
Farm sector co-operatives, despite their capacity to develop markets and protect farmer interests, often struggled to raise the capital they badly needed to respond rapidly to growth opportunities.
And regardless of whether they were private companies, co-ops or big family farming ventures, he said too many agribusinesses lacked the breadth and depth of skills required at board and management level.
Mr Carroll said they must put more trust in off-farm professionals.
He said agribusiness boards should not be top heavy with farm-based directors.
"It had become far harder in the past 20 years for even the most adept farmers to have the time and suite of skills required of today's boardroom bosses," he said.
"There's a lot to ask farmer directors to understand, particularly when it comes to knowing what questions need to be asked about the business and how it should be running.
"Agribusiness needs strong management experience drawn from a range of backgrounds.
"It also needs directors who will challenge a high-flying, strong willed chief executive officer and have the ability to smell what's really going on."
While not pointing at any particular farm-based or large scale agribusinesses operating today, Mr Carroll believed the "Bonlac and AWB stories may have been quite different" if directors and management had been more appropriately skilled and held to account.
Mr Carroll has just retired from a six-year term with Victoria's $100 million dairy industry self-help body the Gardiner Foundation.
The foundation's reserves help fund farm efficiency research and promote farmer financial skills, leadership and communication.
It also assists processors to train and attract the right technical skills.
"I think the future looks strong for dairying - it won't take long for demand to absorb current production surpluses overseas, especially once Russia starts buying milk products from Europe again," he said.
"Unfortunately Australian production hasn't delivered the sort of growth anticipated five years ago, but we've endured some extreme weather volatility and market challenges which forced farmers to batten down the hatches.
"Today's market turnaround and improved season are proof that tough times do pass - they also highlight why we need flexibility built into our farming systems to make the most of opportunities when they strike.