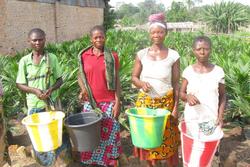 Workers at Feronia's Lokutu nursery, DRC, March 2015 (Photo: GRAIN)
The Times | 9 December 2016
FOREIGN AID INVESTIGATION
'Exploited' workers, hotels and online shopping funded by aid
Billy Kenber, Investigations Reporter | Alexi Mostrous, Head of Investigations
Deep in the tropical jungle in the north of the Democratic Republic of Congo lie three palm oil plantations.
Run by Feronia Inc, which is based in Canada and, until recently, had subsidiaries in the Cayman Islands, the plantations are the perhaps unlikely recipient of tens of millions of pounds in British aid money.
CDC Group, the British government's foreign investment arm, owns a 67 per cent stake in the company, having put $41 million into it since 2013.
Feronia Inc's website prominently features photographs of smiling children and slick videos showing workers playing football or talking about how much they like their job. One worker, Manu, who uses the nickname Botalu Boyi, describes how he is given a house and medical access and is "employed on a contract" and paid well.
However, a recent report by nine charities including RIAO-RDC, a Congolese NGO, and the western charities Grain and War on Want, levels a string of criticisms against the company, including allegations of land grabs, low pay and exploitation.
"Living conditions for communities within Feronia's oil palm plantation concessions remain abysmal," the report claims. "The company occupies lands that are essential to the livelihoods of local people and fails to provide decent wages and basic services."
The report claims that some workers receive as little as $1.25 a day, well below the DRC's minimum wage.
Feronia runs three large plantations along the Congo River, where palm fruits are harvested and ground up to extract their oils. It has been heavily backed by CDC and other development finance institutions that have said they want to improve workers' conditions.
CDC policies mean it cannot invest in companies with land disputes, employment rights violations or corrupt practices.
Feronia rejected the charities' criticisms and said that its purchase of the plantations in 2009, followed by the investment of CDC and others, had saved thousands of jobs. It said it was striving to improve conditions and had provided access to schools and hospitals for the community.
Last year, CDC said its investment had allowed average wages for plantation workers to increase by 70 per cent to $4 a day. However, the report said pay stubs from workers at Feronia's plantations showed that "superior" workers were still paid $2 a day all last year and casual workers, the vast majority, received no more than $1.25.
The minimum daily wage in DRC is 1,680 Congolese francs, which is worth $1.75 but has actually fallen in dollar terms since it was set in 2009, when it was worth $3.
About 80 per cent of plantation workers are not permanent employees and are paid for units of work carried out instead of a day rate. Feronia and CDC said that permanent workers received at least 100 per cent of the DRC minimum wage and that its use of casual staff was necessary because the plantations had "an ageing permanent workforce who are not fully able to undertake some of the more physical work required at this stage in the company's redevelopment".
Workers have also complained that wages are often paid several months late and that on occasion they receive refined palm oil or soap in lieu.
Feronia and CDC admitted that workers were sometimes paid late because of a complicated payroll process and difficulties transporting cash to the sites. It said that permanent staff could choose to receive up to 15 litres of palm oil at a reduced rate and could also buy soap, but were not forced to.
The largest of Feronia's three plantations is called Lokatu and covers 63,000 hectares. The company's ownership is heavily disputed by local community leaders.
Last year 60 local chiefs from the areas covered by Lokatu issued a signed declaration stating that the company had never consulted them.
Feronia also faces allegations that local communities have been illegally deprived of their lands at its Boteka plantation. A 2013 letter from village elders to the DRC's prime minister concluded: "With all our energy, we deplore and denounce this illegal occupation of our territories, an occupation . . . which has made us extremely poor and will end in our collective death."
Feronia said it did not own the land on which it operated but leased it from the DRC government through "more than 200 fixed-term, renewable land titles", many dating back at least 100 years. It said it "strictly follows legal process" when renewing leases.
Saranel Benjamin of War on Want, one of nine organisations behind the report, said the CDC had not done due diligence before investing. "The lack of oversight and due diligence is shocking, particularly when Dfid is now seeking to funnel more public money through its private equity arm," she said.
Dfid said that Feronia was the type of challenging investment that CDC should be undertaking and that robust due diligence had been undertaken.