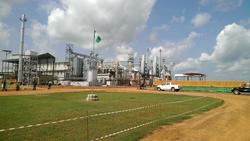 Olam's rice farm and mill in Rukubi, Doma Local Government Area of Nasarawa State. The company has started developing a second 13,500 ha fully irrigated paddy farm on a greenfield site in Ondorie, Na­sarawa State.
The Authority | 7 November 2016
OLAM urges FG to make rice importation ban process gradual
OLAM Nigeria has urged the Federal Government to be gradual in its move to ban importation of rice into the country in 2017.

The firm said a gradual process will close the supply gap of 2.5 mil­lion tonnes in five years.

This was stated by the Gener­al Manager, Project Coordinator, OLAM Nigeria, Mahesh Nimje while conducting a media tour of the company's rice farm and mill in Rukubi, Doma Local Government Area of Nasarawa State,

Nimje disclosed that the current rice demand in the country is about 6 million metric tons while the sup­ply is 3.5million mt leaving a de­mand-supply gap of 2.5 million mt.

He stressed the need for govern­ment to increase access to finance for farmers, encourage many inter­national investors to invest in rice production, provide them with enabling environment, infrastruc­tures, among other things to scale down the price.

"The Federal Government should support and provide more enabling environment for local in­vestors and farmers to close the huge supply gap of 2.5 million tons before finally banning rice impor­tation into the country", he opined.

He further stated that the farm will be expecting a yield of 10mt per hectare (over two annual crop cycles), based on four varieties of high-yield rice tested with the West African Rice Development Associ­ation, which 4,040 hectares are al­ready under cultivation, with a further 3000 hectares on target for 2016/17, and 1000 workers are em­ployed on the farm.

He said: "There is the supply gap of 2.5 million tonnes and the de­mand is still high, that is the rea­son why demand has gone up more than the supply. So that gap can­not be filled within one or two years but five years for the government to encourage efforts of the local producers of rice, like the Anchor Borrower Scheme, more support to farmers, training institutes for farmers, and also should encour­age international companies to es­tablish farm like Olam.

"In the last one year there has not been much importers, the ef­fort of government has yielded some results, but not that much to bridge the entire gap. The 2017 ban of rice importation is too clos­er because the gap is still 2.5 mil­lion tonnes.

"Like Olam's effort as you can see is all rice farm and that has challenged the communities around which the people have gone into serious rice farming, and they need more facilities. With the encouragement from the govern­ment the gap can be closed but it will take five years.

"It will take five years for gov­ernment to achieve that target, but they should keep that will power and good work of supporting the farmers, international farmers to establish like Olam."

Speaking on their contribution to the self-sufficiency target in rice production of the federal govern­ment, Ninye said the farm has in­creased it farm hectare under cul­tivation from 3,800 -4,500 hectare

He further disclosed that Olam has started developing a 13,500 hectares fully irrigated paddy farm on greenfield site in Ondorie, Na­sarawa State.

"We urge organisations like the Central Bank of Nigeria, CBN, to help farmers get some credit for yield per hectare. Government should put in more efforts and sup­port to rice farmers with the An­chor Borrowers Scheme and IFAD assisted programme, and also give better environment to companies here in Nigeria, and it will attract other investors to come into the rice sub-sector", he stated.
The GM however warned that the price of may not go down soon but will likely shoot up by Decem­ber because of the high demand except government takes a dras­tic step by allowing importation of the food crop into the country.
He said "last year a tonne of paddy sold for N65,000 this year it is N150,000, the mill is run on diesel for 24hours, the road are very bad, the price of farm input have multiplied all this things add­ed up to increase the price of rice from N9000 to the current price of N17,500.