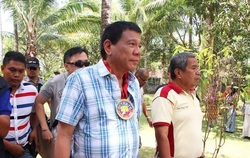 President Rodrigo Duterte visiting a MILF camp.
GMA News | 7 November 2016
Chinese investors eye 6,000-hectare tea plantation in MILF territory
By AMITA LEGASPI

Interior and Local Government Secretary Ismael Sueno on Monday said he will meet with leaders of the Moro Islamic Liberation Front (MILF) to help Chinese investors set-up a 6,000-hectare tea plantation within the rebels' controlled territory in Mindanao.
Sueno said Chinese agriculture officials told him during President Rodrigo Duterte's visit in China last month that they have found a prospective area for the tea plantation in the Autonomous Region in Muslim Mindanao.
He added that the Chinese officials, including the chairman of the Bank of China, told him they have been wanting to put up a tea plantation, but they cannot do it in China because soil in their country is contaminated.
"They (Chinese agriculture officials) still want to get on with the production of the tea, and they have found a right place in the Philippines. You know where that place is? That's in Mindanao," he said in a press statement Monday.
Sueno did not disclose which specific area in the ARMM, but he said it is within the bailiwick of the MILF.
He added that the Chinese investors are well aware that the prospective area for the tea plantation is within an MILF community.
"Sabi nila na bahala na if they lose 1 billion yuan basta they have attempted to help the people in Mindanao," he said.
Sueno said China is determined to enter into a partnership with the Philippines to come up with a world-class tea to be produced on Philippine soil.
He believed the partnership will further bolster the ties between the Philippines and China.
The DILG Chief said he was inspired by the willingness and determination of the Chinese people not only to produce high value tea, but to also help Filipinos in terms of agricultural production.
He promised to do everything in his capacity as DILG secretary to protect the proposed world class aromatic tea plantation in ARMM.
"I will go to the (MILF) commanders, to the governor, and the mayors in the area and talk to them in order to protect them. This will be a world-class tea plantation. One kilo will cost about $10,000," Sueno said.