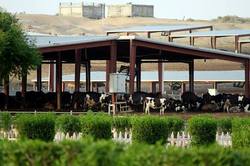 The 4,000 cattle Engro Dairy Farm, Nara Sukkur, Sindh, Pakistan (Photo: Ali Ahmad)
Retail Detail | 4 July 2016
FrieslandCampina targets market in Pakistan

By Yoni Van Looveren
FrieslandCampina has acquired 51 % of Engro Foods Limited, the second largest dairy producer in Pakistan. It enables the company to take a major leap forward in Central Asia.

Shift to packaged dairy

Pakistan is the third largest milk-manufacturing country in the world, with 38 billion liters on an annual basis. FrieslandCampina wants to take advantage of the shift to packaged dairy products in Pakistan: not even 10 % of milk consumption comes from processed and packaged milk in Pakistan, but FrieslandCampina expects that to change in the near future.
"Thanks to this well-organized and very successful company, we have obtained a strong position in the Pakistani dairy market. A growing middle class is switching to processed and packaged milk in Pakistan and Engro Foods provides a platform to build on. This acquisition will contribute to the value proposition we want to give our member dairy manufacturers. We will also help develop the agricultural industry in Pakistan with our extensive knowledge on the dairy manufacturing process and thanks to our Dairy Development Programme", CEO Roelof Joosten said.
"This is a very important event for us. Engro Foods has been very successful ever since its launch in 2006 and has since become one of the most respected companies in Pakistan. Our FrieslandCampina collaboration will definitely have a huge impact on the dairy value chain in Pakistan and will also enable Engro Foods to present the consumer with additional value thanks to an improved product range, while it will also help improve our innovation levels", Engro CEO Babur Sultan added.
--
Express Tribune | 6 March 2016
By Shahram Haq

In a bid to strengthen its foothold in the field of model cattle-farming, Engro Foods Limited is planning to introduce large-scale dairy farms to meet the increasing demand of milk in the country.
"We are planning to introduce large-scale dairy farms which will not only have the best feeding practices, but would also help the company further streamline its food business," said Engro's Sahiwal Processing Unit Quality Control Head Ahmad Ishtiaq, while talking to a group of journalists.
"This would also, as a result, encourage the scattered cattle-owners," he added.
Engro Foods; a subsidiary of Engro Corporation, currently owns a dairy farm in the outskirts of Sukkur, Sindh. The farm has 4,000 cattle that largely meet the demands of its milk processing plant.
In Punjab, the company relies on scattered cattle-farmers, who according to Ishtiaq, are not adopting modern farming practices due to various reasons.
The company claims that it successfully raised its market share in UHT category to 58% in 2015, from 48% in the previous year. The company recorded Rs50 billion in net sales during the year 2015, compared to Rs42.6 billion in 2014.
According to Ishtiaq, the company currently has a registered farmer-base of approximately 50,000 in four zones covering Sindh, south and central Punjab. There are 70 large farms, five corporate farms and seven strategic milk supplier chains for milk collection.
"The share of processed milk is increasing. It currently stands at 7% – which is still a low figure compared with India, where the figure hovers around 20%, as per experts," he said.
"Although 93% of its share is loose milk, the usage of packaged milk has grown from 1-3% during 1980 and 2000. It has captured another 4% market by 2015 in Pakistan," he added.
He said the increase was due to consumers getting more quality conscious; most of them were switching to UHT milk. "However, there is still a need for improved efficiency and for the general public to get awareness about the hazards of loose milk."
"In the Sahiwal plant, which has the capacity of 1.3 million litres, we drained almost 5 million litres of contaminated milk in the last three years," noted the official.
He said the company had to develop the entire milk collection chain as around 92% of farmers had up to four animals per family and were scattered across farmlands. "Around 80% of these farmers had only two animals per family," he added.
Furthermore, he said, a single milk tanker usually underwent 28 tests in 45 minutes before reaching the plant for processing. "At the processing stage, the milk wastage ratio is usually around 0.7%."
As for the collection of real time data of animals and their milking capacity, Ishtiaq said the company was working on developing practices similar to those in European countries.
Engro Foods' 2015 profit up 256%
"Our agri-field teams regularly collect and maintain data for milk collection from each farmer along with the details of the animal. The percentage data of cows and buffaloes per area is also collected, after which, the milk collection centres are set up keeping in view the availability of animals," he said.