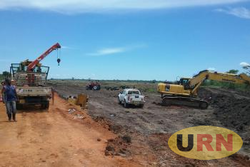 Workers clearing the Lubenge wetland in Luweero district
URN | 5 April 2016
Chinese investor clears Luweero Wetland amidst protests
Kehong Uganda Industrial Development Limited, a Chinese firm has acquired a 99- year lease to use Lubenge wetland in Luweero district amidst protests from residents and environmental activists. The wetland measuring 383.092 hectares, seats on block 766. It spreads from Luweero to Nakasongola district.
In 2014, the Lands, Housing and Urban Development Ministry leased the same wetland to Treasure Trove Uganda limited, a local firm under freehold. Kehong Uganda Industrial Development Limited acquired the land for rice growing through a transfer from Treasure Trove Uganda limited.
The Chinese firm has embarked on massive clearing of the wetland to pave way for rice growing, horticulture, poultry and establishment of factories. The firm has also diverted the water, which has been flowing into River Lugogo and Lake Kyoga for use. The firm has also opened up roads to enable the smooth movement of tractors and workers.
The destruction of the wetland has drawn angry reactions from residents and leaders in both districts. James Wandira, the Nakasongola District LC V chairperson, says they haven't been notified officially about the activities in the wetland. According to Wandira, Nakasongola District local government has already petitioned National Environment Management Authority protesting the activities in the wetland.
He says they are bitter that Kehong Uganda Industrial Development Limited went ahead to degrade the wetland without consulting residents. James Kunobere, the Nakasongola District Environmental Officer, says the Chinese firm hasn't presented any Environmental Impact Assessment report to the district detailing how they intend to preserve the ecosystem as required by law.
Teo Gadetsi, the Luweero District Environmental Officer, says they have submitted their concerns to NEMA asking it to set guidelines for the firm to ensure the wetland is protected before they issue it with an Environmental Impact Assessment certificate.
Abbey Mukalazi, a farmer says that his father Philemon Kaggwa and others acquired a lease in 1967 to use the wetland to water their animals without tampering with the ecosystem. He however, says they were surprised when the Lands Ministry connived with Treasure Limited Company to change the user to Kehong Uganda Industrial Development Limited without consulting them.
A joint report compiled by Police, Luweero and Nakasongola District Lands Board and Resident District Commissioner, Alice Muwanguzi recommends that the firm compensates the former users of the wetland. Both the RDC and Kehong Uganda Industrial Development Limited have invited the Vice President, Edward Ssekandi for the launch of the project on 26th April 2016.
Our reporter couldn't reach Kehong Uganda Industrial development limited for a comment. Naomi Karekaho, the spokesperson National Environment Management Authority, told URN she wasn't aware of the developments on the wetlands but promised to follow up the matter.
Recently, Luweero district council passed a resolution to degazette Nyimbwa Forest Reserve to pave way for the establishment of an industrial park drawing uproar from environmentalists citing adverse effects on climate.