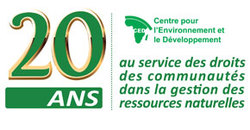 Centre pour l'Envrionnement et le Développement | 4 avril 2016

Le CED publie un rapport sur la situation des défenseurs de l'environnement en Afrique Centrale
La cérémonie de présentation dudit rapport s'est déroulée le 31 mars à Yaoundé 2016 en présence des représentants des Administrations sectorielles, des Universitaires, des institutions de recherche, des OSC de protection des droits de l'homme et de l'environnement, des communautés locales, des Chefs traditionnels, des jeunes juristes, des partenaires techniques et financiers et des médias.
Résumé:
Le présent rapport, produit dans le cadre du projet « Verdir le respect des droits de l'homme dans le bassin du Congo», vise à attirer l'attention des gouvernements, des opinions publiques nationales et internationales sur les violations ainsi que les menaces de violations auxquelles font face les défenseurs de l'environnement en Afrique centrale et de façon spécifique dans le Bassin du Congo. Le but ultime est de permettre une synergie d'actions pour une meilleure prise en compte des droits des communautés locales dans les projets liés aux ressources naturelles et de développement en Afrique centrale.

Le présent rapport étant le premier du genre sur la question des défenseurs de l'environnement, a été principalement réalisé dans quatre pays (Cameroun, Congo, Gabon et République Centrafricaine).
Télécharger le rapport ici : CED_SOUS LE RADAR_light
---
Executive Summary
This report, produced under the project « Greening Respect for Human Rights in the Congo Basin », aims at drawing the attention of Governments, national and international public opinions on the violations and threats of violations faced by environmental defenders in Central Africa, and specifically in the Congo Basin. The ultimate goal is to enable a synergy of actions in order to ensure that greater account is taken of communities' rights in projects related to natural resources and development in Central Africa.
This report is the first of its kind on the issue of environmental defenders mainly conducted in four countries (Cameroon, Congo,Gabon and Central African Republic)