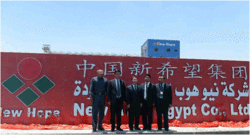 Opening ceremony of New Hope's animal feed operations in Egypt.
Deal Street Asia | 6 March 2016
China's New Hope raising $450m fund to accelerate overseas acquisitions
Chinese agribusiness group New Hope will accelerate overseas acquisitions in a bid to become a top supplier of high-end meat to feed demand in the world's largest consumer, its chairman Liu Yonghao said on Saturday.
Liu has built New Hope from a small chicken farm into the country's top animal feed producer, with businesses extending to banking and property and annual sales topping 90 billion yuan ($13.83 billion). He started out in business with his brothers in 1982 with $120 in start-up capital from selling their bicycles and watches.
Just a few months after acquiring 20 percent of U.S. grains and energy merchant Lansing Trade Group LLC, New Hope is raising more funds for bigger expansions abroad, Liu told reporters on the sidelines of China's annual parliament meeting.
"We're accelerating and expanding our overseas acquisitions… launching new fund raising channels to make our sources of financing more diversified and expansions more orderly," said Liu, now 64. Started in 1997, New Hope's global footprint covers countries like Australia, New Zealand and Indonesia.
Liu said the investment in Lansing helps New Hope globalize feed procurement and cut costs. It also fulfills part of the group's broad strategy to become a major producer and distributor of high-end animal protein, such as beef, lamb, shrimp and milk, up the value chain from chickens and ducks.
The group last month launched a 3 billion yuan fund with the Zhejiang provincial government and the Harvest Fund to lead overseas agriculture acquisitions, Liu said.
New Hope is also raising $450 million through the Hosen Capital, which counts Singapore's Temasek and Japan's Mitsui as founding investors, as another pool to acquire overseas. Liu didn't specify future acquisition targets.
At home, New Hope is expanding pig farms, planning to spend 8.8 billion yuan over the next three to five years to grow 10 million hogs, Liu said.
That would transform the company into primarily a hog producer rather than feed as the feed industry suffers from overcapacity.
Liu praised Beijing's recent move to adjust a long-standing corn stockpiling policy by cutting domestic prices.
China instituted a crop stockpiling policy to protect its rural population from fluctuating prices and prop up incomes but corn reserves are now at record highs.
"It's a positive change, by separating subsidizing farmers and subsidizing corn prices, thus letting the market to play a bigger role," Liu said