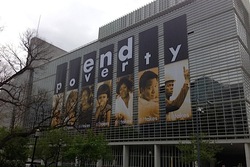 The World Bank's $70 million in new financing will be used to link smallholder farmers to agribusinesses in the Southern Agricultural Growth Corridor of Tanzania (SAGCOT)
World Bank | 10 March 2016
New project to link farmers to agribusiness in Tanzania
PRESS RELEASE

Washington, DC — The World Bank Board of Executive Directors today approved $70 million in new financing to support Tanzania's agriculture sector and strengthen it by linking smallholder farmers to agribusinesses for boosting incomes and job-led growth.
As part of its national development strategy the Government of Tanzania is currently implementing the Southern Agricultural Growth Corridor of Tanzania (SAGCOT) Program which seeks to promote agribusiness partnerships to tackle low farm productivity and limited market access that are impeding development of the country's agricultural sector.
The newly-approved SAGCOT Investment Project is financed by the International Development Association* (IDA) and seeks to develop income opportunities for 100,000 smallholder farming households by providing them new technologies and marketing practices and expanding partnerships with lucrative agribusinesses in the Southern Corridor of Tanzania. Once implemented, the project will directly benefit over half a million people and engage 40 agribusiness operators, with emphasis on including women in successful commercial value chains.
"Smallholder farmers play a central role in Tanzania's agricultural sector" says Bella Bird, World Bank Country Director for Tanzania, Burundi, Malawi and Somalia. "The SAGCOT Investment Project has the potential to be transformational as it will provide them with crucial access to capital and new technology needed to invest in higher value production, promote their livelihoods and meet their nutritional needs."