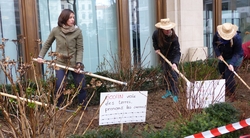 Vorige week bezetten tientallen burgers en vertegenwoordigers van enkele Belgische ngo's het hoofdkantoor van de Belgisch-Luxemburgse groep Socfin met een hark of spade in de hand.
VILT | 01.03.2016 [
EN
]
"Socfin heeft zich nooit schuldig gemaakt aan landroof"
Socfin heeft zich nooit schuldig gemaakt aan landroof. Dat zegt Luc Boedt, voorzitter van de beheerraad van Socfin, in een reactie op de bezetting van de hoofdzetel van het bedrijf door enkele Belgische ngo's. "In veel gevallen kopen we oude staatsbedrijven op die we moderniseren en in andere gevallen staat het elke boer vrij al dan niet mee te werken met ons", klinkt het. Ook de aantijgingen van Greenpeace dat Socfin het nulontbossingsbeleid aan zijn laars lapt, zijn uit de lucht gegrepen, stelt Boedt.
Vorige week bezetten tientallen burgers en vertegenwoordigers van enkele Belgische ngo's het hoofdkantoor van de Belgisch-Luxemburgse groep Socfin met een hark of spade in de hand. Met de actie wilden ze hun ongenoegen uitten over de "agressieve uitbreidingspolitiek die Socfin op wereldschaal voert". Een uitbreiding die volgens de ngo's ten koste gaat van lokale gemeenschappen en de familiale landbouw. Ze beschuldigden Socfin van landroof.
"Niets is minder waar", beweert Socfin, een agro-industrieel bedrijf dat gespecialiseerd is in het verbouwen van palmolie en rubberbomen. "Wij hebben nog nooit aan landroof gedaan. Lees er onze concessieovereenkomsten maar op na of bekijk satellietopnames van de gebieden die wij beheren", zegt de voorzitter van de beheerraad van Socfin Luc Deboedt. Volgens hem volgen de Belgische ngo's blindelings hun Franse collega's die een heksenjacht gestart zijn tegen de groep Bolloré, één van de aandeelhouders van Socfin. "Maar ze hebben niet de moeite gedaan om zich te verdiepen in de situatie van Socfin", stelt Boedt.
Hij haalt de werking van Socfin in Sierra Leone aan als voorbeeld. "Dat land heeft dringend nood aan eigen landbouwproductie. Zo wordt meer dan 50 procent van de plantaardige olie ingevoerd, tegen een prijs die hoger is dan de Europese. Maar de bodems zijn er wel volledig uitgeput en de groeiende populatie laat niet toe om het systeem van vruchtafwisseling toe te passen", schetst Boedt de situatie in het land. Na drie jaar onderhandelen met de landbouwers, landeigenaars en de lokale autoriteiten heeft Socfin een overeenkomst tot exploitatie van de gronden gesloten. "Het stond elke boer daarbij vrij om al dan niet mee te stappen in ons verhaal. Het feit dat grote stukken van de concessie niet bewerkt zijn, en dat zie je op satellietfoto's, bewijst dit."
Socfin voerde naar eigen zeggen een modernisering door van de landbouwpraktijken en -infrastructuur. "Intussen zijn er tal van factoren die aantonen dat de manier waarop we tewerk gaan, goed is voor de plaatselijke boeren. Zo willen omringende gemeenschappen meedoen met ons project omdat ze inzien dat werken voor Socfin 20 keer meer opbrengt dan werken op de uitgeputte grond. Elk dorp heeft ook een grote gevrijwaarde zone gekregen om aan voedselproductie te doen. Daarnaast heeft Socfin er voor gezorgd dat er scholen, consultatiebureaus en een klein hospitaal zijn gebouwd in het gebied", legt Boedt uit. Hij wijst er ook op dat sensibilisering van de bevolking ervoor gezorgd heeft dat ebola zich niet heeft kunnen manifesteren heeft in het gebied.
In Ivoorkust, Kameroen of Nigeria is het bedrijf dan weer anders tewerk gegaan. Daar werden oude staatsbedrijven opgekocht nadat ze volledig of gradueel geprivatiseerd werden. De gronden zijn nog steeds eigendom van de staat en akkoorden over de uitbating ervan tussen de overheid en de plaatselijke boeren dateren al van 60 of 70 jaar geleden. Ook hier moderniseerde Socfin de landbouwpraktijken. "Het is dus een pertinente leugen dat wij de plaatselijke mensen treffen in hun levensbehoeften", reageert Luc Boedt boos op de aantijgingen van de ngo's.
Ook de bewering van Greenpeace dat Socfin haar landbouwgebieden zou ontbossen, is volgens Boedt manifest onwaar. "Het feit dat Greenpeace een nulontbossingspolitiek heeft, is lovend, maar zij hebben niet het alleenrecht op die politiek. "Ook IUCN, FAO en IFC hebben die en wij hebben ervoor gekozen om met hen samen te werken. Dat Greenpeace ons een gevaar noemt, is niet correct. Bovendien hebben wij in het verleden al meermaals actie ondernomen om ervoor te zorgen dat primaire bosbestanden beschermd blijven. Daar hebben wij Greenpeace niet voor nodig", klinkt het verontwaardigd.
Luc Boedt is dan ook boos om deze uithaal van Belgische ngo's zoals FIAN, 11.11.11, SOS Faim, Oxfam Solidariteit en vele anderen. "Ik ben het zo beu dat deze zogenaamde wereldverbeteraars de ene leugen na de andere over ons verspreiden, met als enige doel meer geld in hun collectebus te krijgen. Socfin heeft in Afrika al meer scholen gebouwd dan al die ngo's samen", reageert hij namens Socfin.
Bron: eigen verslaggeving