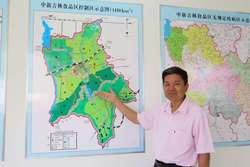 Former chief executive of the Sino-Singapore Jilin Food Zone, Dr John Lee, left just slightly more than a year after he was appointed CEO in January last year. Dr Lee said he left for "better opportunities" (Photo: Esther Teo)
Straits Times | 26 September 2015
Another setback for Jilin Food Zone
Esther Teo
The chief executive of the Sino-Singapore Jilin Food Zone (SSJFZ), Dr John Lee, has resigned, leaving the position unfilled for the past six months. This is the latest setback to the project in north-eastern China's Jilin province meant to diversify food sources for Singaporeans and help improve safety standards for Chinese consumers.
Dr Lee resigned in March from the firm that was developing and managing the project "to pursue other opportunities", Singbridge's executive vice-president Yeo Chun Cheng told The Straits Times yesterday in replies to e-mailed questions.
Dr Lee left just slightly more than a year after he was appointed CEO in January last year.
A new CEO has yet to be found and Mr Yeo - who has been overseeing the project from Singapore since he joined Singbridge last year - has been the acting CEO since March while the firm searches for a suitable replacement.
When contacted, Dr Lee told The Straits Times that he had left for "better opportunities".
The Jilin Food Zone - roughly twice the size of Singapore at 1,450 sq km - is a joint project by the Jilin city government and Singbridge, a member of the Ascendas-Singbridge group that is majority-owned by Temasek Holdings.
The zone aims to supply Singaporeans with vegetables, fruit and meat.
It was first mooted by Prime Minister Lee Hsien Loong and then Chinese Premier Wen Jiabao in 2008, but questions about its commercial viability led Singbridge to put it on hold.
In 2012, both sides agreed to get the project going again. A joint management firm was set up with Singapore taking a 40 per cent stake. It was the first time that the Chinese took a majority stake from the start in a bilateral project as both sides usually have an equal share.
While Singapore has not revealed the potential size of its investment, Jilin officials have said they expect to invest 110 billion yuan (S$25 billion) over the next 15 years.
The SSJFZ has been hit by various delays since its inception. The timeline for a pig farm being built by Singapore Food Industries and its partners, initially scheduled to start pork exports to Singapore last year, has been pushed back due to "changes in development plans", according to earlier reports.
From what The Straits Times understands, land-use rights and difficulties with the land-acquisition process continue to hobble the food zone project.
But Mr Yeo played down concerns, saying that the SSJFZ has made "good and steady progress" with up to 2.5 billion yuan spent so far on land acquisition and the development of basic infrastructure.
He noted that more than 10 food production projects with a total investment value of close to 12 billion yuan have also been secured. Rice crackers and vermicelli, for instance, are some items already being manufactured in the zone.
As for the pig farm, one of SSJFZ's anchor projects with an expected total investment value of 4.2 billion yuan, Mr Yeo said its first phase - having pork from 100,000 pigs exported to Singapore yearly - is expected to be completed by 2019. The farm's annual production is expected to reach one million pigs by 2025.