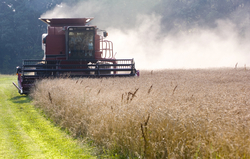 Challenger buys UK alternative funds management house Dexion Capital
Ruth Liew
Reporter
Financial services giant Challenger has forked out $41 million for a UK-based boutique funds management incubator and distribution group as it seeks to capitalise on rising investor interest in alternative and overseas assets.
Challenger, which has a market value of $3.9 billion, bought Dexion Capital , which controls three alternative boutique fund management operations. They include Resonance Asset Management, which focuses on renewable energy, Agricultural Asset Management, which specialises in agriculture, and housing infrastructure group Horizon Infrastructure Partnership.
The purchase will add to the group's existing European alternative asset managers, including global infrastructure group Whitehelm Capital and WyeTree Asset Management, an asset-backed security specialist.
"People are looking for active managers," Ian Saines, chief executive of Challenger's funds management business, told Fairfax Media.
"It's very much a continuation of what we've done," he said, adding that having products and managers in the European market "sets us up for growth."
Dexion Capital's funds management operation provides a platform to emulate the group's Fidante Partners multi-boutique model in the European market, while opening up global distribution opportunities for its existing boutique managers, he explained.
Challenger expects the deal will increase its earnings right from the start. It used existing funds to pay for it. Dexion's boutiques currently control about $US$500 million ($671 million) in funds under management.
"We believe that bringing the capability of Fidante Partners to Dexion Capital is very attractive to both investors and managers," Dexion's founder Robin Bowiesaid in a statement.
Alternatives' growth
"[Alternative investments] are the fastest-growing investment sector and will comprise 15 per cent of global assets under management and 40 per cent of revenues by 2020," he said. Boutique managers were heavily represented in this investment sector.
Fidante Partners has stakes in 14 boutique managers, including Australian equities manager Alphinity Investment Management and Asian equities specialist Metisq Capital, which hold around $41 billion in funds under management.
The latest deal comes two weeks after Challenger sold off its 25 per cent stake in fixed income house Kapstream Capital for $45 million to Janus Capital Group.
Kapstream Capital fund manager Kumar Palghatwill resume working with his former boss, bond king Bill Gross, after Janus paid $111 million for a 51 per cent stake in the Australian fixed-income investment house.
New York Stock Exchange-listed Janus Capital, which has $248.3 billion in assets, approached Kapstream Capital for an equity stake at the end of 2014 and has the option of snapping up the remaining 49 per cent. Kapstream had been set up with the help of Challenger's Fidante Partners business in 2006.
Mr Palghat already was a senior portfolio manager of PIMCO when Mr Gross headed the firm and worked with the bonds guru for 10 years.