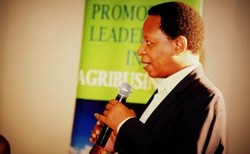 24 Tanzania | 25 May 2015
SAGCOT supporting agricultural transformation in Ihemi Cluster
Iringa, Tanzania: The Agribusiness Leadership Meeting for Agricultural Transformation in Ihemi Cluster was held in Iringa last week.
Managing Director of SAGCOT (Southern Agricultural Growth Corridor of Tanzania) Mr. Geoffrey Kirenga at the opening of Agribusiness Leadership Meeting that bought together public, private sector in Agriculture in the Southern Corridor in Iringa, Tanzania.
This is a multi-stakeholder event aimed at promoting the role that Public and Private Sector leadership play in facilitating agricultural transformation in the Ihemi cluster.
Improvement of performance of the agricultural sector has always been critical in achieving economic growth and poverty reduction in Tanzania. Various agricultural development initiatives have been launched in response to the pressing need to raise agricultural productivity in Tanzania. The Southern Agriculture Growth Corridor of Tanzania (SAGCOT) partnership is one of those initiatives aimed at transforming agriculture in Tanzania's Southern Corridor.
"The general objective of this meeting is to enhance networking and collaborations between various agricultural stakeholders from public and private in the corridor to influence, align and outline priority actions with regards to policy and regulatory issues; tax and land challenges that negatively affects SAGCOT partners in Ihemi cluster," said the CEO of Uongozi Institute Prof. Joseph Semboja.
According to the CEO of SAGCOT Mr. Geoffrey Kirenga, "Through inclusive private sector led investments, the Partnership targets to enhance food security in Tanzania in such a way that environmental resources are sustained and smallholder farmers and their communities have access to sustainable livelihood development. Due to the fact that, SAGCOT partners are coming from different backgrounds with diverse interest and approaches in investment, there is a need of having a common understanding on SAGCOT especially among leaders of institution that directly engages in agriculture sector within Ihemi cluster," said Mr. Kirenga
In early July 2014, the technical team from Uongozi institute, SCL and the academicians from the Columbia University met in Dar es Salaam and convened a meeting that deliberately discussed collaboration opportunities to foster agricultural development in SAGCOT corridor. The subsequent meetings came with an agreement to establish regular agribusiness leadership seminars in the corridor.
"Agricultural transformation can only happen under the environment with prompt solutions to investment bottlenecks. Not limited to but among them being policy, legal issues and weaknesses on the institutional set ups. As a result these always lead to specific challenges like inefficient power supply, poor infrastructures, efficiencies of product standard management, bureaucracies and market challenges, to mention but a few," said the representative from SAGCOT Mr. Kirenga.
Basing on the selection criteria that led to select Ihemi cluster as a priority, the expectation was to see a well coordinated agribusiness, efficient input supply and high productivity that makes Ihemi Cluster a centre of agro processing industries. The findings from SAGCOT survey of September 2014 showed slow progress of the implementation of the initiatives in the corridor mainly as a result of some challenges which among others included unreliable power supply to processing plants; tax relief for import of processing machines and farm building materials; policy constraints and land related issues.
Apparently there seem not to be a clear coordinating mechanism among the various stakeholders and as a result the roles and responsibilities of stakeholders are not articulated as required. The agribusiness leader's workshop is considered one of the important interventions that can address the identified problems. The scheduled workshop is therefore expected to inform and remind all stakeholders their roles to address the ongoing agribusiness constraints in Ihemi cluster.
Therefore SAGCOT Centre and Uongozi Institute have initiated to facilitate the agribusiness leadership workshop to empower leaders within the Ihemi cluster. The successes of this intervention are expected to trigger other leaders in the whole SAGCOT corridor to inform and lead their organizations/departments in a more innovative ways through an efficient and effective Public Private Partnership in the agricultural development plans.