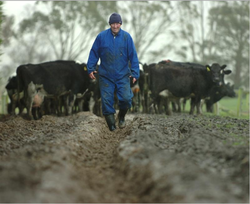 New Zealand dairy farmer David Wilson treads through mud as he readies his cows for milking. (Photo: Peter McIntosh)
Xinhua | 8 January 2014
New Zealand farmers back audit of foreign land purchases
WELLINGTON, Jan. 8 (Xinhua) -- New Zealand's biggest farming industry group on Thursday threw its support behind opposition politicians who have pledged to conduct an audit of foreign purchases of sensitive assets.
The main opposition Labor Party promised the audit Wednesday after releasing figures showing the government had declined just 1. 5 percent of overseas investment applications over the last six years.
Federated Farmers on Thursday supported the audit, saying overseas purchases of sensitive assets such as farmland had to show "demonstrable benefits" for New Zealand.
Federated Farmers president William Rolleston said ongoing monitoring and enforcement was also needed to ensure promised benefits were actually delivered.