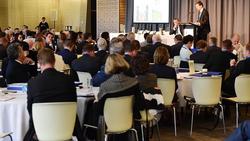 ACE Farming, backed by institutional investors, has stayed out of the limelight, quietly building up its portfolio of 18 dairy farms across Victoria. (Above) The Australian Dairy Farm Investment Forum, September 2014
Financial Review | 15 December 2014
Macquarie plays ACE dairy card
by MATTHEW CRANSTON
ACE Farming is now the largest mainland dairy farmer, milking more than 10,000 cows
MACQUARIE Group has sold its Melro Park dairy farm near Heywood in south-west Victoria to ACE Farming.
The 470-hectare property was held on Macquarie Group's balance sheet and is believed to have sold in the range of $6 million to $8 million.
The farm, which was once judged dairy business of the year by Interlact, can produce up to 6.5 million litres of milk per year – about 4.5 times the average Australian dairy farm.
ACE Farming, backed by institutional investors, is now the largest mainland dairy farmer, milking more than 10,000 cows.
ACE Farming founder Jeremy Bayard confirmed the acquisition was part of the company's move into western Victoria, but declined to comment on pricing.
"I can only say that we have ex­changed contracts on the Melro property," Mr Bayard said.
"This has been a very well-performing property over many years and has not lacked for investment in infrastructure or pastoral improvement."
A Macquarie spokeswoman declined to comment on the sale, but it is believed the group sold out because it attained a fair price in the current market. There has been strong appetite for dairy farms as groups attempt to build capacity and feed demand from offshore – particularly China.
Some start-up companies have approached dozens of dairy farmers to lock in option agreements, promising big paydays with stories that Chinese investors are knocking on the door.
ACE Farming, however, has stayed out of the limelight, quietly building up its portfolio of 18 dairy farms across Victoria.
In October, it purchased the 400-hectare Oxdale dairy farm, south of Cobram, on a walk-in-walk-out basis for about $5 million. That property was owned by a subsidiary of the listed Singaporean company QAF, ­formerly known as Bunge. Earlier in the year, ACE Farming also purchased Longyuan International's 500-hectare Malmo Farm near Cobram.
ACE was founded in 2007 and took control of five dairy farms formerly owned by the then-listed Valad Property Group, which is now controlled by private equity giant ­Blackstone.
ACE Farming is also contracted to buy the 728-hectare McKinnons dairy farm at Warrnambool, which is in the hands of receiver PPB Advisory. Mr Bayard refused to comment on that transaction.