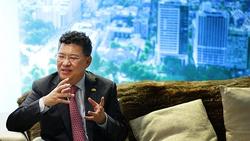 Zhang Yuliang, global chief executive of major Chinese developer Greenland Holding Group. (Photo: News Corp Australia)
Bloomberg | 18 November 2014
Greenland in talks to acquire Australian food and wine companies
by Nichola Saminather
Greenland Holding Group Co. is in talks with Australian agricultural companies on possible takeovers and plans to complete its first deal in six months.
The Chinese state-owned company, which already invests A$1.6 billion ($1.4 billion) in Australian real estate, is focused on acquiring food, dairy and wine producers, Chairman Zhang Yuliang told reporters in Sydney today.
China "is a very big market, and consumption habits are upgrading and changing," Zhang said. Greenland's next step is to acquire "Australian companies and import more Australian products into China."
Closely held Greenland, one of China's most active global developers, is on track to reach A$20 billion of investments around the world this year, as the property market at home falters and the nation allows easier movement of funds in and out of the country. A free trade pact completed yesterday between China and Australia allows more mainland companies to invest in the South Pacific nation, and makes it easier for those already there to boost operations, Zhang said today.
"Australia will always be one of our key investment destinations," he said. "Our investment in food and agricultural products will grow very rapidly."
Growth Concerns
The pace of Greenland's growth is concerning ratings company Standard & Poor's, which in September revised the company's outlook to negative from stable. It cited unfavorable market conditions and the developer's "considerable" capital needs.
"Greenland Group's aggressive growth appetite and debt-funded expansion will constrain its financial risk profile in 2014 and 2015," S&P said. The developer "will continue to make significant land acquisitions and incur substantial construction costs over the next 12-18 months to support its growth plans, including in overseas markets."
Zhang dismissed the concerns, saying the company's growth will continue "in a very healthy way." While total debt is rising, the rate of growth isn't alarming, he said.
Greenland has this year invested more than $10 billion in its overseas projects, and expects revenue from outside China to be about $3 billion, Zhang said.
The company will continue to expand its Australian property business, with plans to enter Queensland state, Sherwood Luo, managing director of the Sydney-based unit, said in an e-mailed response to questions. It's focusing on the Gold Coast, a city about 80 kilometers (50 miles) south of the state capital Brisbane, as Sydney and Melbourne prices become too expensive, he said.
Greenland is mostly interested in residential and hotel development, he said.
More Expensive
"Prices are becoming more expensive in Sydney and Melbourne and thus people are looking at new markets such as southeast Queensland," Luo said. "Gold Coast is attractive as the median unit and house prices are far lower than in Sydney and Melbourne."
The median dwelling price for the Brisbane-Gold Coast area is A$440,000, compared with A$680,000 in Sydney and A$555,000 in Melbourne, according to RP Data Pty.
Dwelling prices in the Brisbane-Gold Coast market have risen 9.6 percent since a May 2012 trough, compared with a 30 percent increase in Sydney and a 21 percent jump in Melbourne, according to RP Data figures.
Greenland is expanding offshore as conditions at home worsen. The number of publicly traded Chinese developers with liabilities exceeding equity climbed to 136 out of 334 from 57 in 2007, according to data compiled by Bloomberg. Home sales shrank 10 percent in the first nine months of this year.
Greenland is partnering with billionaire James Packer's Crown Resorts Ltd. to bid for the Queensland state government's Queen's Wharf venture in Brisbane, which would include a six-star hotel and casino.
"We value Queensland as an essential area of great strategic significance for building up our business throughout Australia," Luo said.
For Related News and Information: Greenland Sees A$80 Billion 2014 Revenue as Overseas Sales Jump Chow Tai Fook, Far East Join Echo for Brisbane Casino Venture Australia's Gold Coast Homes at 50% Off 2010 Lure Buyers
To contact the reporter on this story: Nichola Saminather in Sydney at
[email protected]
To contact the editors responsible for this story: Andreea Papuc at
[email protected]
Chris Bourke