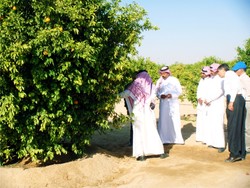 Global AgInvesting | 28 October 2014
Saudi Arabia facing food security issues head on
By Shahnaz Mahmud
By 2050, the world will need 60% more food to feed a population that will exceed nine billion by that time, according to the Food and Agriculture Organization of the United Nations. Countries will continue to compete for land, water and food, which may result in greater poverty and hunger. Food security remains glaringly in the spotlight. Indeed, the issue transcends that of sustenance. Food security and national security are linked from a political, economic and social standpoint. Political stability partly depends on its very existence.
In a place like the Middle East, food security is difficult, to say in the least. Its arid land presents enormous challenges. Recent conflict threatens it further. But, some countries are proactively seeking to solve some of the Middle East's food problems.
Saudi Arabia stands at the forefront of this issue.
King Abdullah's Initiative
Saudi Arabia's abundant wealth and membership to the World Trade Organization allow the nation to purchase food needs from the world market with ease. But, as the diversification of food sources is vital for all nations, rather than rely solely on the external markets, the country has created its own model. King Abdullah's Initiative for Saudi Agricultural Investment Abroad intends to obtain food from local production, imports and Saudi agricultural investments abroad.
In 2009, King Abdullah created this initiative based on a few variables: a hike in food prices in 2007 and 2008 - at the start of the economic downturn - as well as a banning of exports from certain countries for strategic food commodities, says Riyadh-based Dr. Saad Khaleel, Director of the Initiative within the Ministry of Agriculture. Its main goal is to contribute to food security locally, regionally and indirectly on a global basis by assisting in strategic food commodities being made available to the world market for everyone, he says. These include wheat, rice, sugar, barley, corn, soybean, edible oils, red meat (animal production) and livestock feed.
"King Abdullah believes that many countries have the natural resources to produce food, but lack other resources such as capital, experience and technology production," says Dr. Khaleel. "Such resources are available in Saudi Arabia. So, we can complement each other and produce sustainable food for all."
2014 ushered in the Initiative's actual implementation phase. The focus has been on activating the mission of the private sector, which is central to the strategy. Dr. Khaleel points to the private sector's contributions to local agriculture achievements, particularly in producing wheat, dates, milk, table eggs and certain vegetables and fruits during the Green Revolution in Saudi Arabia in the 1980s and 1990s. In short, sector participants have the experience, the technology and the money to assist the country in carrying out the Initiative.
Encouraging the Saudi Private Sector
So, what exactly is the strategy? "It is to encourage the Saudi private sector to invest abroad using their financial surpluses, their 'ag' experience and the modern production and irrigation technology they have," explains Dr. Khaleel.
As a by-product, Saudi Arabia seeks to support local communities by contributing to their food security, job creation and improving the infrastructures serving the projects.
The government will facilitate the private sector by providing strategic partners, represented by the Saudi Agricultural Investment and Animal Production Company (SALIC) (for those who are willing to have a strategic partner), that provide financial support through interest-free loans via the Saudi Development Fund (SDF). It will also provide information about participating host countries. Thirty-one countries have been identified thus far - countries that have natural resources and are willing to support these investments. Target countries include Bulgaria, Hungary, Kazakhstan, Poland, Romania, the Russian Federation, Ukraine and Egypt, Sudan and Ethiopia, as a few examples.
Making the case for foreign direct investment (FDI), Dr. Khaleel says it is highly competitive now among countries that have natural resources and lack money and other resources. For the business community, FDI is attractive because it is economically sound. "Cheaper resources will contribute to lower production costs and more profit," he says. "But, the host countries of these investments must realize that the private sector is wise and aggressive nowadays. So foreign investment laws and regulations must be flexible. Facilitating the mission of the private sector will be important to attract FDI. Otherwise, FDI will move to other countries where they find encouragement from the public sector as well as incentives."
Supporting Challenges Ahead
Any investment abroad faces challenges, like political instability, corruption, customs, registration and license problems, as well as social and cultural problems. "The role of the investing countries and the host countries is to facilitate the mission of the private sector to be free to work and produce so they don't have to grapple with such challenges," says Dr. Khaleel.
Dr. Khaleel emphasizes that during the Green Revolution, modern technology was introduced to the agriculture sector in both the production and irrigation process. New technology, such as machinery within logistic services, will be used in the Initiative in an effort to ensure success.
Presently, the aim to promote King Abdullah's Initiative for Saudi Agricultural Investment Abroad is on track, according to Dr. Khaleel. "Most rewarding thus far is that the Initiative has been welcomed by most of the host countries we have identified. Leaders in government and business have visited Saudi Arabia and are promoting these investment opportunities in their countries," says Dr. Khaleel.