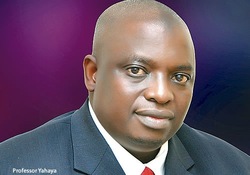 Professor Mohammed Kuta Yahaya is the Niger State Commissioner for Agriculture.
Nigeria Tribune | 7 October 2014
Niger is number one rice investment destination in Nigeria —Commissioner
by Adelowo Oladipo
Professor Mohammed Kuta Yahaya is the Niger State Commissioner for Agriculture. In this interview with ADELOWO OLADIPO, he, among other issues, enumerates some of the achievements recorded by the ministry in its partnership with the Federal Ministry of Agriculture in the rice value chain, including the Growth Enhancement Scheme (GES), Rural Access Mobility, farmer registration and the prospect of maximising the potential of the irrigation dams.
In specific terms, what is your administration doing in the rice value chain programme of the Federal Government in Niger State?
The most important thing here is that Niger State is endowed with land mass, flood plains suitable for arable crops, particularly rice and sugar cane. This is obviously due to the natural distribution of rivers across the state like River Niger, River Kaduna, River Gbako, River Gurara as well as Chanchaga River and other tributaries of rivers. Little wonder then that we are the largest producer of rice in Nigeria with over 500,000 metric tonnes of rice produced by the smallholder farmers. As the government, we also support these farmers with fertiliser subsidies, quality seeds, enlightenment about contemporary farming methods and urban related agricultural mechanisation to boost their production capacities. So, if you look at the plains of Mambe around Doko area of Lavun Local Government of the state and that of the bank of River Niger, they are being used tremendously for rice production.
Also, the administration of the Chief Servant, Dr Muazu Babangida Aliyu, established a rice consortium that is bringing private partnership into the rice production and we are particularly happy that of the 100 tractors bought by the state government about two years ago through the consortium, 25 are on lease for private sector use. With this, various communities are benefiting from this private sector involvement and repayment plan is there to recoup the initial procurement capital. So, the good news is that farmers are able to produce and combat rice importation that is actually affecting local production.
In what way is rice importation affecting local production?
At the end of the day, the smuggled and imported rice is cheaper and the farmers would lose while trying to sell their own rice. So, with this planned ban on rice importation and the current improved technology of rice processing activities, we will be producing rice that is polished with high nutrients compared to the imported ones that would have spent about 15-20 years in warehouses before they are shipped to the country. We have not even added months of off-loading and subsequent distribution with handling processes lasting for over one year before the rice gets to final consumers. This also portends unimaginable health risks to our people particularly.
In concrete terms, what is the state government doing to ensure sufficient rice production in Niger State against the backdrops of a recent observation by a consultant with the Federal Government that the state did not have enough tractors on ground to actualise its dream, coupled with the fact that some of the existing dams across the state are not functional at optimal level?
The issue of tractors is a national problem. Recently, at the launch of the Federal Government's programme on Agricultural Mechanisation, the submission of the private operators of tractors scheme confirmed that they did not have more than 500,000 tractors.
This particularly indicates that we have a lot of challenges in our hands and that there is need to improve the figures. The Federal Government responded quickly with a directive to the Central Bank of Nigeria to make available N50 billion to support agricultural mechanisation infrastructure in the country. May be that will help us to break the deficit in terms of the tractors available to assist farmers.
So, the problem is not peculiar to Niger State, rather it is a national issue. Here in Niger State, the government has added more tractors than all the years put together, yet it is like a drop in the ocean. An average of around 500 tractors have been bought since the inception of this administration in the state, but the impact could not be felt because there are more farmers in need of tractors.
In view of these challenges, the rice consortium is already using tractors, with five in each of the locations and this has increased access to tractors in those communities. The rice consortiums are located in Doko and they cover rice belt of Mambe, Gaba, Ndaloke, Agaie and Edozhigi.
Despite the claim of your office that the government is doing everything possible to assist the state farmer associations with farm inputs, farmers are yet to start feeling the impacts of such assistance?
The impact is seriously felt because there is high rate of patronage around the state and the farmers are better off because they are also benefitting from the Federal Government's seeds policy by making available quality and improved 35 seeds free to all the participating farmers in the GES programme.
Late last year, the Federal Government, through the Minister of Agriculture and Rural Development, promised to assist the states to reactivate River Basins and dams across the states of the federation. Has this promise been actualised or fulfilled since then?
Well, up till now we are still looking forward and we have about 16 irrigation dams across the state, but only three of them are functional; the remaining have been dilapidated over the years. So, Upper River Basins Development river sites also need attention and that some of them have been abandoned for almost three decades.
What have been the challenges so far?
It is a challenge to mass-produce rice, because if the dams are rehabilitated, they would help to enhance our production base and that is why we are very glad to note the recent declaration of Niger State as a rice producing state and that the Federal Government is bringing private partners to assist us in rice production. And we are happy that Alhaji Aliko Dangote, Chairman of Dangote Group of Companies, is coming to Niger State in grand style and he has requested for 50,000 hectares of land in the flood plain bank of River Niger that could be used for both rice production and sugarcane production.
But so far, it was only Olams that has declared 6,000 hectares of land of rice in Nasarawa State and with the limit of 10,000 capacity of the land is available. But in Niger State, we have over 300,000 hectares of land available for rice production. And with these our irrigation sites, some of them have between 3,000 and 10,000 land available to irrigation agriculture. So the main destination for rice production in Nigeria by private investors is Niger State, because the private sector's efficiency and commitment to achieve results is something that we need to leverage on now to make best use of and take immediate steps to uplift our people from poverty to prosperity in agriculture.
When should Nigerians be expecting Dangote Group to move in into Niger state to commence Rice and Sugarcane production activities?
We are already working hard to make sure we secure the land within the shortest possible time and we have also challenged him that he must mobilise within the shortest possible time too so that at least we would witness the dividends of this great entrepreneur in our lifetime as a government so that it would not happen after we are gone. That is why we are putting all that is needed to make sure we achieve this in place, because we know Dangote is a serious businessman; he is not a joker at all.
With the unfolding events, it looks as if Niger State is now following Nasarawa State in the area of rice production?
No, I do not agree with you, though they commissioned rice mill. You remember that we also have some small and medium rice mills in Niger State like the Badegi Rice Mill, which was in comatose for over 15 years. It is now being brought back to function and another rice mill has been constructed by another firm, Onyx Rice Mill, also in the same Badegi and it has already been engaging out-growers for rice and by the time you those rice mills, you would know that Niger State cannot be pushed aside. And that we have other collaborators with Japanese International Co-operation (JAICA) in terms of improved synthetic technology that they have brought that the rural women are now using to improve their rice processing capabilities. So, Niger is leading but the other people are competing to make sure that they are on the same page with Niger State.