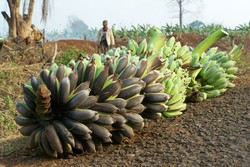 Chinese investors have signed an expression of interest with Saravan provincial authorites in Lao to pour more than US$80 million into 20,000 ha of banana plantations for export to China. (Photo: Altijd Verder)
Vientiane Times | 29 September 2014
Chinese investors eye fruit plantations in Saravan
Chinese investors are eying the potential of multi-million dollar investments in banana and other tropical fruit plantation projects in Saravan province, according to the provincial deputy governor.
Mr Siheng Homsombath said the Chinese investors have signed an expression of interest with Saravan provincial authorites to pour more than US$80 million (more than 64.3 billion kip) into the fruit plantations, which will be exported to China.
The Saravan deputy governor spoke to local media during his attendance at the three-day meeting between the government cabinet, Vientiane Mayor and provincial governors held last week in Vientiane.
If the project is realised, an area of more than 20,000 hectares will be needed for the fruit plantations.
"We will present this project proposal to the government for consideration," Mr Siheng said.
If the government gives the green light and this project is implemented, it will add fuel to the provincial authorities' efforts to speed up development and contribute to poverty alleviation in the province.
Saravan has untapped potential in agricultural production and the provincial authorities are focusing on promoting investment into food production to drive economic growth.
The province has already enjoyed high-level growth in recent years, Mr Siheng said, and this project would further fuel the momentum.
For the 2013-14 financial year that will conclude at the end of September, the province is likely to achieve 11.8 percent economic growth, considerably higher than the national growth rate estimated at about 7.5 percent.
Such growth has seen the province's gross domestic product (GDP) reach more than 3,312 billion kip with income per capita reaching more than 8.6 million kip (or US$1,076).
This socio-economic progress has been made possible thanks to the political stability and social order the province has enjoyed and work to create an investment-friendly climate, the deputy governor said.
Saravan has already seen considerable investment from the private sector, so far having secured 33 foreign investment projects totaling US$229 million (more than 1,842 billion kip).
Meanwhile domestic investors poured US$280 million (more than 2,253 billion kip) larger into 71 projects in various areas.
State investment into 185 projects totaling more than 62 billion kip has also given a boost to the socio-economic development progress.
Cash crops that the provincial authorities are promoting include rice, Mr Siheng said, given that Saravan was one of provinces prioritised by the government as a rice production base.
The province also boasts coffee production potential as it has second largest area of arable land suitable for coffee plantation after Champassak province, which has the largest coffee plantation area.
Saravan is capable of producing coffee of somewhere between 15,000 to 20,000 tonnes per annum. Animal husbandry is another investment potential.
However, the deputy governor stated that challenges the province is facing concerning the promotion of commercial agriculture are similar to the challenges faced by many other provinces who struggle to find a market for Lao farm products.
In addition, the quality of Lao farm products needs to be improved so that they can gain easier access to foreign markets.