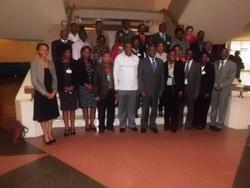 African Union | 21 Aug 2014

Aug.21.2014 - Aug.22.2014

Expert Group Meeting to validate the Land Policy Initiative (LPI) Communications and Advocacy Strategy
Experts' Group Meeting on the Land Policy Initiative (LPI) Communications and Advocacy Strategy
Addis Ababa, August 21, 2014 --- The two-day Experts' Group Meeting to validate the Communications and Advocacy Strategy for the Land Policy Initiative (LPI) opened today at the United Nations Conference Centre in Addis Ababa, Ethiopia.
The LPI was established in 2006 as a joint initiative of the African Union Commission (AUC), the United Nations Economic Commission for Africa (ECA), and the African Development Bank (AfDB). To date, the most prominent achievement to the LPI has been the development of a Framework and Guidelines on Land Policy in Africa (F&G), adopted by the African Heads of State and Government through a Declaration on Land Issues and Challenges in Africa, during the Thirteenth Ordinary Assembly of the African Union.
The communications and advocacy strategy provides strategic approaches in the design and dissemination of messages that can increase awareness, change attitudes and practices, and influence policies and legal framework on land matters. The strategy will support the LPI as it delivers on its mission of ensuring that all land users have equitable access to land, and that there is security of all bundles of land rights through effective partnerships, dialogue, and capacity building for participatory and consultative land policies. When fully implemented, the strategy will increase synergies of actions in the areas of land policy and governance and support Member States and RECs in developing, implementing, and monitoring inclusive land policies.
The main objectives of the validation meeting are to:
1. Review and discuss the draft communication and advocacy strategy against the key strategic objectives of the LPI;
2. Provide technical inputs to enrich the draft document for finalization;
3. Recommend additional ways to render the draft strategy more pertinent and effective;
4. Make proposals on actions and partnerships needed to implement the communications and advocacy strategy effectively.
It is expected that the Experts' Group Meeting discussions, key messages, and recommendations will contribute substantively to the finalization of the LPI Communications and Advocacy Strategy.
The meeting is being attended by a group of experts in communications and/ or advocacy, representing various stakeholders and LPI partners: Regional Economic Communities (RECs), development partners, farmers' and civil society organizations, academia, and LPI founding organizations (the African Union Commission, the United Nations Economic Commission for Africa, and the African Development Bank)..
For further information contact:
Mr. Gamal Ahmed Karrar
Directorate of Information and Communication
AU Commission
[email protected]
For further information contact
Directorate of Information and Communication | African Union Commission I E-mail: [email protected] I Web Site: www.au.int I Addis Ababa | Ethiopia
Follow us
Face book: https://www.facebook.com/AfricanUnionCommission
Twitter: https://twitter.com/_AfricanUnion
YouTube: https://www.youtube.com/AUCommission
Learn more at: http://www.au.int