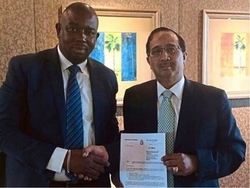 Guinea's Minister of Trade, Marc Yombouno, with KGV's Executive Director after signing an agreement giving the Malaysian company 100,000 ha for the development of oil palm plantations, July 2014. (Photo: Business Wire)
Business Wire | 30 July 2014
(
en français
)
K Global Ventures selected by Government of Guinea to develop 100,000 hectares palm oil plantation
KUALA LUMPUR, Malaysia, Jul 30, 2014 (BUSINESS WIRE) -- The Republic of Guinea is looking up to Malaysia's expertise in the palm oil sector to boost the two nations' bilateral trade ties, which was valued at US$45 million (RM143.10 million) last year, and the African republic has selected K Global Ventures Sdn. Bhd. (KGV) to start the ball rolling.
Guinea's Minister of Trade, Marc Yombouno, who was on a visit here to meet investors, announced that negotiations have led to the selection of KGV to develop 100,000 hectares in Guinea to grow and process palm oil.
He added that, as an incentive, upon the successful planting of palm oil by the first quarter of next year, and if the undertaking is completed within five years from then, the Republic of Guinea will offer land that will double the initial offer.
KGV's director, Datuk Annuar Zaini Binyamin said that his company has received the offer from the government of Guinea to select a piece of land measuring 100,000ha in the country to get the project started. He said 100,000 hectares of palm oil in Malaysia would generate RM2 billion in revenue.
Datuk Annuar also said Malaysia could invest in the bauxite sector in the Republic, which is the second largest global bauxite producer. "Malaysia could set up smelting plants in Guinea," he said.
"A technical team will be sent to Guinea from our side in the next two or three months," Datuk Annuar said, after the courtesy call by Yombouno where the Guinean politician and his entourage met Malaysia's International Trade and Industry Minister Datuk Seri Mustapa Mohamed and his team.
"We are impressed with Malaysia's progress and achievements in the palm oil sector. We are seeking Malaysian investors and expertise in palm oil," said Yombouno.
He said the country has established solid democratic foundations that are appealing to investors and has chosen to approach Malaysia, given its historic affinity with Kuala Lumpur.
The minister said Malaysia had the technological advancement and the expertise in various fields that are of interest to the Republic.
"We come to offer and to learn," Yombouno said.
The minister said that he gave 100,000 hectares to the Malaysian company on the basis of a feasibility study. This is based on the new investment laws of the Republic.
In his address, Yombouno also highlighted the fact that Guinea was keen on tapping Malaysia's expertise in Islamic finance.
Earlier, during the press conference, Mustapa said that it is about time the two countries raised the economic stakes in each other's trade, and cited the discovery of petroleum in Guinea as another area of interest for Malaysia.
The delegates from Republic of Guinea were here for a special trade mission and taken to Ministry of International Trade & Industry (MITI), Putrajaya, SME Bank, CIDB and Securities Commission of Malaysia (SC).
SOURCE: K Global Ventures Sdn. Bhd.
K Global Ventures Sdn. Bhd.
Mohammad Hassan Abdullah, +6013-5042445