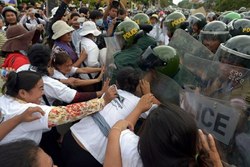 Land protesters clash with riot police at a demonstration in Phnom Penh, Oct. 17, 2013. (Photo: AFP)
Cambodia Daily | 29 July 2014
Kampot villagers protest alleged land grab
BY BEN SOKHEAN
About 100 villagers—including a number of former Khmer Rouge soldiers—locked in a land dispute with an agriculture firm temporarily forced the company on Sunday to cease excavating the contested site in Kampot province.
The families were staging a protest against First Biotech Agricultural company, which they say has illegally grabbed more than 100 hectares of land in Chhuk district's Trapaing Phlaing commune.
Several villagers from the nearby Decho Aphivat commune, who accuse First Biotech of illegally clearing approximately 80 hectares of land belonging to 70 families, also joined the protest.
First Biotech received a 10,000-hectare economic land concession from the government in 2005 to develop land in the district, according to the company and local authorities.
But villagers and commune chiefs say the company is now trying to unlawfully seize additional land outside of the concession.
Chan Narith, a 56-year-old former Khmer Rouge soldier and a representative of families from Trapaing Phlaing commune, said the firm had no rightful claim to the land.
"We are not afraid to protest because the thief was not afraid to grab our land, so we are not afraid to demand our land back," he said.
Meas Sophen, the chief of Chrey Bak village in Decho Aphivat commune, led Sunday's protest.
"I am not afraid to lose my job because the upper-levels are not taking any action to prevent the company's machinery from clearing the villagers' land," she said.
Chan Sothea, the chairwoman of First Biotech Agricultural, said the firm had a legitimate claim to the land.
"There is no justice for the company because we got a legal economic land concession from the Royal [Cambodian] Government, but these anarchic people have come to grab our land," she said.
However, Choem Soeun, Decho Aphivat commune chief, said the villagers were in the right.
"The villagers did not grab the company's land like the company has accused them, because they were living on and cultivating that land before the company arrived," he said.
[email protected]